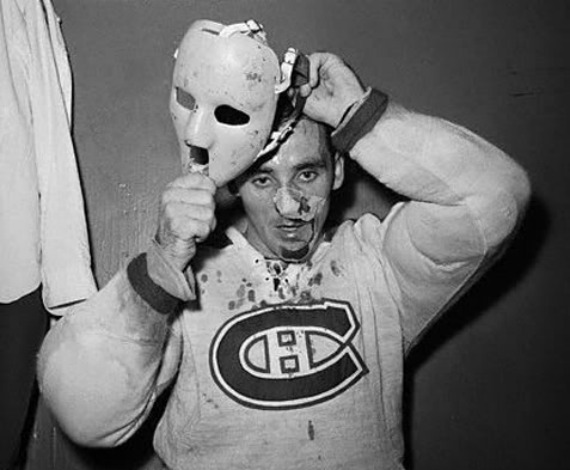 There's a myth about hockey goalies, one Chris Koentges's story here in The Atlantic this month both entertains and questions: that we are, at least a shade, insane.
When Koentges asks the Finnish goaltending legend Upi Ylönen whether there's any truth to the myth, Ylönen snaps. "Hey, hey, hey!" he says. "Good habits or bad habits, goalies need to be able ... to live in the present situation. Whatever happens, they need to be able to live in the present situation. A goalie only lives from moment to moment. He can't hold on."
My sense has always been that apparent craziness is an effect of what goalies do, more than actual craziness is a cause. Hockey goaltending is an extreme sport inside an extreme sport: Your job is to go out on the ice and get in the way of a frozen hard-rubber disc that moves faster than anything you directly interact with in your normal life. (A slapshot can come at you at 100 MPH if the shooter leans in.) You're on your own with it. And when you get beat? That's when your whole team gets beat. You can't do all of that without a ... distinct kind of mindset.
But you can't do it without the right tactical repertoire, either. This means training your body to react to certain situations in certain ways. In a super-rapid, highly fluid game, it also means forgetting that training in a split second and doing something even you would never predict. These are the dual aspects of the goalie's game that Koentges's story explores: mindset and tactics, the invisible and the visible.
There's a style of play that became modal in Canadian hockey with the ascendency of the Montreal Canadiens' Patrick Roy during the '90s and into the 2000s—and that Ylönen is especially critical of: "butterfly" goaltending. This is a style developed around a core move, where the goalie drops to the ice, keeping his knees together while splaying his legs out as much as possible to each side.
Here's Roy stopping a shot with a butterfly save: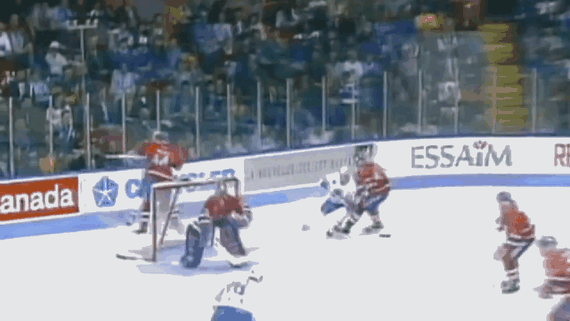 Ylönen's criticism of butterfly goaltending is interesting: It isn't that the tactic is bad (every tactic has it's advantages and disadvantages); it's that any style of play that's overly dependent on any one tactic is bad. Tactical dependence can give a goalie confidence, if the tactic you depend on is effective. But it can also make you vulnerable, if your opponents figure out how to exploit your reliance on it.