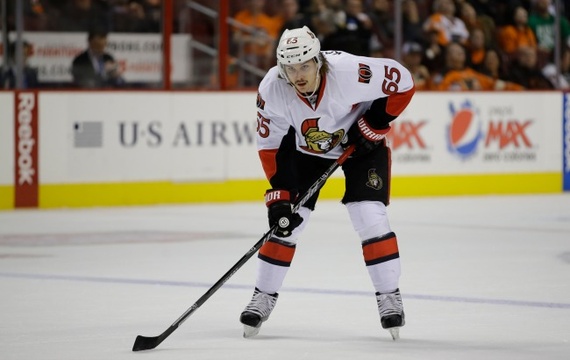 The 2010 Winter Olympics ended with an overtime goal in a gold-medal men's hockey game "for the ages" between Canada and the U.S. So this year in Sochi, the ice hockey tournament has a lot to live up to. But with men's and women's teams from 14 countries total, it shouldn't disappoint. Here's a predictive guide to the biggest stories of the Games—as well as some quietly compelling alternative storylines, the best days to tune in, and the words and phrases you should know before plunging into the sprawling media coverage of the Games.
---
People you're about to get sick of hearing about: Canada's superstar center Sidney Crosby, who scored the game-winner against the United States in 2010's gold medal match seven minutes into overtime. Canada's best hockey export since Mario Lemieux, Crosby has the athletic skills of Andrew Wiggins, the Q rating of Justin Bieber, and the Canadian spirit of Robin Scherbatsky.
There are too many #hotsportstakes about Sid the Kid to document here, but at just 26, the Pittsburgh Penguins star already owns hockey's version of the Triple Crown: an Olympic gold medal, a Stanley Cup, and a Hart Trophy. His names comes up on Google's autocomplete for searches before Sidney Poitier, and he inspires headlines like this one. 
Of course, as Kanye West could tell you, every great man has some haters. Crosby has been panned by some of his NHL peers as a dirty player and a whiner, and a legion of NHL fans root for him to fail. But the Canadian icon is leading the league in assists (48) and total points (75), and he's the best player on the gold medal favorite.
And on the women's side, prepare to get very, very familiar with U.S. women's forward Julie Chu—as a recent Boston Herald article put it, "Julie Chu [is] already the golden child of Olympic hockey." The all-time NCAA scoring leader for women's hockey has played on all three of America's oh-so-close Olympic squads (silver in 2002 and 2010, bronze in 2006). The average superb athlete might think three Olympic hockey experiences was enough. But Chu studied psychology at Harvard and graduated with honors. She's the oldest player on the team at 31, and during the 2008 Olympics, she played both forward and defense after injuries struck the U.S. team. She's pretty much done everything but slap on some goalie pads and protect the American net.
Chu is likely in her final Olympics and will anchor the fourth line for Team USA and provide veteran leadership. A gold medal victory seems like an appropriate way to go.
Subplots worth noting: Bad news, American and Canadian fans. Unlike the Vancouver Games, this Olympic hockey tournament will be played on a larger European-style rink that will be less familiar to players with mainly North American experience. The rink this year will be 200 feet long by 100 feet wide, a full 15 feet wider than an NHL rink. That's 3,000 extra square feet of ice to cover. The Canadian and U.S. teams will have gotten some ice time together on an Olympic-sized rink, but the size change does give the 10 European teams a slight advantage. "It's no secret that European players prefer international hockey's bigger ice size that allows more skating to utilize their skills that are somewhat limited in the smaller NHL rinks," writes Josh Marks at Yahoo Sports.