Warner Bros.; Fox Searchlight Pictures; Sony Pictures
A great year for film sometimes makes for a dull Oscars race, and this is looking like one of those times. There will doubtless be a few upsets Sunday night, some dark-horse winners and some show ponies that come up lame. But heading into the weekend there are clear frontrunners in most of the major categories. The Academy did a pretty solid job with the nominees—particularly in contrast with last year, when it offered a borderline-nonsensical slate for Best Director and caved to the (dubious) political pushback against Zero Dark Thirty, easily the year's most accomplished film. This time out, a few movies got more Oscar love than they deserved (Nebraska, Philomena, August: Osage County), and a few got less (All Is Lost, Inside Llewyn Davis, Saving Mr. Banks, Her). But in a field as crowded as this year's there were a lot of tough choices to make, and the Academy's were mostly defensible. As will be evident from my recommendations below, in many cases there were simply too many worthy nominees to squeeze in.
Here I should probably insert my annual caveat that a few years back I made an (as I then thought) extremely persuasive but (as everyone now knows) utterly discredited case for why Avatar would inevitably beat The Hurt Locker. So if you're looking to score a little cash in your friendly Oscar pool, there may be better places to find advice. (That said, in the event you do come out ahead on the basis of my predictions, you may send any courtesies to me care of The Atlantic.) A final note: As is too often the case, I was not able to see enough documentaries or foreign-language films to feel comfortable second-guessing the Academy's choices, so on those fronts you'll have to look elsewhere. On to the categories.
---
Best Picture
Nominees: American Hustle, Captain Phillips, Dallas Buyers Club, Gravity, Her, Nebraska, Philomena, 12 Years a Slave, The Wolf of Wall Street
12 Years a Slave has been the frontrunner pretty much from the moment it opened. It's epic, it's weighty—if anything, arguably a little too weighty for Academy tastes—and it earned a range of acting and technical nominations as well. In the early going, Gravity seemed to be its strongest competitor; later on, American Hustle seemed on the verge of an Argo-like dark-horse sprint. But now we seem to be back to the status quo of (probably) 12 Years a Slave, (possibly) Gravity, (probably not) American Hustle, and (very hard to envision) anything else. (If you really, really want to go out on a limb, you might give Dallas Buyers Club a tiny chance.) Which is probably as it should be. I would have liked it if Her, my favorite film of the year, had at least entered the conversation, but I'll settle for its nomination. 12 Years a Slave is an extremely worthy—and, I think, very likely—winner.
What will win: 12 Years a Slave
What ought to win: 12 Years a Slave
What was nominated but shouldn't have been: Nebraska, Philomena
What wasn't nominated but should have been: All Is Lost, Inside Llewyn Davis, Rush
---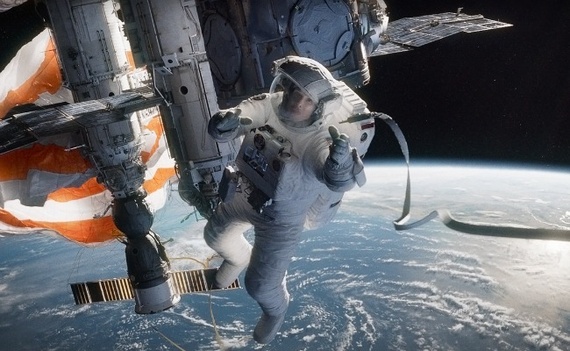 Best Director
Nominees: Alfonso Cuaron (Gravity), Steve McQueen (12 Years a Slave), Alexander Payne (Nebraska), David O. Russell (American Hustle), Martin Scorsese (The Wolf of Wall Street)
If you're looking for a year to bet for a Best Picture / Best Director split, this is the one. As likely as it is that the producers of 12 Years a Slave take home the former statuette, it's more likely still that Gravity's Alfonso Cuaron will be carrying the latter. I love Cuaron, but I think this is a case of a director being too closely affiliated with his movie's visual strengths—and let's be clear, on this front it's a masterpiece—and not closely enough affiliated with its shortcomings elsewhere: the good (but not great) performances, the mediocre dialogue (from a screenplay co-written by Cuaron), etc. A directing award is not the same as a cinematography award (about which more shortly). The director has to make all the elements work. And, once you look past the visuals, Gravity falls back to Earth pretty quickly. Not a terrible choice, by any means—assuming it is the choice—but if it were me, I'd give the nod to 12 Years a Slave's Steve McQueen, whose film is a more ambitious undertaking that succeeds on many more levels.
Who will win: Alfonso Cuaron (Gravity)
Who ought to win: Steve McQueen (12 Years a Slave)
Who was nominated but shouldn't have been: Alexander Payne (Nebraska)
Who wasn't nominated but should have been: J.C. Chandor (All Is Lost), Paul Greengrass (Captain Phillips), Spike Jonze (Her)
---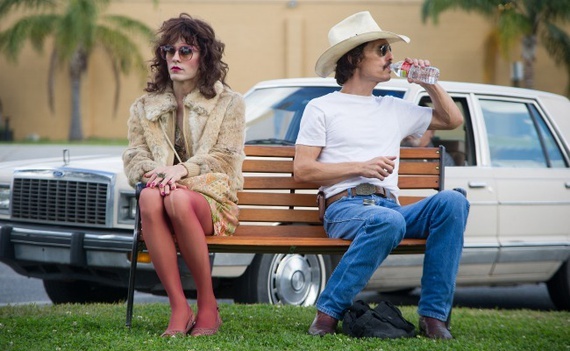 Best Actor
Nominees: Christian Bale (American Hustle), Bruce Dern (Nebraska), Leonardo DiCaprio (The Wolf of Wall Street), Chiwetel Ejiofor (12 Years a Slave), Matthew McConaughey (Dallas Buyers Club)
Another category, another clear favorite (and rightly so, in my book) in McConaughey. His performance in Dallas Buyers Club was one in a recent stretch of stunners, including Mud (a very good film that might have gotten some Oscar love itself if it'd come out later in the year), The Wolf of Wall Street, and HBO's True Detective. (If, as seems altogether plausible, McConaughey picks up an Emmy for his role as Rust Cohle, he'd be just the second performer to win an Oscar and Emmy in the same year. The first? Helen Hunt for As Good As It Gets and Mad About You in 1998.) It's hard to remember that only a few years ago McConaughey was most famous for starring in second-tier romantic comedies. The leading upset contenders here are Ejiofor and DiCaprio, with the former seeming to have faded a bit and the latter getting more buzz of late. The Academy loves to coronate its big stars, and DiCaprio hasn't won in three previous tries, so if you're looking for an upset, this may be the place for it. As a side note, this was an almost impossibly difficult category to crack this year, with at least four other strongly nomination-worthy performances not making the cut—notably (for me at least), Joaquin Phoenix's wonderfully understated performance in Her.