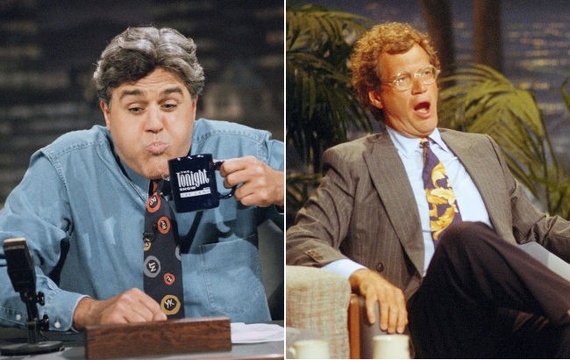 Jay Leno is the most successful stand-up comedian of the Baby Boomer generation—that is, if success is measured by numbers.
His performances have probably been seen by more viewers than any comedian of his time: Before replacing Johnny Carson at The Tonight Show, Leno spent more than 15 years playing upward of 300 annual gigs in comedy clubs across the country, a habit he kept up during the show's run. Tonight under his leadership was a ratings giant: As Leno put it to the Hollywood Reporter, "My job was to have the No. 1 show. I was given the No. 1 talk show and for the last 20 years, we've been the No. 1 talk show all the way through." And even though he faced public scorn for dethroning Conan O'Brien a mere nine months into O'Brien's Tonight Show residency, Leno quickly reestablished himself as the ratings king of the 11:35 time slot. The so-called war for late night concluded long ago: Jay Leno won.
Leno is, however, a winner with few acolytes. It's hard to imagine any emerging comics admitting that they discovered their calling by staying up late on weeknights as teenagers to watch the latest installment of "Jaywalking." In fact, the younger generation of humorists seems mostly to resent him. In 2010, when Leno was on the verge of taking back The Tonight Show from O'Brien, Jimmy Kimmel donned a fake chin and white wig and performed an entire episode of his show under the guise of Jay Leno, rifling through a series of trite, cookie-cutter monologue jokes, each one invariably starting with, "You hear about this one?" The following week Leno invited Kimmel onto his ill-fated primetime show, where Kimmel attempted to shame Leno into retiring: "Listen, Jay, Conan and I have children. All you have to take care of is cars."
Leno's negligible sphere of artistic influence can be explained partly by the fact that he's the only current late-night host who debuted at the 11:35 time slot. In many ways, this has worked against him. He never enjoyed the perceived freedom that after-midnight shows have for experimentation and conceptual humor. His show never featured masturbating bears, gay robot sidekicks, or unusual objects being heaved off tall buildings. His signature bit involves reciting poorly worded headlines in local newspapers, which registers as particularly stale in the age of the iPhone. Jay Leno and viral video are, at this point, mutually exclusive terms. (Leno didn't help his case when he flashed a flip-phone on a recent episode of Jerry Seinfeld's web program, Comedians in Cars Getting Coffee.)
But Leno's own style has done few favors for his legacy. He's the Thomas Kinkade of talk-show hosts: consistent, populist, and profitable. Unlike David Letterman's Warholian deconstruction of the format or Craig Ferguson's Dalí-esque absurdism, Leno has reduced a volatile art form to an uncomplicated formula: "Write joke. Tell joke. Get check." He pitches his monologue directly to the mythical blue-collar tastemakers in Peoria. He has no overt political agenda and few of the neuroses—Letterman's self-flagellation, Conan O'Brien's inability to stand still—that afflict his rival hosts.
With his time as a talk-show host ending—supposedly for real this time—on Thursday night, there's still one way for Leno to shore up his diminished cultural legacy. How? By making his first post-Tonight appearance on The Late Show with David Letterman. For Leno, a chance to chat with his friend-turned-rival would represent a return to his roots, reminding one generation of viewers and informing another of a time when his recurrent guest spots on NBC's Late Night With David Letterman were appointment viewing for comedy enthusiasts. Engaging in one final sparring session with the quick-witted host who boosted his career—and whose career Leno diverted when he succeeded Carson in 1992—could allow Leno to forget about the numbers and recapture, if only for one night, the comic flair and combativeness on which he made his name.  
Leno and Letterman's careers are so intertwined that it's impossible to chronicle one without invoking the other. Leno was in the audience at the Comedy Store in Los Angeles when a bearded Letterman pulled up in his red pickup truck and delivered one of his first stand-up performances. In his autobiography, Leading With My Chin, Leno writes, "His material was a revelation, totally different from the sort of street attitude of most comedians. What especially stood out was his clever phraseology … I was immediately impressed with Dave, cadences and red beard and all." Letterman voiced a similar appreciation for Leno's early stand-up routine: "The first time I saw Jay, he was head and shoulders above anybody else. He was a huge influence on me. I patterned much of what I did on what I saw him do."
They both secured gigs writing jokes for Good Times star Jimmy Walker, and landed spots on the Tonight Show within a year of each other. Johnny Carson liked Letterman's cool, underplayed act, and soon appointed Letterman as his guest host. Four years after he made his debut, Letterman landed his own show, Late Night. Leno, in contrast, played The Tonight Show four times in the late '70s with diminishing returns. According to Bill Carter's indispensible book The Late Shift, Leno's manager, Helen Kushnick, made a tacit deal in the early '80s with Letterman's producers that gave Leno multiple annual guest spots on Late Night. He ended up appearing more than 40 times in a decade, exceeding any other guest on that show. As Carter notes, "David Letterman had helped launch his own career by watching Jay Leno work in clubs. Now Jay Leno was using his guest shots with Letterman to save his career."