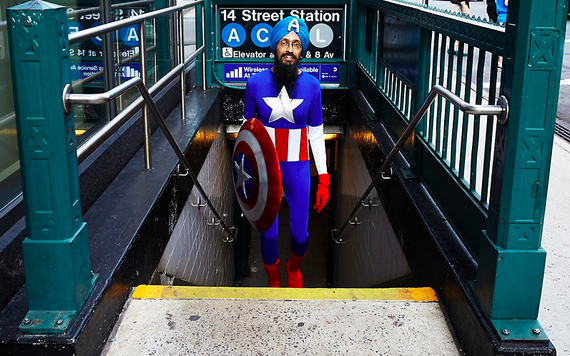 Not all superheroes are fictional. For example: Vishavjit Singh, the first Sikh Captain America. An editorial cartoonist by trade, a few months ago he suited up as a real-life turbaned and bearded version of Jack Kirby's strongman and strode through New York City, to promote his Sikh Comics while fighting religious and ethnic stereotypes. As he recounted for Salon:
People shook my hands, and a few literally congratulated me. The celebrity-of-the-moment experience was a little overwhelming. But I was jarred out of that trance by a few negative outliers. One man tried to grab my turban. Another yelled, "Captain Arab." And yet another: "Terrorista!"
Recently, I had the opportunity to question the Captain.
---
You are a cartoonist. What are your favorite themes when it comes to superheroes?
My favorite theme in this saga is "compassion." At first glance this word seems at odds with superheroes. But the impulse to put your life at risk, to use all powers at your disposal with the goal to confront injustice, tyranny, intolerance is at its base level rooted in empathy, love, and affection.
A superhero can be guided by anger and hatred to take on villainy also. But ultimately hate will sour the source itself. The superhero spirit guided by compassion will survive the scars of violence even if the physical body perishes in the battlefield.
Did you embody Captain America because you are made to feel different, like an outsider in NYC?
I have lived in the shadows of New York City since just before 9/11. My creative juices have been nourished by the vibrant soul of this great city. There have been moments when New Yorkers have called me names like "Osama," "Taliban," and told me "Go back home." But this globe of a city has always recoiled to correct itself with a random smile from a stranger or getting distracted by its ever-churning diversity and consuming me as a drop in its vast ocean of life.
Is being a cartoonist and a comic character a means of nestling into American culture?
My inspiration to engage in the art of editorial cartooning comes from a legion of contemporary and legendary giants in America, from Jules Feiffer to Ed Sorel to Art Spiegelman to Mark Fiore to Ann Telnaes, just to name a few. I have soaked in the art of analysis, a way of thinking mastered by this lineage of cartoonists who serve as my teachers. Armed with this skill I have transported the world of Sikhs here in the U.S. and beyond into the 2D confines of my cartoons. For me the art of engaging in this medium fortified by the freedoms afforded by our constitution is a quintessential American experience.
Are there any restrictions placed on you from being a Sikh that impact your art?