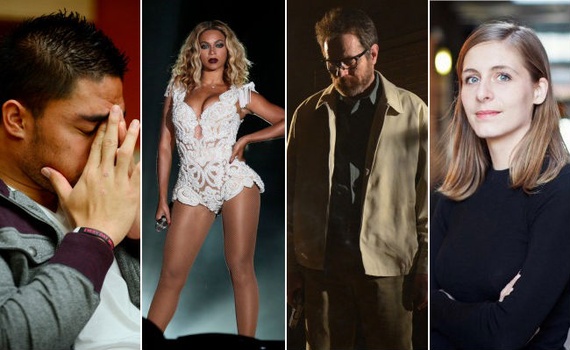 One easy prediction for 2014: Pop culture will remain a battleground. The new year will bring new acclaimed films, new maligned celebs, and new buzzed-about TV shows, all of which will spark social debate about issues both important and trivial. Evidence? They year that just finished. Here are the 13 topics that The Atlantic's Entertainment channel wrote about most frequently in 2013.
You Can Call Her Queen Bey
From the cover of GQ to her own HBO special, from the Inauguration to the Super Bowl, Beyoncé ruled pop music without even releasing an album. And then, of course, she surprised everyone by doing just that with no warning. As her halftime show and the unexpected arrival of her fifth album remind us, Beyoncé is a hard-working, All-American diva and feminist, but she's also an eye-opening case study of the intersection between social media and celebrity culture.
Further Reading:
Beyoncé's Deal With Pepsi Has Thousands of Years of Precedent
Want Singers to Do the National Anthem Live? Don't Ridicule Flubs
Super Bowl Reveals Beyoncé to Be a Sweaty, Hard-Working Human Being
Why Don't More People Call Beyoncé a Genius?
What Rush Limbaugh Got Right About Beyoncé
How Beyoncé Keeps the Internet Obsessed With Her
What Beyoncé Could Learn From Ke$ha: How to Actually Humanize a Pop Star
Beyoncé's New Album Is Sexy, Shocking, and Has Something to Say
When Beyoncé Samples Your TED Talk, This Is What Happens to Your Book
---
Manti Te'o's Fake Dead Girlfriend
When a Deadspin revealed that the late girlfriend of now-San Diego Chargers linebacker Manti Te'o—whose death hung over his inspiring 2012 season at Notre Dame—never actually existed, sports fans and non-fans alike had a lot of questions. How could they fall for such a hoax, and more importantly, how could Te'o, if he wasn't in on the scheme himself? A story as bizarre as it was explosive, Deadspin's investigation became for many a crash-course in the Internet phenomenon of catfishing, and a welcome reminder that fact-checking is a vital part of journalism.
Further Reading:
The Psychology of Rooting for the Guy With the Fake Dead Girlfriend
The Meaningless Hoax Before Manti Te'o's Meaningless Hoax
How The Simpsons Explains the Manti Te'o Fake Girlfriend Saga
The Manti Te'o Dead Girlfriend Hoax: Blame the Media
You're in Good Company, Lennay: 5 Other Famous People Who Didn't Exist
The Samoan Roots of the Manti Te'o Hoax
---
Binging Bad
It's tempting to think of AMC's anti-hero drama as an addiction given its drug-dealing subject matter, but as the story of Walter White and company came to a close, it felt more like an epidemic. Seasoned viewers compared the show to the greatest works of literature in anticipation of its finale, while Breaking Bad newbies furiously binge-watched their way through past seasons in order to consume the final episode the old-fashioned way: gathered around the TV like everyone else.
Further Reading:
Watch Walt and Jesse's Initial Reaction to Breaking Bad's Ending
The Walking Dead vs. Breaking Bad
The Breaking Bad Roundtable
How Shakespeare Would End Breaking Bad
Which Great Literary Work Explains Breaking Bad Best?
Breaking Bad's Big Critique of the Macho (and Its Problem With Women)
The Alternate Breaking Bad Universe in Which Walter's House Burns Down
Netflix and On-Demand Aren't Killing 'Water Cooler TV'—They're Saving It
Albuquerque Newspaper Runs Breaking Bad Obituary
---
A New Chapter for the Booker Prize
The Man Booker Prize for Fiction is one of the most prestigious literary prizes in the world, and this year Atlantic staffers offered takes on each of the shortlisted novels. Twenty-eight-year-old Eleanor Catton became the youngest winner ever when she claimed the prize for The Luminaries, the longest book to ever win (at 832 pages). But some fear that once a rule change starts allowing authors from any country to be considered for the Booker, The Luminaries may be the type of book that will get lost in the growing volume of contenders.
Further Reading:
Logs vs. Dead Donkeys: The Tweet That Helped Me Make Sense of Jim Crace
An African Writer Who Doesn't Mind Being Called an 'African Writer'
The Transcontinental Novel That Probably Won't Win the Booker Prize
The Bleakest Story Jhumpa Lahiri Has Ever Told
The Testament of Mary Isn't Really About Jesus' Mother At All
Will The Luminaries Be the Last Hidden-Gem Booker Prize Contender?
How to Place a Winning Bet on the Booker Prize: Don't Read the Novels
Of Course the Booker Prize Should Get More Inclusive—Because English Has
---
Blue is the Most Talked About Color
Abdellatif Kechiche's lesbian love story took top honors at Cannes, but chatter about the movie and its lengthy sex scenes persisted even after the festival circuit. Blue wasn't just another launch pad for debates about whether such explicit material is more porn than art; it also highlighted new trends in French cinema and Hollywood's lingering biases against foreign films just like it.
Further Reading:
Spielberg's Jury Names a Powerful Same-Sex Love Story Cannes' Top Film
The Best Film at Cannes Is the French, Lesbian Answer to Brokeback Mountain
The Unsexy Parts of Blue is the Warmest Color Are the Most Important Parts
Graphic Lesbian Sex is Not What Makes Blue Is the Warmest Color Radical
French Film in 2013 Was Even Sexier, and Smarter, Than Usual
The Frustrating Language Bias of This Year's Best Actress Oscar
---
The Year of the Doctor
The long-running British sci-fi series Doctor Who not only celebrated its 50th anniversary with a special episode, "Day of the Doctor," that was simulcast worldwide. It also saw one Doctor, Matt Smith, pass the title role to the next, Peter Capaldi. Fans spent much of the year taking stock of how the show has evolved, and how it can evolve even further by addressing, among other issues, its treatment of female characters.