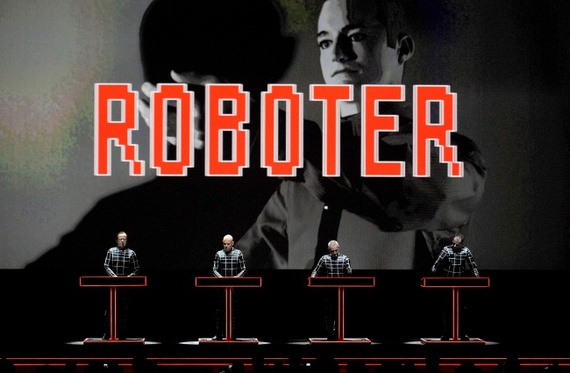 Two years ago, the ever-hip Grammy Awards appeared to be getting serious about the "latest" big thing in popular music: fist-pumping, floor-filling, club-hopping, dub-stepping, ultra-profitable electronic dance music. To prove it was down with what the kids were listening to, the awards program planned a tribute to EDM that featured DJ-producers David Guetta and Deadmau5, singer Chris Brown, rapper Lil Wayne, and … The Foo Fighters.
If that sounds like an odd combination, it was. Spin called the performance "a mess," while dance-music site inthemix labled it a "ham-fisted" and "cringe-worthy" collaboration that "no one wanted." The abundant glow sticks and Guetta's arm-waving from behind the decks looked more like parody than celebration; with Chris Brown dressed up like Run-D.M.C., the routine seemed confused about it exactly what it was honoring; and considering that most of the acts associated in the tribute weren't even dance artists themselves, it felt forced and out of place.
Even one of the participants, the Foo Fighters' frontman Dave Grohl, derided electronic recording techniques that very night during an acceptance speech for Best Rock Album, which critics took as a jab toward the tribute itself. (Grohl later argued on his blog that those critics misunderstood him.) Looking back on the show, one member of mega-popular DJ trio Swedish House Mafia later said that performing at the Grammys "would probably feel like a monkey in a cage kind of situation."
So the Grammys turned the volume down. At the 2013 ceremony, Skrillex cleaned up the categories for which he was nominated, but the night's more notable winners were folk-revival acts like Mumford & Sons, who took home Album of the Year. Dance and electronic music, James C. McKinley Jr. at The New York Times wrote, were mostly absent:
The nominations for the top four awards seemed to ignore what many in the music industry saw as the biggest trend last year—the continuing growth of electronic dance music as a genre and the influence of its heavily mechanized and computer-generated sounds on Top 40 pop songs. None of those artists—Skrillex, Avicii, Calvin Harris, Swedish House Mafia—were nominated in the top four categories, though all were on the list for best dance or electronica album.
Despite how easy they are to make fun of, the Grammys still drive record sales in a challenged industry and break less-known acts into the mainstream. So fans of dance music—or just of the idea that the music industry's most-famous showcase should actually reflect what's happening in the music industry—might be heartened by how this Sunday's ceremony is shaping up. In 2014, the Grammy Awards are actually trying to take dance music seriously. Again. For real this time.
The nominations offered a few reasons to be optimistic. Historically, the awards' categories that recognize dance and electronica music have been even more inexplicable and out of touch than the rest of the Grammys'. The prize for Best Dance Recording, first given in 1998 to Donna Summer and Giorgio Moroder, has tended to favor pop and R&B singers releasing beat-heavy material rather than actual electronica artists. Until they won that award in 2009 for a track off their live album, EDM pioneers Daft Punk were passed over several times for artists like Janet Jackson, whose "All For You," while a great pop song, didn't enjoy the same life span as the French duo's "One More Time" and wasn't as innovative when it came to dance production. (This is also the same category that gave the Baha Men an award for "Who Let the Dogs Out" in 2001 over Eiffel 65, Moby, Enrique Iglesias, and Jennifer Lopez, so there's that.)