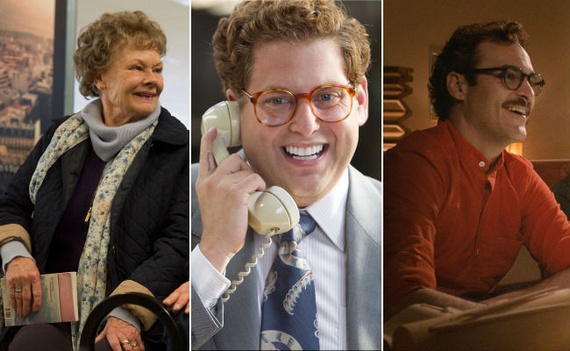 The Academy has spoken and, as usual, it has said some sensible things, some less sensible things, and a few things that are simply nuts. Here's my immediate response to the 2014 Oscar nominees.
---
The Good
Despite a wave of (to my mind) sorely misplaced negative feedback, The Wolf of Wall Street was nominated in pretty much every plausible category: picture, director, adapted screenplay, and Leonardo DiCaprio for best actor. One of my favorites of all today's nominations was Jonah Hill for best supporting actor. I've been talking him up ever since I saw the film (doubtless that was what did it) for a performance that beautifully synthesized the acting chops he's been developing since Moneyball with the brilliant comic instincts he's displayed since Apatowland. A genuinely pleasant surprise.
Nice, too, to see the great Roger Deakins nominated for cinematography for Prisoners. It is probably a bittersweet victory, however, as it's hard to envision him beating out Gravity's Emmanuel Lubezki for the ultimate prize, which means Deakins's string of nominations without a victory could reach an astonishing eleven. I smell a sequel to 27 Dresses in the making.
Most of the other good news was unsurprising. The Academy chose nine Best Picture nominees—12 Years a Slave, American Hustle, Captain Phillips, Dallas Buyers Club, Gravity, Her, Nebraska, Philomena, The Wolf of Wall Street—and they tracked pretty closely with my own top nine, which merely substituted Short Term 12 and All Is Lost for Nebraska and Philomena.
Which brings me to…
The Bad
Let's begin with the overpraised: Nebraska was a fine little film, and Bruce Dern a worthy nominee. But picture, director, cinematography, original screenplay, and supporting actress (for June Squibb)? Better potential nominees were overlooked in nearly every one of those categories. I'm surprised, for instance, that 12 Years a Slave wasn't nominated for Sean Bobbitt's cinematography (though not nearly so astonished as I was that it was passed over for Hans Zimmer's score). And Alexander Payne getting a director nomination over both Paul Greengrass (Captain Phillips) and Spike Jonze (Her)? I'm sorry, but this is not right.
Likewise, Philomena: Yes, yes, always yes to global treasure Judi Dench. But beyond her customarily magnificent performance, there wasn't terribly much to the film, so the nods for screenplay and (especially) picture seem extravagant.
I'm extremely disappointed that Brie Larson was not nominated for best actress for Short Term 12, but it was hardly a surprise, given that neither she nor the film ever quite picked up any awards season momentum. A greater shock is that Emma Thompson was snubbed for Saving Mr. Banks, even with the film's overall fading fortunes. If Meryl Streep weren't, you know, Meryl Streep, one could almost imagine that her speech honoring Thompson at the National Board of Review—in which she blasted Walt Disney as a misogynist and anti-Semite—was a cunning bit of sabotage, enabling her to sneak into the Best Actress picture (for August: Osage County) at her friend's expense.