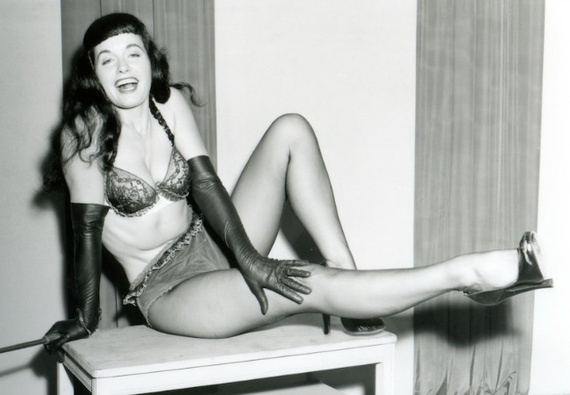 Nearly 60 years after her modeling heyday—which made her the most-photographed model of the 20th century—and five years after her death at age 85, Bettie Page continues to fascinate fans worldwide. The so-called Queen of Pinups tied with Einstein at No. 8 on Forbes' 2013 list of top-earning dead celebrities, and Time recently named her one of the 100 most influential people on fashion; her impact is so enduring that Madonna, Beyoncé, and Katy Perry borrow style cues from her (they've all donned the U-shaped "Bettie bangs" and bondage couture Page popularized).
But Bettie Page Reveals All, a new movie about her life, is the first film to tell her story in her own voice—in fact, she's the narrator. Based on a series of interviews with Academy Award-nominated director Mark Mori several years before her death, the film recounts how—despite a childhood in Nashville, Tennessee rife with neglect, sexual abuse by her father, and extreme poverty—she managed to graduate at the top of her high school class, earn a college degree, and forge her own career. Page also reveals details of her struggle with paranoid schizophrenia, which included 10 years spent in a psychiatric hospital after abandoning her modeling career.
One of the biggest surprises Mori discovered in making the movie, however, was the changing nature of Page's fan base. Once comprised mostly of men, the bulk of her fan base is now young women—so much so that now, they're the film's target audience. Heterosexual men tend to love Page for obvious reasons, but for many women, Page symbolizes self-confidence, unapologetic sexuality, and bold authenticity.
"Bettie's female fans often feel a deep emotional connection with her, which I think says a lot about the rigid expectations women still face," Mori says.  
***
During her modeling career in the '50s, Page's fans were mostly male, for the simple reason that her job was posing for men's magazines—which women typically did not have access to—and private photos for her employer's male customers. The wide circulation of nude magazines started in 1953 with the first publication of Playboy, which was clearly designated exclusively for men. Page was one of their earliest Playmates of the month in 1955, with her now-iconic Christmas tree pose by photographer Bunny Yeager.
When she did bondage modeling for Irving Klaw, those photos were often done at the specific request of customers—all of whom were, presumably, men. Page's nude and bondage photos were considered pornography, and some were published in catalogs that could only be sold in illegal, under-the-counter transactions. (As explored in Mori's movie, people were commonly arrested for selling and buying such photos, and mail could be confiscated if someone was suspected of doing so.) Back then, it would have been unheard of for a woman to even enter a place where those magazines were sold.
But in 1957, she disappeared from the public eye. A few years earlier, then-Senator Estes Kefauver had attempted to eradicate "indecency" like gambling and nude photos. After a teenage boy died from what appeared to be accidental autoerotic asphyxiation, a Senate committee drew a (largely unfounded) connection between the death and Page's bondage photos, and she was subpoenaed to testify in 1955 about unfounded accusations that she contributed to juvenile delinquency.
"That link was made by sexually repressive authorities—it was a completely concocted witch hunt," says Mori. Page was never called to testify at the hearing, but she inadvertently ushered in America's sexual revolution when people began resisting the oppression of "the McCarthyism of sex" spearheaded by Kefauver, according to Mori. The hearings led to the demise of Klaw's business and left a dent in Page's enthusiasm for modeling.
Since then, however, several historical events have fueled women's growing interest in Page. It began in the '60s with dawn of the women's liberation movement and the sexual revolution—the latter of which Page has been credited with setting the stage for. As writer Hubert Vigilla says in his film review for Flixist, "She was a sex-positive feminist before the classification even existed."  
In the 1960s, "women began gaining access in large numbers to erotic material, and they gravitated toward the images that resonated with them," says Maria Elena Buszek, Ph.D., a professor of art history at the University of Colorado Denver, and author of a book called Pin-Up Grrrls: Feminism, Sexuality, Popular Culture. For many women, especially feminist women, the most compelling photos were those of Page. "She started becoming popular with women as they discovered her."
Later, illustrator Dave Stevens modeled a main character after Page in his famous comic book The Rocketeer, which debuted in the early 1980s and was made into a movie by Walt Disney Productions in 1991 (one year before Page was released from California's Patton State Hospital). Stevens's work has been cited as a major catalyst in bringing Page back into the public eye after many years in obscurity. (He and Page were friends until his death in 2008.) Her popularity soared with the widespread adoption of the Internet throughout the '90s, and it has continued to climb steadily ever since: In 2011, she appeared on Forbes's list of the top-earning dead celebrities list at No. 13, and in the next two years, her ranking climbed to No. 10 and then No. 8. In 2013, she posthumously earned $10 million dollars.