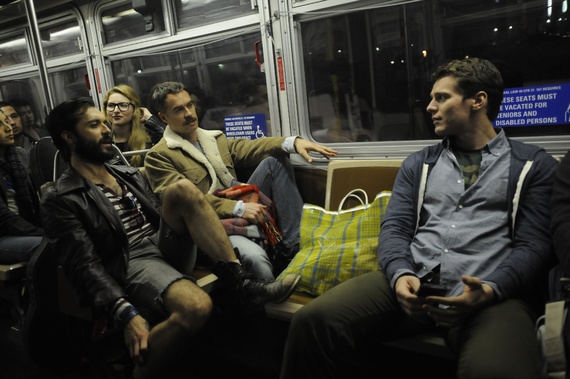 While television has, in recent years, offered a growing cast of gay characters on shows from Modern Family to Orange is the New Black to The New Normal, (cancelled last May), few series focus solely on the nuances and complexity of contemporary gay relationships. This is about to change, however, with the premiere of HBO's Looking, (Sunday at 10:30pm), a half-hour drama exploring the lives of three gay men in San Francisco.
The three friends—Patrick, a 29-year-old video-game developer (Jonathan Groff); Agustin, a 31-year-old artist (Frankie J. Alvarez); and Dom, a 39-year-old waiter (Murray Bartlett)—are based on the characters in Michael Lannan's short film Lorimer. Lannan, the creator of the show, also serves as its co-executive producer along with Andrew Haigh, who directed the 2011 indie film Weekend. I spoke with Lannan and Haigh from their office in L.A.
This interview has been lightly condensed and edited for clarity.
---
What was your experience like trying to sell this show to HBO? Was it difficult?
MICHAEL LANNAN: We had this very casual conversation at HBO in Santa Monica about gay characters and why there weren't any shows that featured gay characters. We talked about shows in the past like Tales of the City and the UK version of Queer as Folk that were so great and inspiring. We wanted a version of those shows that we could do now, that felt contemporary, fresh, relevant to the time.
They asked me to write a half-hour with those three characters [from Lorimer], and that was the beginning of our development. It was an opportunity before us—something that wasn't being done.
Do you think Looking would survive as a network show?
ANDREW HAIGH: I can't imagine it working. HBO has given us the freedom to explore things that wouldn't be OK to explore on a network show. In terms of language and sexuality and honesty and realism—you just wouldn't be able to do it. There would be a lot of pressure to make it funny or make it something that we didn't want the story to be.
LANNAN: And in terms of the style, they were supportive of it having a cinematic quality, of having Andrew develop the cinematic language and be unconventional, and having characters that were quite subtle in some ways, but also very emotional. Distinctly in the "comedy" department, but they let us find our own type of comedy that worked for the show.
HAIGH: Allowing them to be emotional was the key; you really cared about these people and wanted to watch their development and their journey, and keep it within the everyday, the subtle and the small.
Looking deals with the complicated boundary between sex and intimacy that is universal across relationships—gay or straight.
HAIGH: You want it to be universal. The minute you start to become specific about these characters, you start to see that their concerns and struggles universal. The notion that gay people are completely different from everybody else … well, of course they're not. We all have similar desires and similar needs. And I think that struggle and search for intimacy and connection is such a universal one, and it's what we wanted to focus on.
LANNAN: The best HBO shows have been about very specific, detailed worlds. Everything from The Wire to The Sopranos is about very specific places and times. But through that you get this more universal and transcendent thing.
HAIGH: It's interesting—you watch something like The Wire, and of course you understand those characters and they resonate with you. And then there's this idea that if you watch a show about a bunch of gay people and you're not gay, it's not going to reflect your life. But of course it reflects your life.
Do you think Looking challenges stereotypes about what it means to be a gay couple?
HAIGH: It's not that we wanted to necessarily challenge the audience, but we certainly wanted to explore the subtleties and the different types of relationships people can have. Just because now gay people can get married, it doesn't mean they want to get married. It's important that we look at all the different ways people can have relationships and the ways they can make things work.
LANNAN: It's built into Patrick's journey. He begins the show with the idea that you can either have sex in the woods or settle down and get married. As the show goes on, he realizes that those aren't the only two choices—that there's this whole world of options.
HAIGH: It speaks to a universal concern that all of us have, which is the two poles of security and freedom. That's what Patrick's dealing with. He's torn between complete freedom and complete security, and I think we all can understand those dual desires.
Where does Looking fit into the context of other shows that have featured gay characters?
LANNAN: We don't really know. We're doing what we think feels real and authentic to us, that builds on our own influences, Andrew's and mine. Everything from '70s cinema, '90s indie cinema, to television shows we loved like Tales of the City. Only time will tell where it fits in.
HAIGH: Our ambition is not to tell the story about all gay people, which is impossible to do. The gay community is full of all different types of people. It never was our intention to be the ultimate gay show about all gay people. We just want to tell the stories of these characters and their lives.