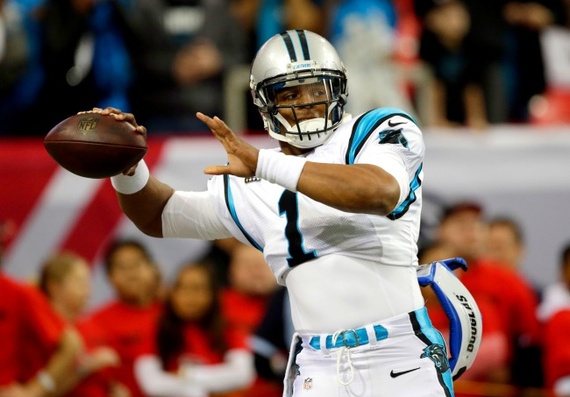 At a press conference this week, Carolina Panthers coach Ron Rivera offered an assessment of Cam Newton's career thus far. "He's won a national championship, and he's won the Heisman Trophy," Rivera said of his young starting quarterback. "I'm not sure there's anything other than being in the Super Bowl that's bigger."
Rivera is off by a little. After you've won a BCS title and the Heisman Trophy, there's one thing bigger, one other thing that cements your legacy as an all-time great quarterback: winning the Super Bowl. After winning the NFC South, Newton and the Panthers could take their first step towards winning the big one Sunday in Charlotte when they host the defending NFC champs, the San Francisco 49ers.
Newton is only 24, but the pressure is on him.
What mattered to the Panthers when they made Newton the No. 1 pick in the 2011 draft was that, at 6'5" and 245 lbs., he had terrific potential. His first season didn't disappoint: He passed for 21 touchdowns, averaged 7.8 yards a throw, ran for 706 yards with a league high 5.6 yards/rush, and ran for 14 TDs, more than any NFL quarterback ever. He became the first rookie to pass for more than 4,000 yards in a season. Newton immediately fulfilled the definition of a "franchise quarterback"—someone to build a franchise around, a quarterback who can carry his team to the Super Bowl.
Today, in his third NFL season, he's successfully bounced back from a disappointing sophomore season—but it still isn't clear that his overall performance is improving with experience. His current yards-per-pass average, 7.1, is down from 7.8 as a rookie and 8.0 last season, and he has thrown one more interception this year than last. Likewise on the ground—his 5.3 yards/rush average is his lowest in his three seasons. Newton certainly has the tools to be one of the NFL's great quarterbacks—he has the size and strength of a linebacker, the speed of a running back, and a laser cannon of an arm, delivering a football into a receiver's hands so fast that in slow-motion replays the ball looks like it's moving at regular speed. But though he has dazzled at times, he has not yet shown greatness—and his window of time to do so may be closing. Three seasons may not seem like enough time for a pro football passer to reveal greatness. But history says otherwise. Most of the game's elite quarterbacks matured early, and many won their first championship ring within four years or even sooner.
The lineage of greatest NFL quarterbacks begins with Johnny Unitas, who led the Baltimore Colts to a sudden-death title over the New York Giants in 1958, just his third season in the league. Bart Starr, winner of more championship rings than any quarterback in the modern era—five—didn't get his first ring until he'd been in the league for six seasons, but if you count Starr's career as really beginning when Vince Lombardi joined the Packers in 1959, he won his first ring in his third year as a starter and had the Packers playing for the NFL title in just his second year.
Joe Namath pulled off a massive upset over Unitas's Colts in his fourth year at the end of the 1968 season. Joe Montana won the first of four Super Bowls in 1981, just his third season in the league. Tom Brady won his first of three rings in 2000, just his second year as a starter; so did Ben Roethlisberger in 2005. Eli Manning took the Giants to a Super Bowl win over Brady's Patriots in his third year. After the 1999 season, Kurt Warner led the St. Louis Rams to their only Super Bowl win in just his first year in the starting spot. Aaron Rodgers rode the bench behind Brett Favre until 2008, and then, in his third season as a starter, took the Green Bay Packers all the way.