***
Each year also brings a crop of chef's books, almost uniformly useless in the home kitchen but worth looking at if the mind of the chef interests you. One exception is when a particularly talented editor works as interpreter for the home cook. So you know that The Gramercy Tavern Cookbook (Clarkson Potter), by Michael Anthony, will work, because Dorothy Kalins, founding editor of the US edition of Saveur, is listed as producer. Anthony's taste, like the New York City restaurant's, is for fairly homey, if beautifully presented, American food. Kalins also brings us another slice of America in John Besh's Cooking From the Heart (Andrews McMeel), a lavish and handsome picture book that's more or less a biography of where Besh, the charismatic former Marine and now TV personality, trained and traveled before establishing his several restaurants in New Orleans, particularly the German Black Forest and Provence. The new book reads like a long magazine or travel book with particularly appealing recipes. 
Here are the three chef's minds you need to look into this year: Pickles, Pigs and Whiskey: Recipes From My Three Favorite Food Groups (and Then Some) (Andrews McMeel), by John Currence, who reinvents Southern food at his City Grocery, the culinary heart of Oxford, Mississippi, a place with plenty of heart. Currence, a native New Orleanian, knows the ingredients of the South, and so will use, say, Steen's cane syrup (which I wrote about after visiting a Louisiana plant) with pork belly braised in ham stock, or emblematic yellow cornmeal in chicken-skin cornbread.
Andy Ricker has spent nearly 20 years traveling in Thailand, and his Pok Pok, in Portland and now New York City, has become a cult. You'll see why in Pok Pok (written with J.J. Goode; Ten Speed Press), as rich and complex a guide to a rich and complex cuisine as I've seen, destined to join David Thompson's Thai Food as classic explanatory works in English. A few recipes, like stir-fried brussels sprouts with Thai fish sauce and soy sauce and chiles, garlic, are thinkable in home kitchens, but most are flavor-layered curries and soups  and noodle dishes so interesting you'll want to re-equip your pantry. And following his instructions you'll be able to: Ricker is careful to specify kitchen implements, mail-order sauces, provide a very clear guide to ingredients, and to admit what's (fairly) easy and what's really hard. He's a natural teacher.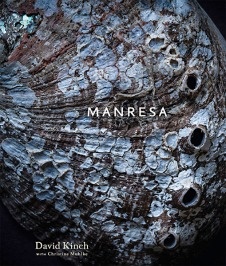 David Kinch is a chef's chef. At Manresa, his restaurant an hour south of San Francisco on the California coast, he serves beautiful and extremely sophisticated food informed by haute cuisine in Scandinavia and Europe (Michelin has for five years given him two stars) and made with produce from Love Apple, a farm the restaurant owns in partnership with a local lawyer-turned-farmer named Cynthia Sandberg (not Sheryl's sister). His recipes are almost exclusively for other chefs, but also fascinating (spot prawns with bone marrow and artichokes, creamy nasturtium rice with passion fruit and crab, and if you've wanted to make the edible soil on so many trendy menus at home, here's your source). In Manresa: An Edible Reflection (Ten Speed Press), written with Christine Muhlke, the executive editor of Bon Appetit, you'll see why his fellow chefs hold Kinch in almost unique regard. I can't help hoping every chef will take this to heart: "When it comes to inspiration beyond Love Apple, I don't turn to the Internet. Absorbing all of that content without actually tasting the food and experiencing the restaurant can pollute a chef's vision."        
***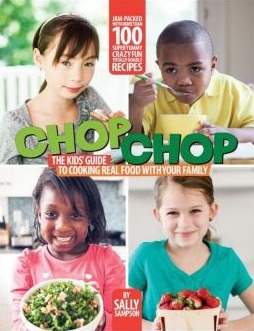 Cross all parents of young children off your gift list by buying them Chop Chop: The Kids' Guide to Cooking Real Food With Your Family (Simon & Schuster Paperbacks), the book version of an innovative nonprofit quarterly magazine created by Sally Sampson, one of the country's most skilled and experience cookbook writers. Sampson has solved a puzzle everyone talks about—how to make children and families cook—by being truly cross-cultural, practical, explicit, and never patronizing. Whether cheeseburgers, chili, gazpacho, homemade peanut butter, fajitas, or molasses cookies, these are recipes that will teach parents as well as children, and fill refrigerators for weeknight suppers.
***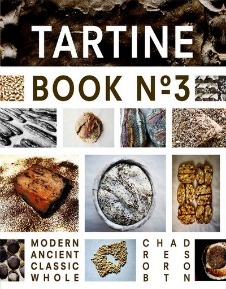 As with chef books, professional bakers' books are seldom of direct use in a home kitchen. Chad Robertson's Tartine Book No 3 (Chronicle) isn't really an exception. It's not for beginners. But Robertson might be the most admired bread baker in the country: Tartine, in the Mission district of San Francisco, has a line out the door pretty much every minute it's open (I'm proud to say I devoted a chapter to its original location in my Pleasures of Slow Food); Bar Tartine, its restaurant a few streets away, is a must stop for every food-lover. His cult has reached Sweden and Denmark, where he has spent time teaching and baking. His new book shows the influence of those trips, in sprouted- and fermented-grain and seeded breads, and breads using cold-climate grains like rye, oat, cracked corn, kamut, toasted groats, and millet, many of which will be of interest to those looking to reduce or eliminate their gluten consumption
The four locations of Flour, a bakery-cafe in Boston, also have constant lines, but this being Boston, with infinite winters, they don't go out the door. At first the restaurants were popular for the sunny personality of the owner, Joanne Chang, who was always there to welcome customers. Now she bikes and runs (literally—she does marathons) between the locations, but not everyone knows her, they just know how good the soups, salads, sandwiches, and mini-pizzas are, as well as the baked goods. In Flour, Too: Indispensable Recipes for the Cafe's Most Loved Sweets & Savories (Chronicle), Chang reveals the secrets of her egg sandwich (bake scrambled eggs and cut them into pieces, layering the squares with tomatoes, cheese, and bacon), curried tuna with apples and golden raisins (the sandwich I always have; now I see one of the reasons it's so good is lime, not lemon, juice and red, not white, onion), and "winter paper salad," with hazelnuts, fennel, apples, celery, and flat-leaf parsley, dressed with hazelnut oil, dijon, and champagne vinegar. There are holiday showpieces—croquembouche and buche de noel—but the dessert likely to become standard is bittersweet chocolate-espresso terrine, flourless and not great to look at but potent to eat, and one of her most popular desserts.