***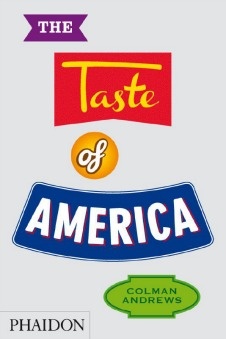 The Taste of America (Phaidon), a hardcover book with a shiny silver cover is presented as a kind of fancy catalogue, with colored drawings of Colman Andrews's favorite American regional foods that "most vividly express the way we eat."
The reason it deserves the hard covers is that even after the brands vanish, the information that Andrews, one of the most prolific and skilled writers on food in this or any country, has collected on foods like Missouri black walnuts, and how those industries got started, will stay valid and absorbing. There are history nuggets on the origins of the corn-chip biz and the difference between two Macadams for whom nuts and paving asphalt were named (the paving man, a Scottish surveyor, predates the Scottish-born Australian chemist and politician in whose honor the nut was named by 71 years). 
On every page there are also specific product recommendations for purveyors you'll probably know (Kossar bialys, Cafe du Monde beignets) but also new ones you'll want to try, like Hudson Cream flour, from Kansas (the country's best, his colleagues at Saveur, which he used to edit, told him), Callie's Country Ham biscuits, local albacore tuna canned with a bit of salt and no liquid from Eureka, California, and Potter's graham crackers, made by a food-science student at the University of Wisconsin Madison whose mother owned a bakery nearby. And he makes you remember under-publicized US treasures, like Texas ruby red grapefruit.
In fact the book could be a source guide for your entire Christmas list, as well as for holiday-table arguments (the best pastrami isn't from New York but ... LA? The best golden russet apple is from Pennsylvania? No, it's the Roxbury russet in my front yard). The sources include the reigning standards like Nueske's bacon and Benton hams. Besides making tempting reading, this is an encouraging picture of surprisingly healthy American regional industry of the kind Jim and Deb Fallows are turning up in their great American Futures series.
***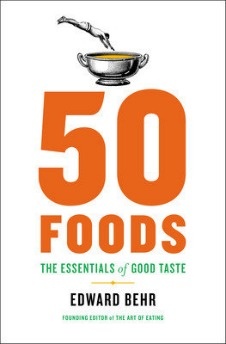 For more than 25 years, Edward Behr has championed simple, artisanal food, much of it discovered during explorations in France and Italy, in his newsletter and now magazine The Art of Eating. He's compiled his always-instructive essays in 50 Foods: The Essentials of Good Taste (Penguin Press), arranged alphabetically rather than by subject—a bit oddly, given that so many of the entries are on, say, cheese, a longtime passion, or bread, another. Each has something on buying and storing you can learn from, and an observation you might never have thought of but will make you nod in agreement: "Cooked, pears...aren't tart enough to complement meat in the way that an apple or a prune, say, complements pork"; "Compared with wheat bread, the taste of rye comes less from fermentation than from the quality of the grain itself."
***
Four books put into practice the simple cooking that underlies Behr's philosophy (50 Foods includes no recipes): One Good Dish (Artisan Books), really 100 recipes (to continue the numbered theme) by David Tanis, former chef of Chez Panisse and author of the New York Times' City Kitchen column, each of them showing an exquisitely attuned, but not precious, sensibility that draws from Provence, Spain, Italy, and California and keeps things manageable. Typical: "Nicoise salad on a roll," an Americanized version of the Provencal pan bagnat. If I could eat one cook's food every night, it would be Tanis's.
The Art of Simple Food II (Clarkson Potter) extends Alice Waters's Chez Panisse philosophy into the garden, an extremely natural step given that among her most lasting contributions to the culinary world—to the country, really—will be getting schoolchildren into the garden. There are plenty of recipes, of course, as in the first Art of Simple Food, but what distinguishes this book is understanding the interplay between garden and kitchen. It will have you imagining how to plant your front or back yard or your fire escape.
Joe Yonan really did live in a garden to write Eat Your Vegetables: Bold Recipes for the Single Cook (Ten Speed Press)—his sister and brother-in-law's Maine homestead. Yonan, food and travel editor of the Washington Post, found in writing a monthly column called Cooking for One (part of the title of his first book), that he and most people he knew were becoming vegetarian or vegan, so he got his hands dirty for months. There's nothing purist or overtly virtuous about his book, though: he loves Korean and Asian food and the Texas barbecue of his childhood, and draws on those and many other styles. The single portions and meatlessness are almost side aspects of a vibrant short book that will make you cook. And even, yes, massage your kale.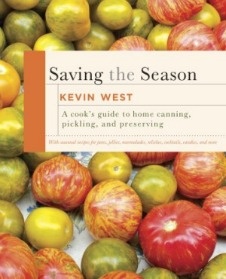 The next step after growing your own food is of course preserving it, and you've likely noted that restaurants everywhere serve pickled everything even in the height of growing season, to show they've gotten with the grow-your-own program. This still seems to be a step farther than even diehard farmers-market shoppers are willing to take. But maybe they'll be convinced by Kevin West's Saving the Season: A Cook's Guide to Home Canning, Pickling, and Preserving (Knopf)—as much by its stylishness (West is a former writer and editor for W, as well as having earned a certification as a Master Food Preserver by the University of California Cooperative Extension) and storytelling of the author's east Tennessee childhood. He brings in gardening history, 18th-century American painters (Raphaelle Peale), poems, and practical information; it's a rich book. And unlike other books on preserving, West gives recipes that will goad you to make easy preserves, for example an apricot crostata with a lard-butter dough, fresh apricots, and a spread of apricot butter made of just apricots, sugar, and lemon juice. But it's not all height of summer: You can start on the winter chapter, with grapefruit vodka, Seville orange marmalade (my own January activity, always using a different recipe—West's this time), and homemade gummi candy.