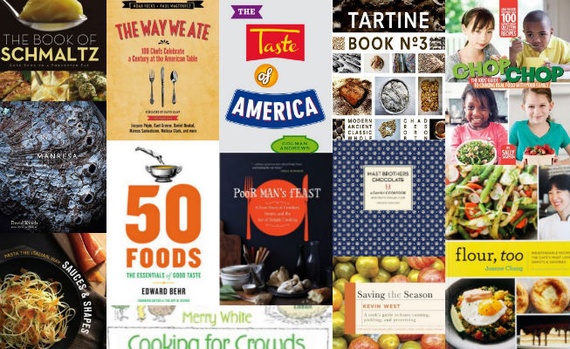 Forty years ago a young anthropology graduate student named Merry White published a book of recipes she'd used as in the catering jobs she worked to put herself through school. The book was accidental: A publisher saw the sheaf of recipes she'd left lying around, and commissioned a young artist he knew to do black-and-white drawings in the frizzy style that would be come a trademark when Ed Koren became one of The New Yorker's best-known contributors.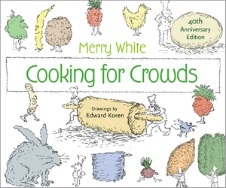 As a sign of the suitability of the match, White, known as Corky, came to resemble a Koren drawing (of a person, as opposed to the adorable frond-topped carrots and parsnips gathered round a feast table). And she went on to be a distinguished specialist in Japan, including as author of the marvelously interesting and recent Coffee Life in Japan (which I blurbed). Now Cooking for Crowds (Princeton University Press) has been reissued, and it's not just enormously charming but useful, full of sturdy recipes that can still seem mildly exotic no matter how much we flatter ourselves at the sophistication of our palates, each of them scaled for groups of six, 12, 20, or 50.
Yes, White was living in Cambridge, where as she points out in a new introduction most everyone had already lived somewhere else, and cosmopolitanism was assumed. But the extent of her adventurousness remains startling: substituting ground beef and pork, for instance, for the horsemeat she had used in Nepal when learning to make momos, meat-filled dumplings. Yes, we all have our own recipes now for spanakopita and salmon with dill. But do we all have an easy rabbit stew? Her recipes for chicken tandoori, for instance, are reliable without being dumbed down, and fermented watercress soup is right in line with today's fermentation mania. Others I want to try right away, like stuffed cabbage whose filling is miles away from my grandmother: chicken liver, chopped salt pork, ground pork, bacon fat, and plum tomatoes. This is more, that is, than an artifact of Brooklyn avant la lettre. It's full of practical dishes and tricks you'll call your own, like tossing fresh-roasted almonds in maple syrup to serve on ice cream.
***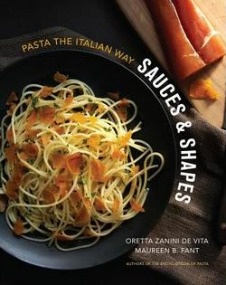 Every year brings its own Italy picture books, useful more for assembling travel wish lists than for actual cooking. This year exactly one was published that will stay in your kitchen and get sauce-stained. (Well, two: Lidia Bastianich published a book to go with a TV series, Lidia's Commonsense Italian Cooking, with her daughter, Tanya Bastianich Manuali; this is for very simple cooking, and like everything she writes completely usable.)
However unimaginatively titled, Sauces & Shapes: Pasta the Italian Way (WW Norton) is just what it says—exactly the way Italians cook pasta, with a particular emphasis on which shapes go with which sauces. That's the shtick, at least, and the discussion of the right shapes is imaginative and informative. But at heart this is an everyday cookbook full of quick, nutritious sauces that will make nearly instant dinners: tuna and porcini; chopped arugula and herbs with just olive oil and lemon juice; lemon peel steeped in cream; pasta baked with mozzarella and other cheeses you have on hand. The authors, collaborators on the previous Encyclopedia of Pasta, are as or more knowledgeable than anyone writing on Italian food: Oretta Zanini De Vita, an experienced and energetic historian and cook who has spent decades in libraries and traditional kitchens, and Maureen B. Fant, a longtime journalist, classicist, and writer on Italian food who gives food tours of Rome, where she has lived for thirty years.
Some recipes are complex, like the many ragus, including rabbit, for the ragu-obsessed (a growing number). There are soups and other categories of dishes that include pasta, and at the end a definitive guide to making our own pasta, with the kind of explicit line drawings that signify serious business. This is an authoritative guide for every pasta sauce you've heard of, reduced to its essentials the way an Italian cook would make it, informer by utterly Italian sensibilities (with an American's tell-me-again-how-that-works practicality). And you can at last silence arguments on the right way to make carbonara.
***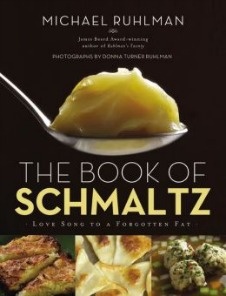 You don't have to be Jewish to be made very, very hungry by The Book of Schmaltz: Love Song to a Forgotten Fat (Little, Brown). The author, Michael Ruhlman, isn't. It took a non-Jew to give chicken fat the respect it deserves. Michael Ruhlman is an extremely accomplished food writer (collaborator of Thomas Keller, author of the invaluable Ratio) who believes as most food people do, that fat has a place of honor on every plate.
He recognizes a great fat when he tastes one, and also has a "terrific cook" for a Cleveland neighbor named Lois Baron, who like many assimilated Ashkenazic Jews in the Midwest didn't keep kosher but had schmaltz at many meals. (Startlingly, as is not mentioned here, in today's Eastern Europe "schmaltz" almost universally means pork fat.)
From her he learned the basics of rendering skin with onion to make schmaltz, how to make gribenes, or cracklings. Using her recipes and his own cooking smarts, he came up with perfected classics like matzoh ball soup, chopped liver, kugel, and potato knishes (graduate level even for most Jews; and you know he isn't Jewish by his pronouncement that "I find kasha appalling"). He goes a level further with a terrine of pate de foie gras, dumplings made with piped cream-puff dough, oatmeal cookies with dried cherries (yes), and, in one of the few not-even-possibly-kosher recipes, scones with roasted red pepper and Parmigiano-Reggiano. I admit to my own Rodney Dangerfield moment seeing a small, elegant book with beautiful color pictures (by Donna Turner Ruhlman; the book started as an iPad app the couple published) devoted to a humble staple of my childhood kitchen.