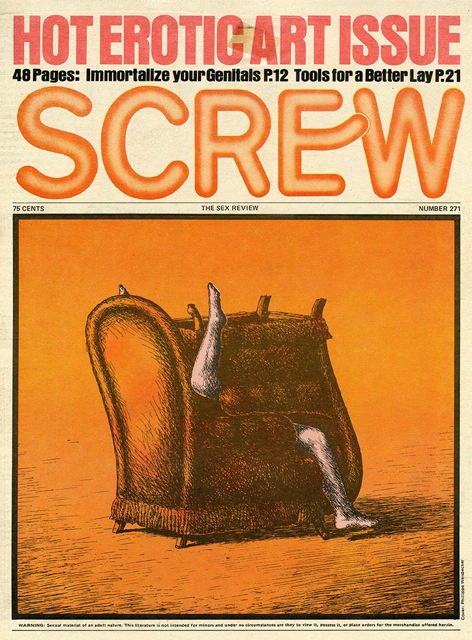 The pioneering pornographer Al Goldstein, founder of the Midnight Blue TV show and publisher of Screw, died Thursday at 77. It's a miracle that he lived so long. His life was a rollercoaster of affluence and penury. His health was as over the edge as his psyche. Yet I was truly surprised when I heard the initial, though premature, announcement of his demise published last Monday on therealpornwikileaks.com; relieved to hear it was untrue; and saddened two days later by the confirmed news of his passing on the front page of New York Times website. (Ironically, he had always sought the Times' acknowledgement and rarely received it. Prior to this respectful obit by Andy Newman, my review of I Goldstein: My Screwed Life, was one of the rare occasions that he was covered in the paper for something other than an arrest, lawsuit, or other ignominy.)
I illustrated my very first newspaper cover for a story Goldstein wrote, about him working as an industrial spy against a labor union, for the New York Free Press (where he met his Screw co-founder, Jim Buckley). I served as art director for the first five issues of Screw when I was just 17 years old, and returned for three more years when I was 19. Goldstein also introduced me to my first wife.
The oft-caricatured pornographer could be damagingly insensitive one minute and incredibly generous—indeed, brotherly—the next. I left Screw after five issues over an argument about a crappy psychedelic logo he wanted to use; he harangued me over the phone for an hour, calling me an amateur (one of his favorite insults) with such shattering vehemence I couldn't hold back the tears. So I quit to cofound my own underground sex paper, The New York Review of Sex. Yet when he asked me to return after the NYRS was busted out of existence by the NYPD, he lavished me with assurances, gifts, and health benefits, and paid for my wedding party at Ratner's Dairy Restaurant on lower Second Avenue.
I learned a lot from Goldstein—though not how to pick-up girls, since my love life remained dismal while at Screw and during the subsequent, predictable divorce. Instead I learned about publishing freedom. Goldstein knew exactly how and what he wanted to say in print, but had no preconceived idea of how it should look. I had carte blanche (maybe too soon in my career) to devise any format I wanted, hire any illustrators that would add to the sexual offerings, introduce comics and cartoons that pleased my eye and immature sense of humor, and create ancillary Screw products, like our magazine, Mobster Times, which satirized politics. I never had to show Goldstein a sketch, and on the rare occasion that he was displeased with something, he rarely killed it. Instead he would simply berate me with snide comments for a few days—and that would do the trick. He allowed me to learn on the job, evolve our production methods and hire any assistant I wanted for the art department. All he wanted in return was a little loyalty.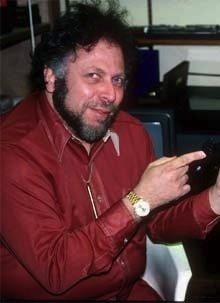 I gave him that, as well as my respect. He could be a lunatic. He could make life miserable for some. He would exploit others. But he had this strange sense of justice that made me proud. After Screw had been refused an account at a major New York bank for being, well, Screw, Goldstein received a call from Roy Cohn, Senator Joe McCarthy's former henchman, who was also turned down by the same bank. Although Goldstein was initially flattered to hear from such a notorious figure as Cohn (Al loved attention) he responded in a typically Goldsteinian way: He sent Cohn (who never said he was gay, though he died of AIDS) a fruitcake with a simple "no thanks."