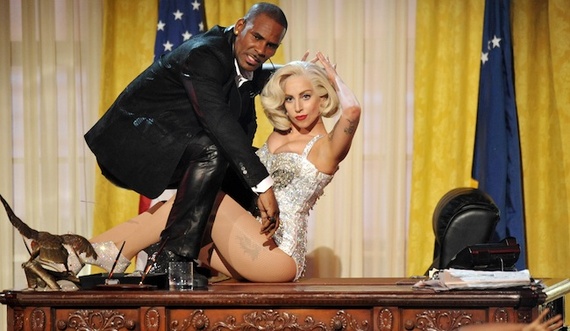 R. Kelly has consistently been one of the most forward-thinking artists in R&B, , a singer who makes up new rules as he goes.
On his 1995 album R., he began effectively incorporating hip-hop into R&B, collaborating with the Notorious B.I.G.; Kelly's 2011 memoir, Soulacoasta: The Diary of Me, suggests that he has worked with more than 50 rappers since then. He often uses a hybrid vocal approach, speak-singing his way through strange or lewd scenarios that are packed into overflowing, ambitious albums. For his 2000 release TP-2, he referred to himself as an "R&B thug," appropriating some hip-hop attitude for the world of smooth soul men. This, along with Kelly's sexual frankness, helped his genre seem a little less old-fashioned at a time when rappers stole a lot of its relevance.
But inexplicably, Kelly decided to go retro on his last two albums. Love Letter and Write Me Back explicitly referenced Sam Cooke and '70s Philadelphia soul, and they felt redundant. Despite Kelly's role in making R&B for the 21st century, links with tradition have always been clear in his music. He practically drips with retro credibility; there's no need for him to devote entire albums to proving it.
After these two throwback efforts, Kelly seems to have realized that his place on the leading edge is in jeopardy. On his latest release, Black Panties, he's looking to reclaim his place as the premier hit-maker blending R&B, rap, and raunch. The lone, suit-wearing soul-man who graced the cover of his last two albums is gone; instead, the artwork depicts Kelly with a scantily clad woman on his lap, or Kelly staring out from a heap of similarly dressed ladies. There were no rap collaborations on his previous two releases; the first single from the new album, "My Story," features 2 Chainz. Ludacris and Young Jeezy also make appearances on the album proper; Future, Migos, and Juicy J show up on the deluxe version.
But Kelly's reentering a crowded field. Singers like Trey Songz, Jeremih, and more recently, Ian Isiah have watched Kelly's career path carefully and attempted to emulate it (though they haven't achieved his ubiquity). A crop of young West Coast artists, like Ty Dolla Sign and DJ Mustard, can blend R&B and hip-hop into streamlined bolts of minimalist musical debauchery. The Ty Dolla-DJ Mustard collaboration "Paranoid," for example, begins, "I got a bad light-skin from the valley/ she be in the club with no panties," which makes Kelly's album seem overdressed, title-wise, in a year when artists seems to be in a race to include the most bare flesh in their videos.
Kelly certainly tries to be of the moment on Black Panties, which is full of trendy hip-hop production. He frequently tracks his verses with light percussion and background synthesizers, and then moves into onslaughts of programmed drums on the hooks. The album reflects the sonic aesthetic of many major-label hip-hop releases, which contain an assortment of sounds from a variety of producers. (Though Kelly usually has a hand in most, if not all, of the production on his albums.)