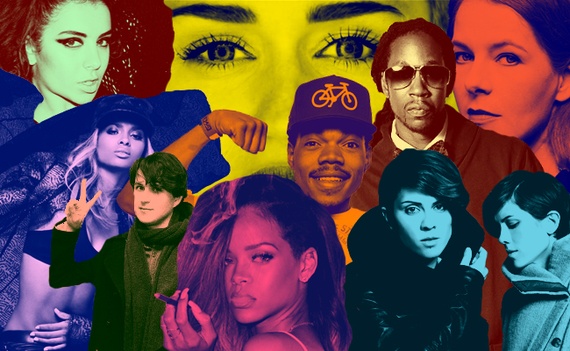 The Atlantic's Entertainment Channel—editorial fellow Nolan Feeney plus editors Ashley Fetters and Spencer Kornhaber—discusses the songs that made us laugh, cry, rage, and want to hit the gym. Scroll to the bottom for the Spotify and Rdio playlists of all our favorites.
---
What's the most 2013 song of 2013?
ASHLEY FETTERS: Over the summer, New York Magazine ran a great story about how, for the iPhone generation, romances are never really over—now that we can Facebook stalk, drunk text and/or lonely text on the sly, do the gradual oops-sorry-didn't-see-your-text-till-now fadeout, and post passive-aggressive quips or images on social media, people are hardly ever just out of one another's lives, period. Nicki Minaj and Ciara's excellent breakup jam "I'm Out" came out around the same time and mentions some of these very same kinds of tech-assisted romantic manipulation: ignoring texts, posting hot post-breakup photos online, and throwing shade on Instagram.
And maybe the 2013 song that betrays the deepest misunderstanding of how the world works in 2013 is 2 Chainz and Fergie's "Netflix." "Let's make a sex tape and put it on Netflix," they drawl in unison. What? You don't put things on Netflix, guys. That's YouTube! (Or, in this case, probably one of its DIY-pornier cousins.) 
SPENCER KORNHABER: If we're using New York publications' think pieces as our barometer of what "2013" means, then I've gotta bring up Jon Caramanica at the Times calling Macklemore the first "contextually post-black pop-star rapper." "Huh wut" is an appropriate response to a statement like that, but the music critic Jordan Sargent offered a smart interpretation that partly centered on the idea that "arguably the story of pop in 2013 has been the ascension of white artists at the expense of black artists." Examples: "Baauer (who is not white but whose audience is) going number one thanks to a meme that bastardized the Harlem Shake, Robin Thicke and Daft Punk (and even Justin Timberlake) being the white faces at the front of classically black songs, Miley Cyrus' entire existence."
Lorde's No. 1 hit "Royals" both embodies this phenomenon and, in a way, comments on it.  She's caught flack for seeming to diss hip hop while at the same time capitalizing on it, but part of the song's appeal is that it also sounds like a 16-year-old New Zealand girl's honest reaction to some features of America's globally influential pop culture. It's about the mental whiplash that comes from being both infatuated with and puzzled by the Grey Goose-sipping dogma that dominates radio. Rap's materialism originally was—and often, still is—a reaction to economic destitution and oppression. But it, like so many hip hop tropes, has been appropriated, commoditized, and warped over the years. Lorde may not understand the history behind rappers' brags about "Cristal, Maybach, diamonds on your timepiece / Jet planes, islands, tigers on a gold leash," but she does recognize that for her—and for a lot of people—their appeal lies exactly in their otherness: "Let me live that fantasy."
NOLAN FEENEY: According to to popular wisdom, "featuring Pharrell Williams" were the magic words of 2013. According to me, "produced by Ariel Rechtshaid" conjures up a more impressive resume than Williams's: In one year, this guy helmed albums from Charli XCX, Haim, Sky Ferreira, and Vampire Weekend, whose own "Diane Young" feels quintessentially 2013 given its sly commentary on #YOLO pop—the title is a play on the phase "dying young."
On the other hand, it's impossible to ignore the cultural juggernaut that is Miley Cyrus. "We Can't Stop" embodied the year's most notable trends and themes, both musical (twerking, Molly talk, cultural appropriation concerns, Mike WiLL Made It beats) and non-musical (millennial hand-wringing, selfie anxieties, excessive hashtags, the BuzzFeedification of the Internet). So how does one settle this tumultuous, internal debate? Easy: With "Ashtrays and Heartbreaks," a song that features both Miley Cyrus and production from Rechtshaid.
Months before she gave foam fingers and teddy-bear outfits a bad name, this smoked-out collaboration with Snoop Dogg's reggae reincarnation, Snoop Lion, was the first taste of Cyrus's hip-hop transformation. Snoop's own glum verses are nothing special, but Cyrus's hooks about getting high to escape the pain and loneliness of real life pack the same emotional punch of "Wrecking Ball." It's far from the best song of the year, and it's certainly not the most popular. But with Rechtshaid's touch, it's got 2013 written all over it.
---
We talked a lot this year about the many ways in which pop music is often problematic—racism, misogyny, and homophobia still persist. But music has historically been a platform for forward-thinking statements, too. Were there any moments in music this year that made us say, "Hey, that's actually pretty cool and progressive"?
FEENEY: Angel Haze's version of Macklemore and Ryan Lewis's Grammy-nominated gay-rights anthem "Same Love" is, at the risk of being hyperbolic, unforgettable. The first time I heard Haze murmur, "Hi mom! I'm really scared right now, but I have to," over the song's cheerful, introductory piano notes, I foolishly thought it was adorable. My stomach dropped seconds later when the 22-year-old queer rapper recalls the time her mother sat her down and said, "You'll burn in hell or probably die of AIDS."
I've seen the argument that the Mary Lambert's chorus on the original "Same Love"—"I can't change, even if I tried, even if I wanted to"—is more regressive than progressive because it engages with the language of bigots, presenting homosexuality as just biology rather than stating something along the lines of "I'm here, I'm queer, and it doesn't matter why." But Lambert's words take on a different tone here when they follow Haze's verse about how her mother locked her away for two years "because she'd rather see a part of me die than me thrive." Even if nature-versus-nurture conversations should be irrelevant in 2013, many LGBTQ people can't frame the conversation in more progressive terms because they are, say, getting kicked out of their homes by loved ones who do think change is an option. Haze's cover, with Lambert's chorus, feels necessary when so many others in her position (or worse) don't have the same platform.
If Haze wrote and released this exact song before Macklemore did, would it have been as popular? Of course not, and Haze knows that too: "I'm sorry if it's too real for some of you to fathom," she raps in the first verse. I think part of the original's success was its relative safeness—a message wrapped in an attractive white package where the biggest threats are anonymous YouTube comments and DOMA. Now, I'm not going to pretend I don't like Macklemore's version—I spent plenty of days last fall driving around blasting The Heist—but Haze's powerful, personal narrative illustrates how much a straight white guy making hypotheticals and sweeping generalizations doesn't cut it when it comes to pop music taking a stance on gay rights.