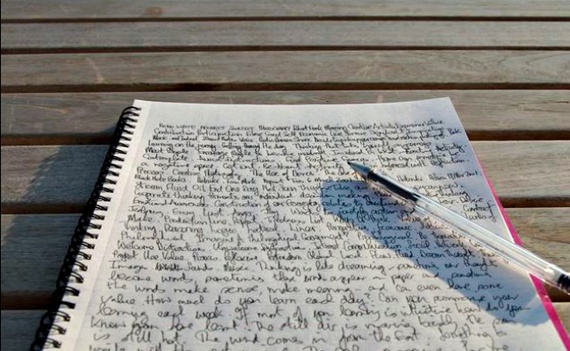 Writers who have day jobs outside the literature industry aren't a new thing. Oscar Wilde wrote, "The best work in literature is always done by those who do not depend on it for their daily bread and the highest form of literature, Poetry, brings no wealth to the singer." Essays at The Millions, Ploughshares, and elsewhere feature stories of folks who have made the double life of writer and Joe or Jane Worker fruitful and rewarding. Short story writer Lorrie Moore wrote, "First, try to be something, anything, else," in her short story "How to Become a Writer."*
Poet Amy Woolard, named one of the 50 Best News Poets of 2013 by Best New Poets editor Brenda Shaughnessy, has tried "something, anything, else"—including, most recently, working as a child-welfare lawyer. But she has also kept writing. I spoke with her about what it's like to maintain a career in poetry while also maintaining a demanding, white-collar day job. A condensed, edited version of that email conversation follows.
---
When did you first consider yourself a "poet," and what was your job at the time? 
This is one of those moments that kids face in a spelling bee when they're unfamiliar with a word, right, and they furrow their brows and ask, "Poet. Can you use it in a sentence?" It's a title I've never really taken on or have been comfortable with, but it has been used on me in different contexts. For example, at Iowa, we were often called poets but only really to distinguish us from the fiction writers, viz.—"The poets are going to the Foxhead for drinks, and I think some of the fiction writers will be there, too."
Shorter story—I don't think I've every really considered myself a poet, just someone who writes poems, I suppose.
One moment that stands out, though, as a moment when I thought the writing of poems would certainly come to define me in some significant way: as an undergrad at the University of Virginia, when I'd applied, via portfolio submission, for Charles Wright's Advanced Poetry Workshop. Charles is someone who came to mean a great deal to me and still does. I've often called him my "poetry dad" because of the way he took an interest in me and supported my work early on. But in this moment, the first day of that workshop, nearly 30 or 40 students filled the room—we did not yet know if we'd been accepted into the class. And Charles came in, welcomed everyone briefly, and then without another word began writing names on a chalkboard: the 12 or 15 students he'd admitted. And when he wrote out my name, mid-list or so, it was one of those rare occasions when you know something will stay with you forever. That class was also the true beginning of a writing community that I've been tied to ever since—other students in the class included Mary Szybist, Heather Derr-Smith, Rebecca Dunham, John Casteen, Jen Scappettone, and I think Sam Witt might've been in there too. It was a great crew, many of whom went on to join the crew I was lucky to be among at Iowa.
Tell me about some of the jobs you've held while writing poems between that time and today.
Oh, lord. Well, I've always considered Shakespeare's Henry IV to be one of my favorite plays—most specifically Hal's dilemma between life at the Tavern and the Court. My own years have played out similarly (sometimes quasi-literally), with an overindulgence of grad school thrown in. During and since my undergrad years, I've bartended and managed restaurants a lot—probably a total of seven or eight years' worth of that time. I love that life, but it definitely takes a physical and mental toll that just became unsustainable. I'm definitely drawn back to that scene again and again, though. I do love a good bourbon.
In between and amongst those jobs, I went to grad school for advertising/copywriting, worked as a writer and editor for a San Francisco dot-com (during the boom and just before the bust), did a financial journalism gig, taught online English Composition courses, did some project-based freelance writing and editing for a few organizations (including a company in SF who gave me "naming gigs," where I had to come up with names and URLs for new companies. There were all these rules to watch out for. You had to make sure a phrase-based URL didn't end up unintentionally reading as unsavory—like, oh I don't know, if you're doing a site for a therapist named John Smith, you don't want a URL that's www.therapistJohnSmith.com, that kind of Arrested Development-type humor). This was years ago, however, when the internet was really starting to multiply, and quickly. People are much more savvy about those things now (I hope).
And of course, law school. I've been a lawyer/policy wonk for about five or six years now, and it seems like (especially given my financial investment in it) that this is the one that will stick.