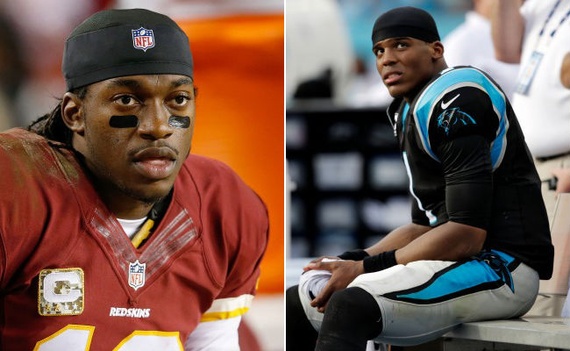 During his first-year campaign, Robert Griffin III vastly exceeded expectations: He set a new record for rushing yards by a rookie quarterback and another for passer rating by a rookie quarterback. Griffin also appeared on the verge of becoming a celebrity athlete of national import; his rookie jersey broke the record for most jerseys sold in a single fiscal year, and he was the subject of a particularly reverential documentary called RGIII: The Will to Win. And perhaps most importantly, he led the Washington Redskins to a 10-6 record and a playoff berth, giving perennially jaded football fans in the nation's capital a feeling that has been in short supply since the first Joe Gibbs era: hope. Though his season ended with a gruesome knee injury followed by major reconstructive surgery, expectations for his second year remained sky-high.
Griffin's second season, however, has been an unmitigated disaster. Last night, the Redskins quarterback lost his much-hyped duel with the San Francisco 49ers and Colin Kaepernick, another young quarterback who has recently experienced similar growing pains of his own. His numbers are down, the Redskins are one of the worst teams in the NFL, and the "do no wrong" aura that surrounded him last year has been replaced with controversy regarding his leadership and accountability for in-game mistakes. "Regress" is the word most commonly associated with Griffin these days, and the same Redskins fans that hailed him as the savior "Black Jesus" now question whether he was worth the draft picks the Redskins traded to obtain him. At FedEx Field in Landover, Maryland, it's not uncommon to hear fans calling for Kirk Cousins, hoping Redskins coaches will relegate Griffin to the bench. The same people who built him up so quickly are now tearing them down with a similarly frenzied energy, openly questioning whether or not yesterday's next big thing has the chops to succeed in the NFL at all.
In some respects, Griffin is a victim of his own success; the problem with setting the bar so high is that it requires the player to reach the same height year after year. It's not out of the ordinary for a quarterback to experience something of a sophomore slump, but Griffin's struggles are magnified by the outsized speculation his atypically exceptional first act created. 
But this kind of shortsighted analysis is ridiculous. Whether or not Griffin continues to struggle this year has no bearing on his long term prospects. Poor play in one season of an NFL career is not always a harbinger of things to come. Regardless of how he finishes this season, Griffin could still have a long, successful career as a starting quarterback and regain the form that excited so many people just one year ago.
It's not, after all, unheard of for a quarterback to bounce back to excellence after a poor second season. Just ask Carolina Panthers quarterback Cam Newton.
The media narrative of Griffin's career thus far could also fit Newton's. In 2011, Newton recorded one of the most prolific seasons ever for a rookie quarterback, breaking the rookie records for passing yards (later broken by Andrew Luck), rushing yards by a quarterback (later broken by Griffin) and rushing touchdowns by a quarterback. It seemed, at the time, as though no quarterback had ever possessed his combination of size, speed, and arm strength. He was the Superman of signal callers, the future of quarterbacking in the NFL. Despite playing on a team with limited talent on both sides of the ball, he led the Panthers to six wins during his rookie season. Lofty predictions regarding his future abounded.
But then the bottom fell out. Newton failed to get better. His numbers in most categories dipped slightly. The Panthers also failed to significantly improve in Newton's second season, as many had forecasted, and as is often the case in the NFL, the quarterback took most of the blame. Questions about Newton's maturity sprang up, and more than a few people wrote him off as a talented player destined for underachievement.