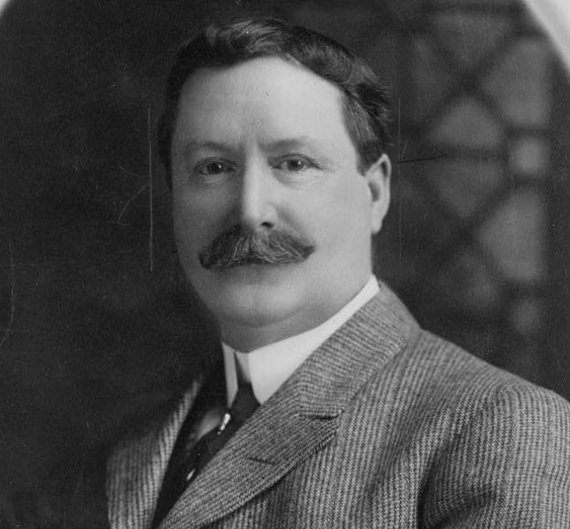 Sir Arthur Conan Doyle's most famous characters, Sherlock Holmes and Dr. Watson, are almost undoubtedly the most enduring figures in the history of detective fiction. Even though the original book series first surfaced in 1887, popular TV shows on both sides of the Atlantic (BBC's Sherlock and CBS's Elementary) are doing much to rekindle an interest in Doyle's mystery-solving duo, while other mediums—from the Guy Ritchie films starring Robert Downey, Jr. and Jude Law to the Ian Edginton and Davide Fabbri comic series Victorian Undead (which pits Holmes and Dr. Watson against a whole bevy of supernatural creatures)—are doing their part to insure that the Great Detective and his Boswell can be found in every nook and cranny of popular culture.
Despite the fact that Holmes and Dr. Watson are fictional characters, though, their cultural influence can even be discerned in the history of the world outside of the printed page. Ever since the end of the Victorian age, real detectives and police officials have often been held to the standards of fiction and have even seen their exploits re-cast as updated versions of one of Doyle's many gaslight era tales. One American law-enforcement figure, in particular, bore the burden of living up to Holmes's legacy: William J. Burns, an Irish-American sleuth who bore more than a passing resemblance to Doyle himself.
According to William R. Hunt's biography Front-Page Detective: William J. Burns and the Detective Profession, 1880-1930, Burns was a friend of both President Theodore Roosevelt and Doyle—the latter of whom publicly hailed Burns as "America's Sherlock Holmes." For much of his career, Burns was almost guaranteed a headline each time he caught on to a forgery or risked his life in the line of duty—but thanks to one flawed investigation and changes in method in the field of detective work, he didn't come out a hero in the end.
Born in Baltimore in 1861 but educated in Columbus, Ohio, Burns was the son of Irish refugees who fled to America during Ireland's potato famine. A precocious child with a natural way with words, Burns's father originally had dreams of his son becoming a lawyer. Young Burns considered lawyers "very serious and dull individuals," according to Hunt, and he personally favored the life of an artist. While in high school, Burns was a member of the debate team and a frequent actor upon the school's stage—an arena that he loved and excelled at, according to Gene Caesar's Incredible Detective: The Biography of William J. Burns. Unfortunately for him, his father was strongly against his son becoming a thespian. For the elder Burns, William was to become a lawyer or nothing else. Eventually, after several confrontations between father and son, the younger Burns graduated high school and promptly enrolled in a local business college.
While still a teenager, Burns befriended Charles Ulrich, an old con and world-renowned forger. Ulrich dazzled Burns with his tales of adventure and his many run-ins with the U.S. Secret Service—the law enforcement agency responsible for prosecuting counterfeiters and major cases of fraud. Ulrich's stories, combined with Burns's love of detective tales, pushed Burns towards considering a life in law enforcement. First, Burns hit the streets as an unofficial member of the Columbus Police Department (a position he enjoyed thanks to his father's position as a part-time police commissioner), then he began working as a private detective under the tutelage of Thomas Furlong, a local detective who ran a small agency that worked hard at taking clients away from the Pinkertons.
In 1889, after working on a series of cases for Furlong that took him all over the country, Burns's application to the Secret Service was accepted. Not long after joining the U.S. Secret Service, Burns became a star detective known equally for his ability to hunt down a clue and for his penchant for chasing after the limelight. And while Burns was certainly guilty of courting the public's admiration, this did not mean that he was either a braggart or a pretentious young man posing as a brilliant sleuth.
After establishing the William J. Burns International Detective Agency, Burns and his men fought on the front lines of one of America's first wars on terror: In 1911, Burns and his agents helped to apprehend the McNamara Brothers—the two radical union leaders who orchestrated the bombing of the Los Angeles Times building. During that case, Burns posed as a hunter in order to enter an anarchist colony near Tacoma, Washington.The roster of Burns's achievements and cases are both numerous and impressive. While on special assignment from President Roosevelt, Burns helped to expose the endemic corruption of San Francisco's Mayor Eugene Schmitz and Abe Ruef, the political boss behind the then-ruling Union Labor Party. This investigation took several years, and it forced Burns to go undercover in both the forests of Oregon and the docks of San Francisco. When it was completed, according to Howard Blum's American Lightning: Terror, Mystery, the Birth of Hollywood, and the Crime of the Century, San Francisco was rid of its corrupt government, and Burns was hailed by The New York Times as "the greatest detective… and perhaps the only really great detective… whom [America] has produced."