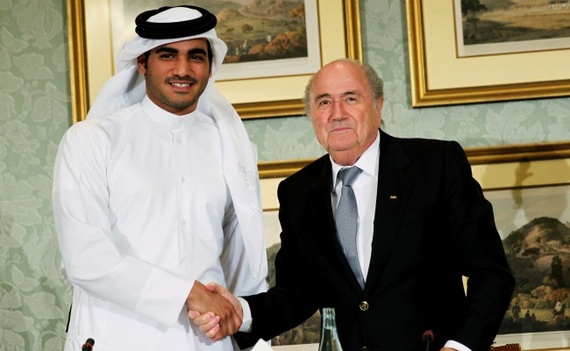 Ever since FIFA, the global soccer governing body/alleged cesspool of corruption, appointed Qatar the host nation for the 2022 World Cup, the association has repeatedly found itself on the defensive: It has vociferously rejected widespread allegations of vote-buying by the Middle Eastern nation, and it has turned a blind eye to criticism of Qatar's antediluvian views on homosexuality. Most recently, the country revealed its planned "gay test" for players and fans during the World Cup, which reportedly could include a forced penile plethysmography test or forced anal examinations. But even more damning news came November 17, when Amnesty International released a report that's sobering, by any measure: The 2022 World Cup venue, it reveals, is being built with slave labor. 
The report details the country's widespread use of forced labor to build the glittering stadiums and related infrastructure that will host soccer's biggest tournament; looking primarily at the cases of Nepalese immigrants, Amnesty International found that contractors and subcontractors hired by the Qatari state have denied pay to hundreds of thousands of Asian workers, housed them in facilities not fit for farm animals, and worked them until, in some cases, they literally dropped dead. The human rights group could not estimate how many workers have been the victims of criminally negligent homicide thanks to Qatar's deplorable practices. But it is easy to believe that without an overwhelming response from either FIFA or the global community, tens of thousands of migrant workers will risk their lives so that the country and its contractors can build the World Cup infrastructure on the cheap.
FIFA president Sepp Blatter recently acknowledged that, at the very least, European heads of state pressured their FIFA delegates to vote for Qatar's bid because of their Middle Eastern economic interests. Those votes led to Qatar getting the World Cup, which led to its massive and ambitious $4 billion infrastructure project, which led to a need for cheap labor to keep costs down, which led to the culture outlined in Amnesty International's report. 
Sadly, this is not only the only upcoming global sporting event to be held in a bastion of repression. The 2014 Winter Olympics and 2018 World Cup will both be held in Russia, which has declared that Olympic visitors who advocate LGBT rights will be thrown in jail.
These are crises not like the sectarian strife that has gripped Brazil ahead of its 2014 World Cup and 2016 Summer Olympics hosting duties—complaints of that nature, like construction delays, often come with hosting such a big event in any country with a large underclass. What's going on in Qatar and Russia is state-sanctioned repression and systemic denial of basic human rights, and it should not be tolerated. Now, if only FIFA would do something about it—or the world would force it to.
But even if FIFA's ethics committee rules that Qatar bribed its way to hosting the Cup, it cannot strip the country of its hosting privileges. Only FIFA's executive committee can do that, and it has shown no intention of doing so.  Amnesty's report makes clear that FIFA is uninterested in taking any real action to solve the problem it created. Blatter confirmed as much in statements made last month:
The workers' rights will be the responsibility for Qatar and the companies —many of them European companies—who work there. It is not FIFA's primary responsibility but we cannot turn a blind eye. Yet it is not a direct intervention from FIFA that can change things. [...] We have plenty of time concerning Qatar but it is 2022, it is in nine years.
(And even setting aside the human rights issues and the bribery, awarding a traditional June-July event to a country that has triple-digit temperatures for most of the summer is pragmatically ludicrous—a fact Blatter admitted when he suggested the '22 Cup be moved to November or December.)