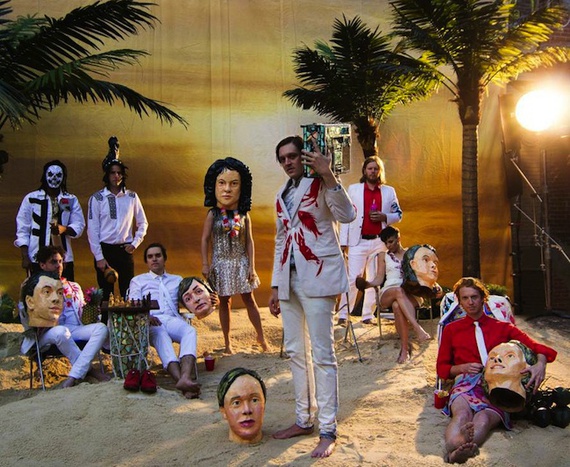 Months before Arcade Fire's new album came out, I learned of its existence when social media pointed me to a website with some chalked, black and white patterns spelling out "Reflektor." The designs seemed strange and foreign, and I was intrigued about what the music might sound like—not because I knew what the accompanying imagery meant, but precisely because I didn't.
This, of course, was the intended effect. It turns out those designs were inspired by Haitian veve graffiti, used in syncretistic Vodoun practices to summon the Loa (angels or spirits, messengers to the deity). But presented out of context, to the typically unknowing fan like me, they connoted something else: mystery, exoticness, esotericism.
Reflektor itself—now released and at the top of the charts—and the rest of its marketing campaign went all-in on the Haitian tropes. During some promotional concerts the band donned Kanaval masks, coopting a symbol that holds multifaceted, complex meaning for Haitians during Carnival but that was reduced to flat shorthand for "party!" during a raucous SNL appearance. The music evokes similar stereotypes. In the song "Flashbulb Eyes," glimmering marimbas will, for many listeners, conjure a specific idealization of the Caribbean (where Haiti is located), while singer Win Butler wails about cameras stealing souls. The band's music used to feel interesting by virtue of its heart-on-sleeve confrontation with mortality; now, it borrows its edginess by leaning on preconceptions about a foreign region.
So with Reflektor, Arcade Fire has employed an old trick. Use seemingly "exotic" cultural elements, regardless of their original context, to grab attention; profit. It's a model Urban Outfitters, for example, has gotten in trouble for. Many iconic white musicians, from the Beatles to Madonna, from Elvis to Eminem, have done the same, to varying levels of controversy: Most everyone agrees cultural mixing can lead to innovative art, but there are sensitive and insensitive ways to do it, ways that perpetuate inequality and ways that work against it.
At Chart Attack, native Bahamian writer Jordan Darville makes a convincing case that Reflektor's marketing fell on the side of "insensitive":
Discussing the album with Zane Lowe, Win Butler described the new sound as "a mashup of Studio 54 and Haitian voodoo music." It was the beginning of Arcade Fire's campaign focus: using appropriated visuals to contrast their maroon beginnings as loudly as possible. This method of marketing does nothing to combat – and in all likelihood reinforces – this overarching perspective of Caribbean islands being resources for awakening of white souls.

Part of the responsibility that comes with discussing any culture, much less one that isn't your own, is being aware of what effect certain representations will have on those who consume them. That involves accepting that most Arcade Fire fans would be ignorant of voodoo's musical element, so describing your new sound as having "voodoo rhythms," that are "basically how [Haitians] communicate" will lead your audience's minds to the dolls and zombies of the terrifying old world blackness Hollywood has sold them for decades. It's being aware that a white man wearing a cravat, the uniform of the French plantation owners who committed their own Haitian genocide centuries before Duvalier, is insensitive to Haiti's history.
The clumsiness Darville describes has real-world implications. Take this Mashable post, which gives Arcade Fire credit for an embedded music video (for "Afterlife") whose footage is lifted directly from the Brazilian film Black Orpheus (not mentioned). The mistake was probably unintentional, but so much of racism's evil occurs in the space between conscious choices, the space occupied by assumptions. It's telling that the screwup happened despite Arcade Fire's frequent mention of Black Orpheus as an influence on the album, with credit going to the popularizing borrower (Arcade Fire) rather than the original creator (Brazilian director Marcel Camus).
This demonstrates that peoples' stereotypes and assumptions operate independent of the appropriators' own knowledge, however deep, of the culture they're taking from. In this case, that knowledge is substantial. The band has a longstanding relationship with Haiti, starting with member Régine Chassagne's ancestry (her parents fled the nation during the Duvalier horrors). They have been dedicated supporters of Partners in Health, which works to eradicate disease in Haiti. As Darville points out, though, audiences generally lack this context, and the onus is on the artist to recognize that fact.