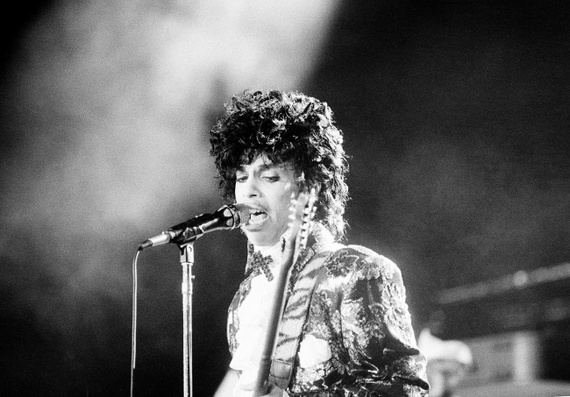 Origin stories are in high demand. Even the early years of the extensively covered Beatles have been attracting renewed attention lately. There's a new compilation of unreleased recordings they made for the BBC, starting with material from 1962. Which actually is relatively late: The recently released first volume of Mark Lewinsohn's Beatles history ends in 1962, after 944 pages.
If 944 pages feels overlong, or you've heard enough about the Fab Four for the time being, the Numero label has quietly put together a different kind of musical origin story: the compilation Purple Snow, which explores the music that bloomed in Minneapolis in the late '70s and early '80s, right before Prince exploded into national consciousness.
When Prince released his third album, Dirty Mind, in 1980, most people outside of Minneapolis probably did not predict the purple domination to come. A lot of the magic was right there in that album, though. It's approximately 29 minutes of layered falsetto vocals, neck-breaking guitar licks, bursts of bass, and pounding synthesizers, all illustrating an ability to smash musical genres into one and create undeniable melodies.  
But over the next decade, Prince became the face of an entire swathe of sound emanating from Minneapolis, containing numerous other funky acts, many of whom were connected with him in some way: The Time, Alexander O'Neal, Sheila E, Cherrelle, Vanity 6. When Prince fired keyboardist Jimmy Jam and bassist Terry Lewis from the Time, they formed the production duo Jam & Lewis, who expanded the sound's reach by producing Janet Jackson, the S.O.S. Band, and New Edition, among others. Jesse Johnson, guitarist in the Time, and Morris Day, the Time's singer, also recorded solo albums. (Younger versions of Jam and Lewis, O'Neal, and Andre Cymone, who played with Prince in his early years, all show up on the album, as does a youthful Prince, playing lead guitar on two tracks.) The twin cities ruled pop and R&B, and strains of their influence can be found in various albums this year from Janelle Monae, the Weeknd, and Blood Orange.
Purple Snow tries to color in the scene around Prince so it doesn't seem so monolithic, and to figure out where it all came from. The compilation shows that in the late '70s and early '80s, R&B groups in Minneapolis were adept at any number of styles, and beholden to none. Parliament's "Flashlight" peeks through in the bass line of Lewis Connection's "Higher," from 1979. Earth, Wind & Fire's "On Your Face" echoes in Michael A. Dixon & Joy's "You're All I Need" (1978), while "Got To Be Something Here," also by the Lewis Connection, has the horn arrangements and steady kick of a Philip Bailey-helmed ballad. "I Have Love At Home," by Walter Lewis and the All Stars, leans in a different direction, towards the smooth grooves of Bobby Caldwell and Tyrone Davis, and "Together," by Rockie Robbins, might be a demo for Luther Vandross.
But these songs show a gradual process of narrowing, of settling in on the thinner brand of funk that gave Minneapolis its unique edge. The expansion of '70s R&B—longer songs, double albums from Stevie Wonder and Marvin Gaye, big bands like the Ohio Players and Earth, Wind & Fire, massively orchestrated pieces from Isaac Hayes and Barry White—culminated in the lush expanses of disco, which could incorporate any conceivable sound while maintaining a firm pulse. Minneapolis led a charge in the opposite direction.
Purple Snow illuminates the process of stripping out brassy bombast and building back up, with electrified instruments at their most taught. The horns present in Cohesion's "Cohesion"—with its James Brown rattle—or the Prophets of Peace' "Get It On" begin to fade away. (Prince hardly used a horn on his first six albums.) Musicians trade in drum kits for programmed percussion, to the point where Andre Cymone plays the bluesy "Somebody Said" on just a drum machine, bass, and guitar. More and more, the synthesizer becomes an important aspect of funk, blasting in the same rhythmic manner as everything else.