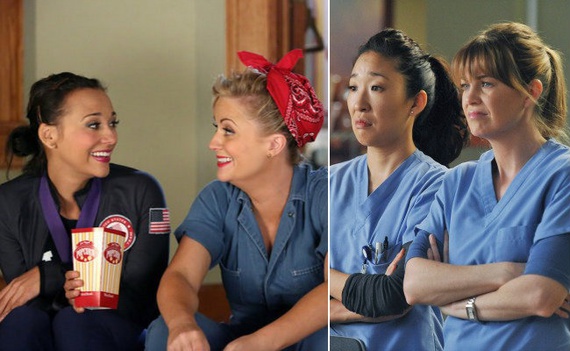 In a recent Entertainment Weekly article, Melissa Maerz lamented the lack of female friendships on television—as evidenced by one-of-the-boys female characters such as Scandal's Olivia Pope, Nashville's Rayna James, and The Mindy Project's Mindy Lahiri. "I miss the Lucys and Ethels, the Mary Tyler Moores and Rhodas, the Carries and Mirandas, women who could call each other on their flakiness, and still clink martini glasses afterward," she wrote. "It's an especially terrible time for Rashida Jones to depart Parks and Recreation and Sandra Oh to leave Grey's Anatomy, because two of the best (platonic) couples on television—Leslie and Ann, Meredith and Cristina—are doomed to split up."
Maerz is right: With Rashida Jones and Sandra Oh leaving their respective roles of Ann and Cristina this season, it seems more important than ever to recognize and appreciate these two significant female-friend relationships. Meredith Grey and Cristina Yang's bond is central to Grey's, just as Leslie Knope and Ann Perkins' is important to Parks and Rec.
The Meredith/Cristina and Leslie/Ann pairings have a few similarities: Both feature white lead characters that are best friends with women of color (or at least portrayed by women of color), both duos have been in each other's lives since the series pilot, and they share the kind of chemistry that inspires fans to upload YouTube videos of their best moments together.
These friendships are also markedly different from each other, though, and it's not just because one pair is on a light-hearted comedy and the other is on a medical drama. While Leslie and Ann have a lovely friendship, it has been a mostly one-sided one. Meredith and Cristina are a more complicated and flawed pair, but their shared ups and downs make them a better model for how to portray platonic friendships on TV.
For a distillation of what makes each pairing work, and what makes Cristina and Meredith's so much more compelling, it helps to compare two scenes, one from each show—both of which center around a wedding dress. On Grey's Season Three finale, Meredith cuts a sobbing Cristina out of her gown after she is dumped by her fiancé on her wedding day. On Parks and Rec, Ann creates a wedding dress for Leslie's spur-of-the-moment nuptials by completing the unfinished garment with documents that represent Leslie's professional achievements.
The Meredith/Cristina moment is moving, emotional, and a tad histrionic—which, to be fair, could be an apt way to describe Grey's itself. After all, this a series that has killed off so many characters over its past 10 seasons that its body count rivals Breaking Bad's, and the hookups and breakups, including Meredith's own with Dr. Derek Shepherd, are too numerous to mention.
But even though Grey's initially attracted a large fan base of "shippers" invested in the pair who came to be known as "MerDer," the Meredith-and-Cristina relationship has always been equally compelling, thanks to the fact that series creator Shonda Rhimes and her writing staff developed their friendship the way most TV writers would craft a show's marquee romance.
The two began the series as surgical interns who connect due to their shared professional ambitions and complicated personal lives. Meredith and Cristina are initially dismissive of touchy-feely aspects of friendship such as hugging or sharing feelings; in fact, their "dark and twisty" outlook is what bonds them in the first place. But when Cristina gets pregnant and makes an appointment to have an abortion, she tells Meredith in the season two premiere that she has listed her as her in-case-of-emergency contact. "You're my person," Cristina says. She adds that she has been dumped by her boyfriend, and Meredith gives her a hug.
When Cristina blanches, Meredith says, "Shut up. I'm your person." It's a term of endearment they have used frequently from that point on, and it remains a symbol of how the characters consider their friendship to have the same weight and value as a romantic—or family—relationship.
Even though Meredith is the show's main character, Cristina's life is just as angst-filled and dramatic as Meredith's in later seasons; if anything, the two anchor each other in the midst of all their various crises. It's a melodramatic relationship, to be sure, but also a reciprocal one: When Meredith nearly drowns, Cristina doesn't leave her bedside until she wakes up; when Cristina is devastated after being left at the altar, Meredith cuts her out of her wedding dress.