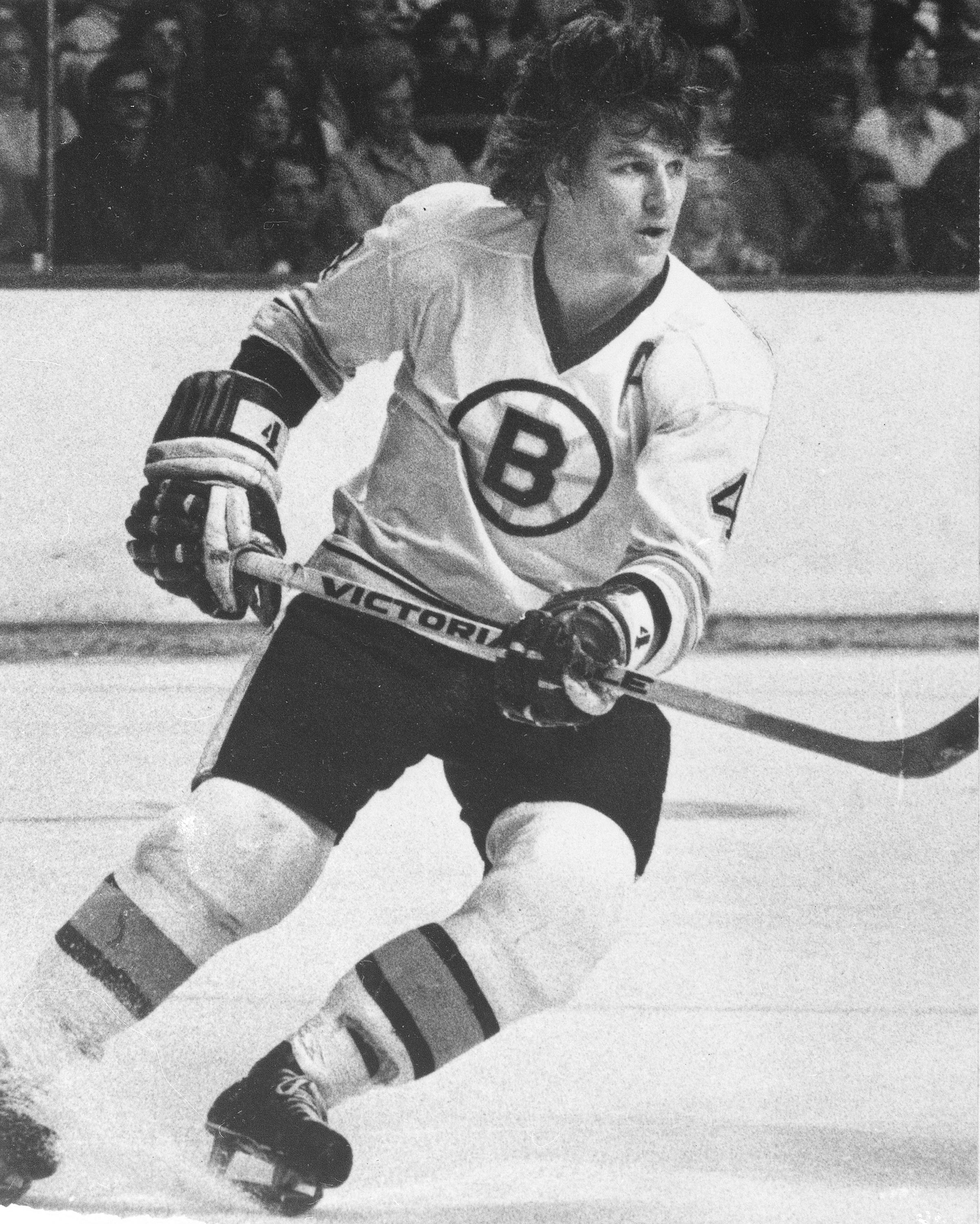 If you were a hockey-loving kid in Montreal in 1972, especially if you were an Anglophone, there were fewer heroes available than you might imagine today. Jean Beliveau, "Le Gros Bill," one of the greatest Canadiens (and Canadians!),  had retired a year earlier. His heir apparent, Guy Lafleur, "The Flower," still wore a helmet and had not yet blossomed into the superstar he would become. Henri Richard, the "Pocket Rocket," Maurice's little brother, by that time looked like a grandfather. And even though the team from Toronto had that gorgeous, patriotic leaf on the front of its sweater, you really couldn't be seen wearing the blue and white (the bleu et blanc, I mean) on the streets of La Belle Province.
That left only two reasonable options. You could swoon over the young Cornell University graduate, Ken Dryden, the rookie goalie hero of the 1971 Stanley Cup playoffs, which my sister and seemingly every other girl in the city did. Or you could root, covertly of course, for Bobby Orr, the great, puck-rushing defenseman for the Boston Bruins. Both were brilliant on the ice. Both were handsome and humble off it. Dryden was eloquent. Orr was stoic. I chose Orr. He was simply beautiful. I rooted for him when he wasn't playing the Habs and I never rooted against him when he was. You could get away with that in Montreal—rooting for Number 4, I mean—because it had been Beliveau's number, too. 
I was too young to remember Orr's immortal game-winning goal in the 1970 Stanley Cup final. But I wasn't too young to appreciate the Bruins' 1972 Cup win. They were such a great foil for our hometown Canadiens. And Orr himself was such a great foil for the "big, bad" Bruins—the hero among the antiheroes. That fall, I remember feeling a great sense of loss, for Canada and myself, when Orr was unable, because of an injury, to play for Team Canada against the Soviet Union in the 1972 Summit Series. That eight-game passion play produced one of the happiest and most dramatic moments in the history of the Dominion.  Dryden played in the series, not always so well, and said later that "nothing meant so much." Orr didn't, couldn't, and regrets it to this day.
My dad, who watched an awful lot of hockey in his day, used to tell me that I never saw the best of Orr because by the time I was old enough to appreciate him his knees were shot. But what I saw, what I was able to see in those pre-cable days, was spectacular. Orr was Wayne Gretzky before there was a Wayne Gretzky. He utterly transformed his position and the game itself. He was so much better than the other players around him, and played with such artistic majesty, that he could take your breath away. He was an athlete, rare then and now, who lived up to the incredible hype that had been built up around him as he made his way from Parry Sound, Ontario, into the National Hockey League. And then, in 1978, after a 12-year NHL career trimmed by injury, he was gone from the ice onto a career as a spokesman and, ultimately, player agent.
This fall, more than 40 years after his last Cup, after decades of a rich life filled with charity work, a national icon now even to the generations who never saw him play, Orr at last (with the help of Vern Stenlund) has produced a memoir, titled Orr: My Story. Like many other hockey fans, I rushed to buy and read it. It explains an awful lot about Bobby Orr, it's true, but in ways that I think most readers, and most of his fans, would find surprising and perhaps even a little disappointing. It is a book as dull as he was creative, as plodding as he was fast, as conservative as he was liberal in the way that he played the game.
Mozart lived like the music he composed. Shakespeare's life was as dramatic and mercurial as was his work. In his prime, Muhammad Ali talked like he boxed and boxed like he talked. Sinatra? Please. But Robert Gordon Orr, forever Number Four, as much an artistic genius as any man dead or alive, doesn't try to recreate the glory here, doesn't seek to resurrect his craft. Instead, modestly, he tells us that he hopes his memoir "will hit a chord with you about some of the important things in your own life as you continue along the journey." In this bland, dutiful offering, in this earnest effort to help, in this paean to hearth and home, in this as in everything else, he is as eternally Canadian as it seems he always has been.
***
When Ken Dryden—there he is again—wrote his book about hockey, The Game, it instantly became the best the sport (or any sport) had ever seen.  Thirty years later, people in and out of hockey still read it for the insight if offers into the details of team play, life on the road, and all the other idiosyncrasies that make up professional sports. Orr's book in many ways is precisely the opposite. It's not the worst book ever written about hockey, I don't mean that. I mean that Orr uses the world of hockey as a foil to offer his philosophy of life whereas Dryden used the arc of his life to explore the philosophy of hockey.  The result is this paragraph from Orr's introduction: