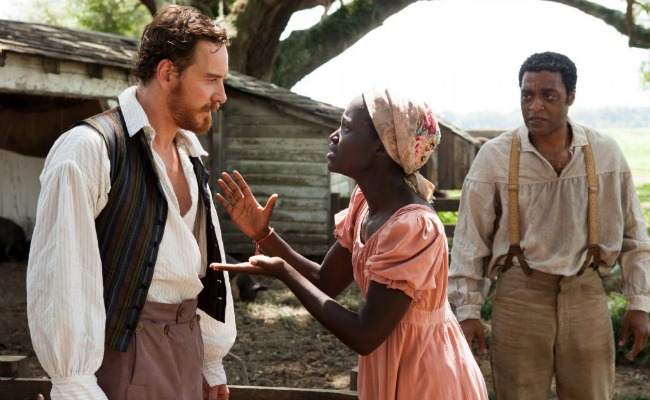 Fox Searchlight Pictures
"All right now, y'all fresh niggers," a white overseer in the antebellum South tells his charges in the opening scene of 12 Years a Slave. "Y'all gonna be in the cuttin' gang."
We soon discover what this entails, as the slaves take machetes in hand and begin hacking their way through an almost endless expanse of sugar cane; they might as well be trying to empty the ocean using teacups. The physicality of their labor is not merely extreme, it is extravagant. We immediately understand that what we are witnessing is an economy predicated on the idea that human—that is, black—sweat and sinew are not merely cheap resources, but essentially inexhaustible ones, subject to careless squander.
The scene establishes the searing, visceral tone that will characterize director Steve McQueen's audacious third feature. Moments later we watch as the film's protagonist, Solomon Northup (Chiwetel Ejiofor), lies awake in a bunkhouse surrounded by fellow slaves. When he turns to the woman next to him, she takes his hand roughly to her breast, and then between her legs, grimacing with joyless urgency before she twists away from him. Day and night, a perpetuity of toil and a pantomime of love—it all comes down to this: to flesh and blood, to individual endurance in a solitary prison of pain.
The film is a true story, based on the 1853 autobiography of Northup, who was a freeman in Saratoga, New York—an upscale husband and father, a gifted violinist—when he was tricked by two white men into visiting Washington, DC, for a series of performances. There, after a fancy dinner with his cultured, collegial hosts, he awakened to find himself manacled in a cell and stripped of his papers. Viciously beaten before being smuggled out of the city by boat—we see a shot of the Capitol dome in the background—he was given the name "Platt," sold at auction, and sent to work on a series of plantations in Louisiana. His perspective was thus an extraordinary one, experiencing the institution of slavery at once from within and without: enduring its horrors firsthand, yet also as an educated man who had been accepted, even celebrated, among white society in the North. 
McQueen's film is not, however, an intellectual inquiry or an exercise in self-congratulating moral uplift. Rather, it is a blistering portrait of the human capacity for cruelty. It ends "happily," yes (Northup did, after all, go on to write his memoir), but no conclusion could begin to erase the ordeal that preceded it. I struggle to think of any major film—Schindler's List, perhaps, or Hotel Rwanda—that has dealt so pitilessly with a horror so vast.
Northup is first sent to work for a relatively kind plantation owner (Benedict Cumberbatch), who appreciates his intellect. ("Platt," he tells him, "you are a marvel.") But following an ugly episode with an overseer (Paul Dano), he is sent away, in part for his own safety and in part as repayment of a debt. Northup's new owner, Edwin Epps (Michael Fassbender) is drunk, debauched, and depraved; the outwardly courteous mistress of the plantation (Sarah Paulson) is, if anything, worse still, consumed with jealousy for a slave, Patsey (newcomer Lupita Nyong'o), with whom her husband is obsessed.
Working from a script by John Ridley, McQueen is particularly unabashed in unpacking the perverted intimacies between masters and slaves. The fact that Epps values Patsey more than his wife—and tells the latter so to her face—does not mean that he values Patsey as anything more than a body, his best picker of cotton and a defenseless vessel for his lust. Meanwhile, at a neighboring plantation, the slave-turned-common-law-wife (Alfre Woodard) who takes pride in escaping the fields for her master's bed, nonetheless smiles as she wishes a Biblical apocalypse upon him and all his ilk.
Elsewhere, too, McQueen finds pockets of moral complication: the former overseer (Garret Dillahunt) who explains, with apparent sincerity, that a man cannot whip other human beings without "shredding himself"; the fellow freeman who explains to Northup that the others who were captured with them are "niggers, born and bred," and who is himself later saved by posing as the property of another man. (Even where slavery is accepted, thievery remains a sin.) When we watch Northup's first owner reading scripture to his slaves, his intents seem entirely benevolent; when we watch Epps do the same, explicitly warning of divine retribution for disobedience, we are forced to reconsider. McQueen presents a world in which every sentiment, every human transaction, has been twisted by its contact with slavery.