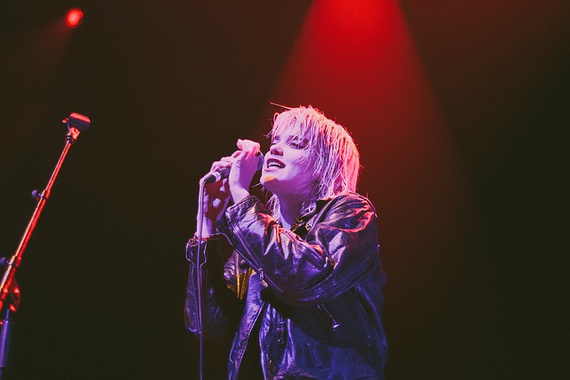 Last night I waited up till midnight to buy the new Sky Ferreira album, Night Time, My Time. Or, rather, according to laptop timestamps, I held out until 11:12 p.m., when I found the record ready for sale on iTunes and downloaded it immediately. I could have waited a few more minutes. After all, the debut album from the 21-year-old has been in the works since 2007, when a teenage Ferreira, armed with nothing but MySpace demos, caught the attention of big-name pop producers and a million-dollar record contract that never yielded an album—until now. If there's one thing to say about Sky Ferreira releases, past and present, it's that they never go according to schedule.
Over the years Ferreira's career has developed a tragic mythology. During her tenure at Capitol records, she was groomed to be the next Britney Spears, until her label reportedly decided that was no longer fashionable and lost interest. She recorded close to 400 songs, turned in record after record, and saw no progress. "They told me the nastiest things like, 'Sorry, there's already one girl coming out at the moment, we can't do two,'" Ferreira told The Phoenix last year. 
As Nitsuh Abebe tells it in this week's New York magazine's profile of Ferreira, the standoff ended last year, when she leaked "Everything is Embarrassing," an angsty collaboration with Dev Hynes (Solange, Blood Orange). The song's surprising online popularity spawned the Ghost EP, an eclectic collection featuring a brooding, acoustic ballad, dizzying electro-pop, and an assist from Garbage's Shirley Manson. Her label pushed to capitalize on the momentum with an album release, but Ferreira, unsatisfied with the finished product, fought them on it and ultimately won. Capitol gave up and told her to finish the album with her own money, so Ferreira regrouped in Los Angeles, where she cranked out a stylish, cohesive record, instantly and effortlessly.
"I literally wrote this album once everyone left me the fuck alone and stopped trying to to tell me what to do," Ferreira told Stereogum a few weeks before the release. "I went in the studio, wrote and recorded all of the songs with Justin [Raisen] and Ariel [Rechtshaid], and literally cut like seven or eight songs in two weeks. We mixed it and mastered it and never looked back."
A firm release date followed, as did an edgy (read: nude) album cover, revealing interviews in Pitchfork and Billboard, and a searing single, "You're Not the One." But despite the string of great publicity—and some not-so-great, she-got-arrested publicity—there was something peculiarly tentative about the album's arrival. As October 29 loomed, it was difficult to confirm what was actually coming out when. Fans reported that their Amazon pre-orders were canceled, and release dates on the site switched to November. Other pre-orders promised limited-run Polaroids and digital downloads, but there was no mention of a physical copy—for all her struggles, it was, and still is, unclear whether Ferreira will get to hold her album in her hands. Judging by her tweets, Ferreira seemed just as clueless as her fans. Two days before the album release, she took to Facebook in a since-deleted post to announce that the vinyl edition of Night Time, My Time wouldn't be ready in time, blaming unsupportive label staff for not doing their job. The campaign looked like a mess. As midnight approached, it seemed possible that the album might not show up.
But there was one little victory among Ferreira's release-date struggles: The album never leaked, which is a pretty miraculous accomplishment these days. Even Kanye West's Yeezus hit the Internet a few days ahead of schedule this past June, despite the numerous steps he took to avoid it: He set up his own studios, delayed the mastering of his record until the last minute, stored hard drives in portable briefcases, and even refrained from sending finished tracks over email. If fastidious Kanye can't stop his own album from leaking despite his wealth of resources, how could Ferreira—who owes much of her career to leaked tracks—expect to avoid the same?