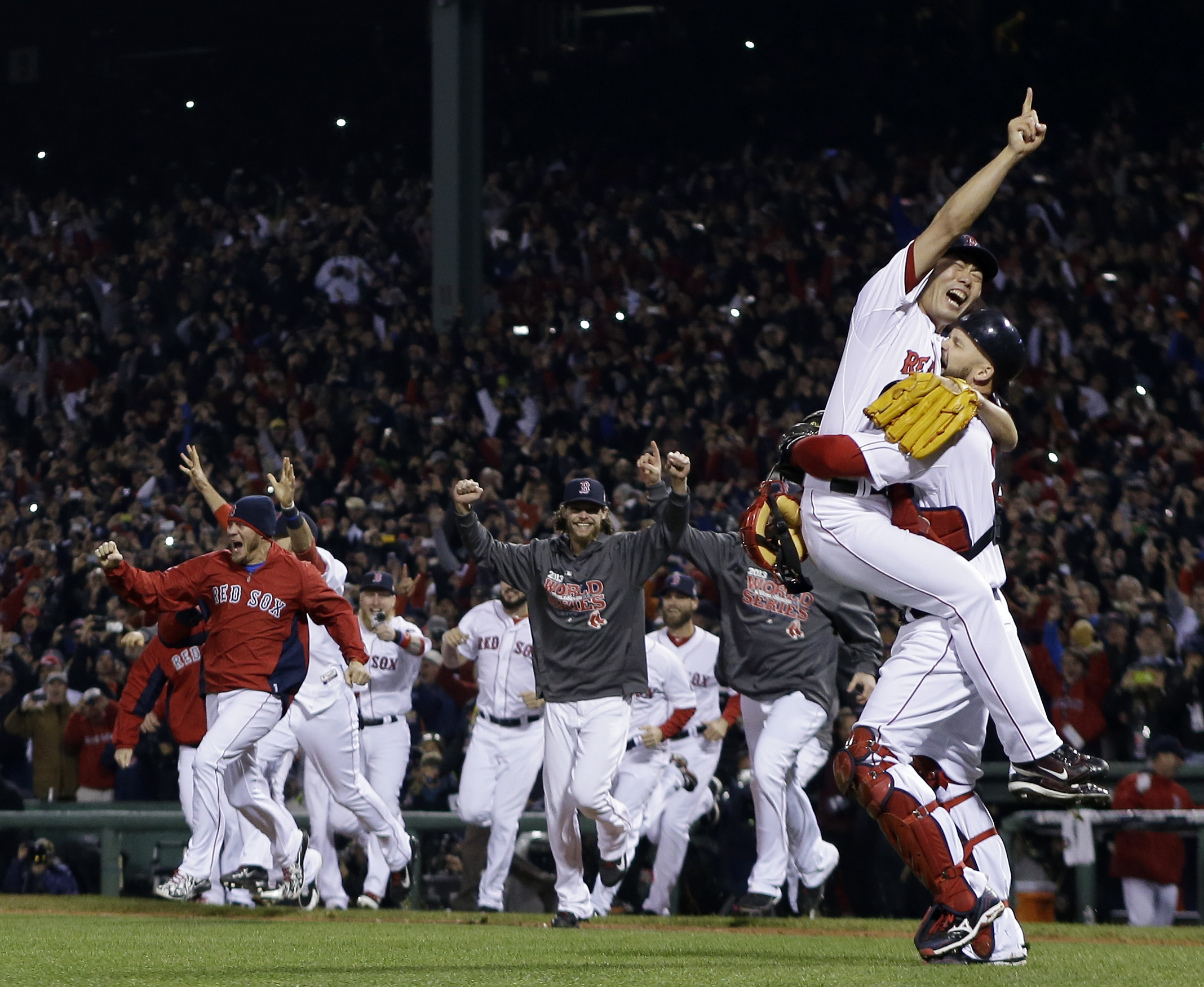 Historical events may be static, but our perceptions of them ceaselessly change. To those who lived through Pearl Harbor, to use a most dramatic example, the terror attacks of September 11, 2001 felt very different than they did to those of us born after the cauldron of World War II. And to our children, barely alive when the Twin Towers fell 12 years ago, that awful day surely feels differently than it does to us. The same will always be true of the deadly Boston Marathon bombing, on Patriot's Day just six months ago, as much a part of the city now as Fenway Park itself.
This is an inescapable, immutable reality: As mortals, we can do no more or less than absorb the world through the prism of all we have absorbed before.
Thus it was this dazzling autumn for fans of the Boston Red Sox. The Nation was cleaved inexorably into two. There are those of my generation and older, who absorbed and enjoyed the team's improbable journey to World Series success this year through the grim prism of Billy Buckner and Joe Morgan (and Bob Gibson and Bucky "Fucking" Dent). And there are  those of my son's generation and younger, who absorbed and cherished the current loveable edition of the team through the glorious prism of Manny Ramirez and Trot Nixon (and Pedro Martinez and Mike Lowell). We all watched the same games but we saw them entirely differently. And of course we saw them this year through the blunt prism of a senseless tragedy, during an historic sporting event no less, reason in and of itself to be glad "why not us" worked this year, too.
If you are 18 years old today and a Red Sox fan it means you have spent half of your life—half of your life!—basking in a series of team accomplishment of which your parents, and your grandparents, and maybe even your great-grandparents could only dream. It means you have witnessed firsthand three world championships—an average of one every three years—more regular in the cycle of life than presidential elections or Olympics. In this worldview, the Sox almost always come through with clutch hits, or timely defense, or lights-out pitching. In this worldview, there is almost always a walk-off or an otherwise happy ending. So good, so good, indeed.
Compare that to the Nation us older citizens know. So numerous and perverse were the disappointments I grew up with rooting for the Sox that they have lingered even through the recent glories. When the Red Sox were trailing in the playoffs this fall, and they seemed to be trailing so often, I wasn't just thinking in those anxious moments of David Ortiz's game-ending hits in 2004 or J.D. (brother of Stephen) Drew's heroics in 2007. I wasn't just thinking of Dave Roberts or the bloody sock. I was thinking also of Carl Yastrzemski popping up a "Goose" Gossage pitch to end the 1978 playoff game (the same earnest Yaz, it sadly must be noted, who made the final out of the 1975 World Series as well). I was thinking also of Marty Barrett striking out on a ball (Ball Three, to be exact) thrown by Jesse Orosco in 1986.
And when this year's Sox were ahead late in their games this month against the Rays and the Tigers and the Cardinals I wasn't just thinking of Keith Foulke or Jonathan Papelbon or appreciating the current majesty of today's closer, itty-bitty little Koji Uehara, the anti-Dice K, who looks like a baby when Big Papi scoops him up and throws him over his shoulder after a win. I was thinking also of Bob Stanley and Mike Torrez and the eminently forgettable Jim Burton, who gave up the Series-winning bloop hit to the Reds' Joe Morgan in the ninth inning of Game 7 in 1975. Until I was middle-aged, with the exception of Carlton Fisk and David Henderson, the Sox typically got walked off on. They did not walk off.
When outfielder Daniel Nava, formerly of the Chico (California) Outlaws of the now-demised Independent League, squeezed the final out of Game 5 of the Series in St. Louis Monday night I saw him and at the same time saw Dwight Evans, forever "Dewey," saving the Red Sox with a brilliant catch in right field in Game 6 of the 1975 Series. And ground balls to first base? Please. Whether it's Mike Napoli or David Ortiz or Kevin Youkilis or Kevin Millar or Doug Mientkiewicz every single ground ball to first base, no matter how slow or fast, no matter how hard or easy, to this day makes my heart skip a beat thinking about the only-recently reconstructed Bill Buckner.
Meanwhile, for members of the Nation of a certain age, especially those folks of my parents' generation, not a single playoff game likely ever passes without a moment of mournful thought about how sad it is that the great Red Sox of them all, Ted Williams, did not live to see any of this. Indeed, if you are coming of age this autumn to revel in these Red Sox victories you likely don't remember a world of baseball or of Boston in which Teddy Ballgame was the King—or even alive. He died on July 5, 2002, 845 days before the Red Sox won the 2004 World Series, their first in 86 years. If you are 18 today, you were seven years old then.