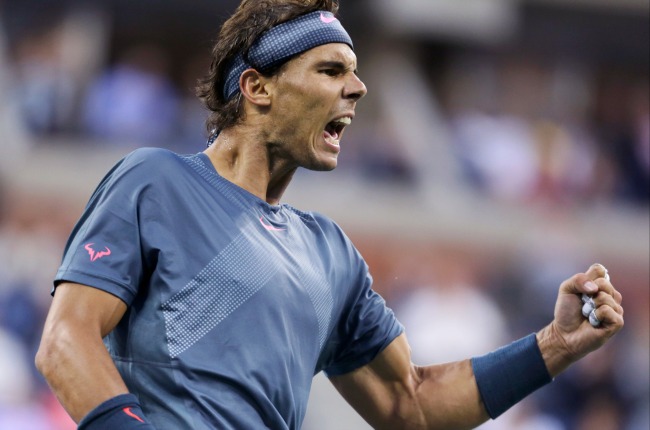 AP / Charles Krupa
The most unforgettable sequence from Monday's U.S. Open final between Rafael Nadal and Novak Djokovic happened midway through the second set. Nadal was facing a break point at 2-3, 30-40. What followed was a hyperkinetic 54-stroke rally—the longest of the tournament by nearly 20 shots—that left both men breathing heavily and roused a sellout Arthur Ashe Stadium crowd to its feet.
During the exchange, Nadal sent no fewer than four tracers into the corners only to watch a scampering Djokovic fire them back across the net. A split-second of doubt by the Spaniard here, a netted forehand there, and it was over: For just the second time in 89 service games, Nadal had been broken. It was just the sort of jolt Djokovic needed to scratch his way back into the match.
But what happened next, in its own understated way, was far more profound. As he toweled off, Nadal gave no outward indication that he'd just lost a pyrrhic rally to fall behind a break. He appeared just as laser-focused as usual, and when he stepped back on the court, it was as if the setback never even happened. Surely enough, Djokovic's hard-won advantage was annulled minutes later when Nadal immediately broke back.
This is what sets the 27-year-old Spaniard apart: He's the fiercest, most relentless competitor of our time.
Djokovic went on to win the set, but Nadal's consistency, stamina, and determinedly short-term memory carried him to a 6-2, 3-6, 6-4, 6-1 victory and a 13th career Grand Slam title. And while that leaves him four behind Roger Federer and one behind Pete Sampras in major championships—the recognized metric of greatness—it's become increasingly clear that Nadal is making a deadly serious case for Greatest of All Time. And given his head-to-head success against Federer, the presumptive G.O.A.T., he just may already be there.
Monday's final was the 37th meeting between Nadal and Djokovic, surpassing John McEnroe-Ivan Lendl as the Open era's most prolific—if not romantic—rivalry. Unlike McEnroe and Lendl, however, their familiarity has bred not disdain but a mutual respect. Both employ similar pugilistic, power-baseline styles, stripping their matches of the stylistic and poetic contrasts that made the Nadal's meetings with Federer such attractive (and accessible) theater. Both have forced each other to improve and innovate, each one retooling his game in an effort to best the other. They have spent most of the past few years dragging each other into deep waters at the end of tennis's biggest tournaments, Djokovic winning seven straight meetings in 2011 and 2012, Nadal taking six of the past seven. The struggle was no different Monday, even if this one didn't extend five sets. "Between Novak and me, every point is fighting, every point is long rally, every point is more strategy," Nadal said last night. "This is very tough."
All the strongest arguments for Nadal as the best to ever do it were on full display throughout Monday's final.
It started with his superior physicality. One hundred eighty-eight pounds of fast-twitch muscles and bravado, Nadal generates enough spin on his groundstrokes to cheat space-time, like the Euclid-defying overhead he struck from 10 feet behind the baseline in his first-round win over Ryan Harrison. He broke Djokovic twice in the opening set as the shadows grew long over Ashe, curling shots drizzled with topspin into the corners while making just four unforced errors.
It continued with his mental and tactical agility, his refined gift for making adjustments on the fly—sometimes in the middle of a point. Consider the run of play near the end of the second set, when Djokovic had warmed to the moment and was striking his forehand with loose, fluid abandon. When he broke Nadal to take the set and broke at love to open the third, Djokovic began dictating the baseline points and pushing his opponent around. One hundred forty points had been played midway through the third set. Nadal had won 70. Djokovic had won 70. But just as the Serb had wrested the momentum, it was Nadal who began mixing in the slice brilliantly, changing pace and keeping Djokovic off balance. No small feat for a player once derided for smashing the ball pell-mell at every opportunity with little taste for variety.