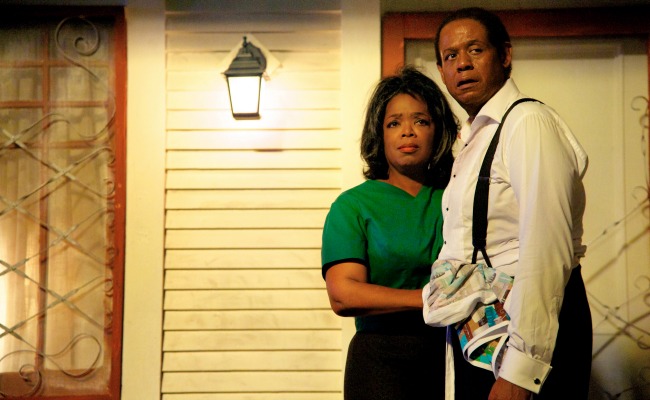 The Weinstein Company
There is a lot of awards buzz for Oprah Winfrey's triumphant return to the big screen as Gloria Gaines in The Butler. With critics praising her role as Forest Whitaker's character's wife, Oscar bloggers declaring her the early front-runner for Best Supporting Actress, and even President Obama being moved to tears by her performance, the queen of talk may be positioned to claim her second Academy Award (she has an honorary Oscar for humanitarian work). That The Butler topped the box office for three weeks doesn't hurt her chances either.
A win for her would be deserved—she's wonderful in the film. But it'd also be the latest example of what seems to be a Hollywood maxim: Black women only get the Oscar for Best Supporting Actress when they play characters who confirm the stereotype of the Sassy Black Lady—bold, sharp-tongued, impertinent.
Hattie McDaniel was the first black actress to win an Oscar for Gone With the Wind, playing house-slave Mammy who was warm and witty with her slave-owners. Half a century later, Whoopi Goldberg won for Ghost by playing Oda Mae Brown, a psychic with no back-story of her own and whose entire purpose was to support a white couple and entertain the audience with sass talk. In recent years, black actresses started winning Best Supporting Actress more frequently. Jennifer Hudson won for Dreamgirls by playing Effie White, a diva with too much attitude to remain in a successful pop group and just enough attitude to cover "And I Am Telling You." Mo'nique won for Precious by playing Mary Lee Johnston, an abusive mother whose sassiness was taken to a monstrous extreme as she terrorized her daughter out of her own fear of being alone and unloved. And Octavia Spencer won for playing The Help's Minny Jackson, a back-talking maid who fried chicken, cracked jokes, and literally made a racist employer eat shit while her husband beat her.
Certainly, sassy female characters have done well in the supporting category overall. Catherine Zeta-Jones (Chicago), Renee Zellweger (Cold Mountain), Penelope Cruz (Vicky Cristina Barcelona), and Melissa Leo (The Fighter) are among recent non-black examples. But non-black supporting actresses also win for other roles that fit Oscar's favorite niches—like Mira Sorvino (Mighty Aphrodite) and Kim Basinger (LA Confidential) playing hookers with hearts of gold, Marcia Gay Harden (Pollock) and Jennifer Connelly (A Beautiful Mind) as silently suffering wives, or Juliette Binoche (The English Patient) and Tilda Swinton (Michael Clayton) anchoring an epic/thriller with gravitas. Black supporting actresses, though, have only won for playing sassy. Black women in non-sassy roles—Marianne Jean-Baptiste (Secrets and Lies), Sophie Okonedo (Hotel Rwanda), Ruby Dee (American Gangster), Viola Davis (Doubt), and Taraji P. Henson (The Curious Case of Benjamin Button)–have earned nominations, but no wins. (And, of course, there have been sassy roles, like Queen Latifah's in Chicago, that were nominated but didn't win.)
What accounts for this? Pervading, racist attitudes probably figure in. A recent study found that black women exhibiting dominant behavior traits were rated more favorably than white women or black men who did the same. The implication was that many people expect black women to act this way and so there is less backlash and more benefit when they do.
The blame may also lie with Hollywood's increasingly limited roles for actresses, especially those who aren't white, young, and widely perceived as sexy. Both actress categories at the Oscars are notoriously a beauty pageant. Since black actresses are rarely featured on magazine covers and curvy black women aren't considered viable onscreen love interests, they must find another way to stand out, and playing sassy certainly achieves that. Meanwhile for thin and light-skinned black actresses, sex appeal remains an option. Halle Berry, the only black performer to win the Oscar for Best Actress in a Leading Role, earned her trophy for  Monster's Ball, which included a Berry in a graphic and controversial sex scene.