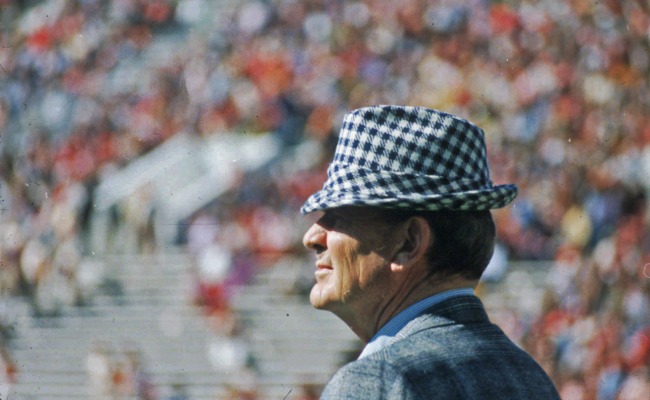 Fred Thompson's character Arthur Branch once said in an episode of Law and Order that "If it wasn't for that sonuvabitch Bin Laden, we'd only remember September 11 as Bear Bryant's birthday." Today, many people throughout the world of college football—and especially in Alabama—will make Branch proud by not letting Bin Laden spoil the centennial celebration of Coach Paul "Bear" Bryant's birthday.  
While working on Mama Called, a new documentary of Bryant's life, I found myself pondering a question which I had asked myself many times over the years: Was Bear Bryant the greatest college football coach of all time?
In the time since his death in 1983, it has become more and more obvious that he was. Two other coaches of major college football teams passed him up in the all-time victories list—Joe Paterno (409) and Bobby Bowden (377) won more games in the major college ranks—but Bryant's won-lost percentage is considerably higher (.780 to Paterno's .749 and Bowden's .740). Bryant won more national championships (six) than Paterno and Bowden combined (four). And for what it's worth, Bryant was 4-0 in head-to-head matchups with Paterno.
Bryant's stature in college football is so great that there's really only one other football coach since World War II whose reputation compares—Vince Lombardi, another man whose 100th birthday was commemorated this year. I once asked Bart Starr, who had known Bryant for years and who won five championships under Lombardi at Green Bay, if he thought Bryant was the Vince Lombardi of college football. Starr said, "At the least. Some people might call Coach Lombardi the Bear Bryant of pro football." (More on that comparison later.)
Paul Bryant coached at four universities and completely turned their football programs around for the better. Maryland was 1-7-1 in 1944, and then, in Bryant's first and only season as head coach, went 6-2-1. Kentucky was 2-8-0 in 1945; in Bryant's first year, 1946, the Wildcats were 7-3. In 1953, the Texas A&M Aggies were 4-5-1. When Bryant got there the next year, he gutted the entire squad and rebuilt it practically from scratch; the Aggies finished just 1-9 in 194, but Bryant's labor bore fruit the next year, when they jumped to 7-2-1, and in 1956, they were the Southwest Conference Champions at 9-0-1. The Alabama Crimson Tide were 2-7-1 in 1957 to 5-4-1 in 1958 under Bryant, and, of course, the rest is history.
Bryant coached 133 games against 25 men who were eventually voted into the College Football Hall of Fame; in those games, Bryant was 85-42-6. He also coached against 11 of his former players and assistant coaches, with a record of 45-6. LSU's longtime coach Charlie McClendon once ruefully exclaimed, "He taught me everything I know, but not everything he knows."
The vast majority of college football historians have also overlooked the fact that Bryant is the only coach to have achieved greatness in both the era of limited substitution (or one-platoon football, as it was called, when all players had to spend some time on both offense and defense) and the era of unlimited substitution, the modern era of football when players specialized at just one position.