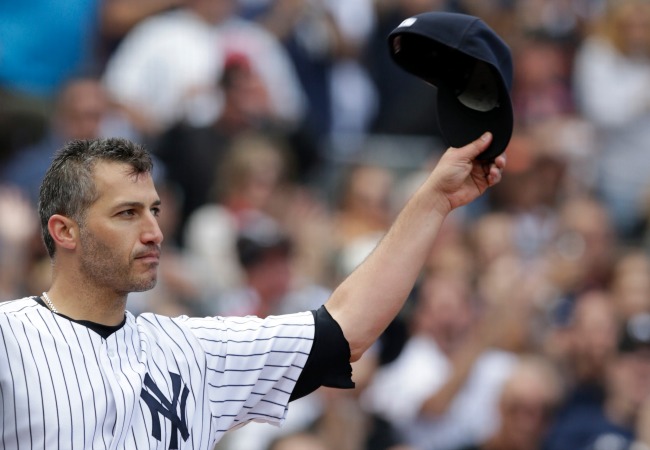 AP / Kathy Willens
On Sunday at Yankee Stadium, during a tribute to departing pitching legend Mariano Rivera, the YES Network flashed up one of the more fascinating statistics unearthed during his farewell tour: "Andy Pettitte and Mariano Rivera have combined for more wins—72—than any starter-reliever tandem in baseball history."
There's almost no question that Rivera is a Hall of Famer. There's almost no question that he will be elected on the first ballot, or that he's the greatest relief pitcher of all time. Conversely, few would argue that Andy Pettitte is a first-ballot Hall of Famer, and I don't know any baseball analyst who considers him one of the greatest starters ever. But does that really mean, as many are arguing since Pettitte announced that he was retiring at the end of the season, that he isn't worthy of the Baseball Hall of Fame conversation at all?
I've heard this question argued for years, particularly hotly when Pettitte retired for the first time after the 2010 season. There's never been a consensus. (But then, many of the greatest players in baseball history weren't unanimous choices for Cooperstown—in fact, no player has ever been a unanimous selection. As the sports historian Bert Sugar once put it to me, "Remember that there were 11 idiots who didn't vote for Babe Ruth for the Hall of Fame.")
Pettitte, largely thanks to the blemish on his reputation caused by the fact that he's admitted to having used Human Growth Hormone, will never get HOF support like Ruth did, or like Rivera will. But the statistical résumé he's put together over the course of his career presents several convincing arguments for why the front end of the Pettitte-Rivera combo at least merits some consideration.
Pettitte's win-loss percentage measures up to other Hall of Famers'.
BaseballReference.com ranks Pettitte in the class of Juan Marichal, Catfish Hunter, and Herb Pennock—Hall of Famers all—largely on the basis of win-loss percentage. That's pretty good company.
Over 18 regular seasons Pettitte has a .625 win-loss percentage, 255 wins and 153 losses. Among 20th-century HOF pitchers, there are only 14 with better numbers. (Charles Albert "Chief" Bender, No. 15 on that list, is .625, the same as Pettitte.)
It has been argued, correctly, that the eight pennant winners Pettitte has pitched for have much to do with his stellar win-loss percentage. But couldn't the same be said for many, or even most, of the pitchers on the HOF list? Lefty Gomez, for instance, is sixth at .649, winning 189 and losing 102. Everyone agrees Gomez was a great pitcher, yet no one questions that his career benefited enormously from pitching for the late 1930s and early 1940s teams of Joe DiMaggio and Bill Dickey.
Pettitte has shown remarkable consistency over a long stretch.
If Pettitte finishes up the season at his current 10-11, it will be the first losing season of his career. He's won more than 20 games twice and pitched more than 200 innings in 10 seasons. He was a mainstay on the Yankees' staff in seven World Series, and he also helped a not-terribly-distinguished Houston Astros team win their only National League pennant in 2005. That season, he won 17 games, the second-highest number of wins for the Astros behind Roy Oswalt's 20.
Postseason performance should count.
Some say postseason play shouldn't be considered when voting for the HOF because not all pitchers have the same chance to be in the playoffs. But I don't understand this argument. How can a pitcher's performance at the highest level of competition simply be ignored?