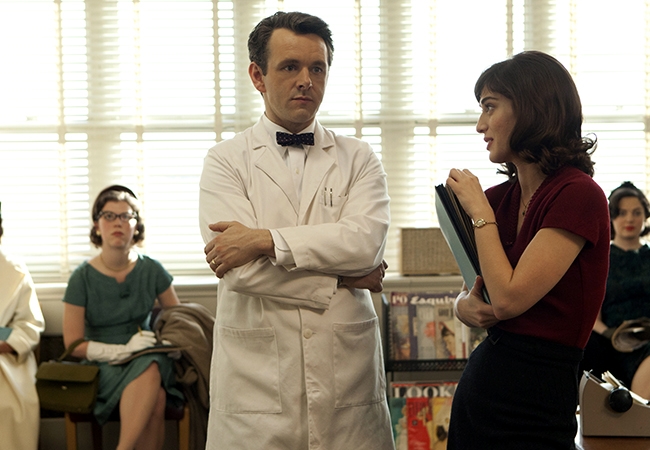 Showtime
In a scene from Sunday night's premiere of Showtime's Masters of Sex, two attractive, naked strangers sit in bed together in the middle of a hospital lab room—one a man and the other a woman, both connected to various monitors by wires taped to their skin. Virginia Johnson (Lizzy Caplan), in a white lab coat, sits at the foot of the bed.
"There really are no rules about what you can and cannot do," Johnson explains mildly.  "You simply need to move through all four stages so we can monitor the response. We start with excitement."
The nervous lab subjects giggle, but Johnson remains placid. "Then, to plateau—which is usually intercourse, but can also be more foreplay—then orgasmic. That's self-explanatory, I think?" The subjects smile shyly at each other. "Ending with refractory—the body's physiological reflexes returning back to normal.
"All of this comes very naturally," she assures them.
The real-life Johnson—half of the famous sex-research team that included fertility doctor William H. Masters—was known for her "warmth, people skills and administrative ability." She legendarily stayed composed and thought practically when dealing with situations that, for most people, could all-too-easily turn humiliating, uncomfortable, or, at worst, exploitative. Masters of Sex, created by Michelle Ashford and based on Thomas Maier's 2009 biography of the same title, applies a similarly unperturbed eye to inherently eye-popping subject matter—and that's what makes it so enthralling.
In 1956, Masters hired an assistant (Johnson) for his lab research at Washington University in St. Louis, and together they embarked on a simple yet wildly controversial quest to find out what happens to the body during sex. They ended up observing, filming, and documenting human sexual behaviors together for almost four decades, 21 years of which they were married to each other. Their studies would become some of the foundational research in the field we now know as sexology, and their personal partnership (spoiler alert, if documented 20th-century events count as spoilers) contained deceit, romantic triangles, breakups, makeups, and divorces, not to mention lots of sex, both in the name of science and not in the name of science. There's plenty of material here that could easily be fetishized or exploited or smirked at—or coyly glossed over with a soft-focus lens. Masters of Sex, though, like its two lead characters, generally approaches these subjects frankly but not overzealously.
Sex naturally gets a lot of screen time, at least in the first six episodes thus far released to critics. In the premiere alone, both main characters are seen having sex in their homes; prostitutes have sex and masturbate while Masters (played to frigid perfection by Michael Sheen) observes with a stopwatch and a notepad; human test subjects on laboratory tables masturbate and engage in intercourse while Masters and Johnson track their physiological reactions.
The show doesn't exploit the scandalousness of these scenes, though. Unlike, say, Game of Thrones, which was criticized early on for its hefty servings of nonessential female nudity, Masters of Sex limits its sex to where sex is an important component of the story, and it shows naked bodies only in places where naked bodies would necessarily be. Are these naked bodies sexy? Sometimes, and especially in the premiere—which is probably not an accident on Showtime's part. The truth is, though, that Masters and Johnson set out to figure out what happens when humans engage in sex. Humans pretty frequently do that in the nude. Masters of Sex doesn't shy away from that fact—or the fact that nakedness can also make some people feel awkward or vulnerable, or the fact that sometimes sex is sexy while other times it's not. But the camera never gets in the habit of ogling or gazing too long.
John Powers of NPR, it's worth mentioning, thinks the opposite of what I think: According to Powers, Masters of Sex "exemplifies much of what remains retrograde about premium cable and American pop culture in general" in that it includes elements like "squirmingly unsexy lovemaking scenes" and "gratuitous nudity."