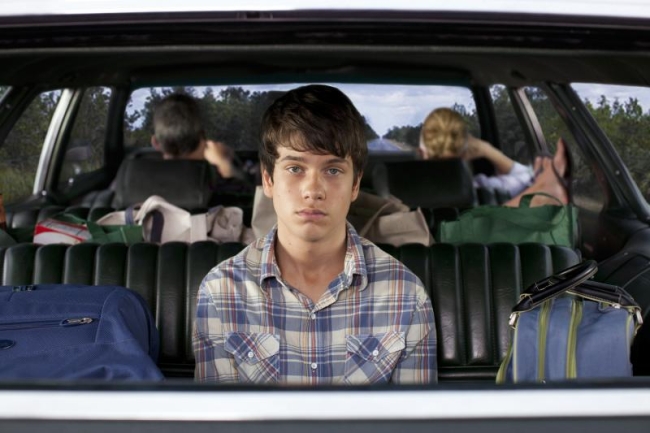 Fox Searchlight
The Way Way Back opens with a scene set in an old wood-paneled Buick station wagon. (It will close in the same place, but let's not get ahead of ourselves.) Pam (Toni Collette) and her 14-year-old son, Duncan (Liam James), are travelling with Trent (Steve Carell) and his mid-teens daughter to spend the summer at Trent's beach house. Trent and Pam, both divorced, have been dating for about a year, and the trip is meant as a test run for the two families becoming one.
It's immediately apparent, though, that a seamless, Brady Bunchish conjoining of clans is not in the cards. As the women doze, Trent, who's driving, calls back to Duncan, sitting in in the wagon's rear-facing jump seat (a.k.a., the "way back"):
"Let me ask you something. On a scale of one to 10, what do you think you are?"
"I don't know... a six?"
"A six? I'd put you down as a three."
Yes, Duncan, welcome to the rest of your summer--and, perhaps, your life. As played by Carell, Trent is not an inherently cruel man, but he is a consummate dick: self-righteous and self-centered, in a state of constant overcompensation for his own insecurity. He is, in short, just the kind of romantic pursuer that a recently divorced single mother like Pam might persuade herself was preferable to the possibility of not being pursued at all. Duncan, for his part, doesn't get a say in the matter.
Nor does the situation improve once the proto-family is ensconced at Trent's shingled cottage--the "Riptide"--on the New England shore. As a friend will later explain to Duncan, this environment is like "spring break for adults," a vacation from everyday life and its attendant disappointments. Pam is introduced to Trent's various summer-season friends (expertly played by Allison Janney, Amanda Peet, and Rob Corddry) and these putative grownups quickly get to work drinking--Bloody Marys for breakfast, wine at lunch, margaritas with dinner, and beer more or less constantly--experimenting with a little reefer, and generally behaving like adolescents freed from parental supervision.
Duncan, meanwhile--an actual adolescent freed from parental supervision--gets himself a job.
Fleeing the middle-aged debauch unfolding all around him, Duncan discovers a
frozen-in-time 1980s water park, whose offbeat manager, Owen (Sam Rockwell) takes a shine to the shy boy. Over the course of the summer, Duncan begins to gain a bit of wisdom and self-confidence, learning valuable lessons about--
Wait! Don't stop reading!
Yes, it is true that in its broad contours The Way Way Back could be mistaken for a tedious, coming-of-age message movie full of canned sentiment and idle uplift. But it's not. Written and directed by actors Nat Faxon and Jim Rash--who won an Oscar in 2011 for their adapted screenplay of The Descendants--the film is sharp, and tender, and extremely funny, with the kind of accessible-indie vibe that characterized such seasonal sleepers as Little Miss Sunshine and 500 Days of Summer. An unexpected yet irresistible cross between Meatballs and The Ice Storm, The Way Way Back just may be the best movie of the summer.