Stallone, Schwarzenegger, Willis, and their modern-day counterparts will dominate theaters the next few weeks—but their brand of action film is going extinct.
If you watched Sylvester Stallone and Arnold Schwarzenegger share a podium at last Sunday's Golden Globe Awards, you'd be forgiven for thinking you'd been transported back to the 1980s. Then again, that thought might be familiar to anyone visiting the multiplexes these days. In the next six weeks, movies starring Arnold Schwarzenegger (The Last Stand), Bruce Willis (A Good Day to Die Hard), and Sylvester Stallone (Bullet to the Head) will compete for space on your local marquee. And don't forget about the 3D rerelease of Top Gun on February 8.
Related Story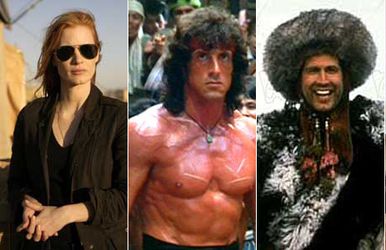 Each of these films is a throwback to a genre these stars perfected in the 1980s: the Rogue Cop action movie. In them, an officer of the law or member of the armed forces ignores the wishes of his oppressive, stupid bosses and catches the bad guy using methods just outside of the law. Does these films' sudden proliferation in theaters reflect a blossoming return to the anti-government, pro-military cultural zeitgeist of the Reagan era? Actually, the opposite: These movies are throwaways, representing the last gasp of a brand of entertainment whose commercial viability appears to be waning.
In the '80s, as Reagan promoted an economic plan based on free enterprise and individualism and urged a massive buildup in defense spending, action stars sometimes seemed to function as the administration's public face. Stallone's Rambo trilogy refought and won the Vietnam War, cultivating support for more military spending; in Commando, Schwarzenegger waged a one-man campaign against a communist dictator in South America; and in the first Die Hard, Bruce Willis defied the wishes of the local police and the federal government, defeating German and Japanese bad guys, while winning back his ex-wife who had left him to join the workforce. These reactionary movies railed against government intrusion and offered a solution in the form of vigilante justice.
The new Rogue Cop movies seem to offer the same solutions—mindless violence, not-so-witty action-hero quips, and high body counts—to the problems of today. A Good Day to Die Hard transposes post-9/11 politics onto a Cold War template, as hero John McClane travels to Russia to battle terrorists with a nuclear bomb. The Last Stand, which opens today, offers an anti-immigration allegory, with Schwarzenegger's small-town border sheriff as the last line of defense against an escaped Mexican drug kingpin trying to ram his way back into Mexico. Bullet to the Head tells the story of a rogue cop who teams up with a hitman to solve a murder.
It's significant that these films are being released in January and February, a dumping ground for movies that aren't good enough to earn a prime release date the year before.
It's significant that these films are being released in January and February, a dumping ground for movies that aren't good enough to earn a prime release date the year before. Last year at this time, Scott Meslow here at The Atlantic quoted the editor of Box Office Mojo saying that, "January typically sees genre films and films that have tested poorly getting their contractually-due theatrical release, while discerning adult audiences are catching up on the various 10-best lists and the general moviegoers are seeing the event films of December." Meslow noted that since 2004, the top-grossing film in January has generally made less than half the total box-office take of the top-grossing film in December.