My grandmother was 17 when she was sent to the Heart Mountain internment camp in Wyoming with her family. Like many internees, she did not talk about camp later in her life. Instead, she closed that chapter and went on to marry, start a family, and secure a job as a seamstress with a family-owned garment factory in Los Angeles.
Growing up, I knew that when my grandmother sewed clothes or accessories she made her own pattern pieces from newspaper. She was confident in her work. Whenever she went out in public she put on lipstick, a pair of low heels, and her best outfit, often taking compliments in stride as she replied, "I made it." Assuming she was self-taught, I thought her skill was simply one of a group of creative hobbies that included playing piano, folding origami, and knitting. My assumptions proved wrong.
Last November, I returned to Los Angeles to visit family and archive my grandfather's photographs, some of which he had taken at Heart Mountain. I had not been inside my grandmother's two fabric rooms since she passed away in August 2012, and it was comforting to step inside once again—to look around at the furniture, the dresser drawers, and the trunk full of sewing materials. As I turned to leave, I saw a red binder open on a table. It contained a series of pattern-drafting instructions and sketches from sewing classes my grandmother had taken at the internment camp. These unearthed notes, alongside her Evacuee Case Files at the National Archives in Washington, D.C., allowed me to reconstruct her sewing education at Heart Mountain and explore how those skills had launched her career. I also came away with a deeper understanding of Japanese-American internment during World War II.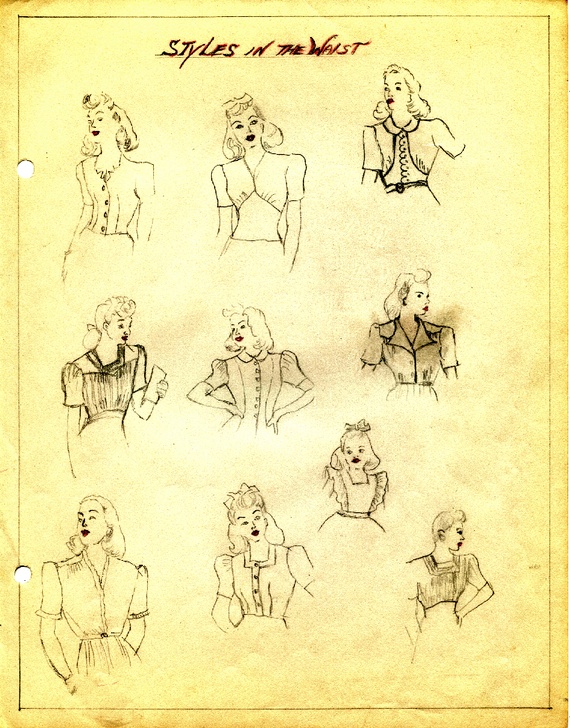 When Heart Mountain was operating at maximum capacity, the internment camp held 10,767 people, making it the third largest city in Wyoming.  The camp imprisoned three groups of Japanese Americans: the Issei, who had emigrated from Japan; the Nisei, who had been born to Japanese parents in the United States; and the Kibei, a minority who had been born in America but sent back to Japan temporarily to live with relatives and acquire a traditional education and cultural upbringing. Executive Order 9066, signed by President Roosevelt in February 1942, allowed the U.S. government to relocate all of these groups from their homes to 10 camps in rural and isolated areas of the country.   
My grandmother was part of the Kibei minority. Born in Seattle in 1925, she was the eldest daughter, with two older brothers and two younger sisters. When she was 17 months old, her parents sent her to Japan to be raised as a proper Japanese woman. She attended grammar school, high school, and sewing school in Iwakuni, a city in the Yamaguchi prefecture of Japan, with the aim of becoming a sewing teacher. At her parents' request she returned to the family farm in Yakima, Washington, in the fall of 1941, where she helped her family harvest vegetables and acclimated to American life.
In America, she faced a significant language barrier. She was fluent in Japanese but did not speak English well. Additionally, she experienced a rift with her siblings, all of whom had been educated in the United States. Though she attended Garfield grammar school in Yakima from September 1941 to March 1942 to improve her English, the cultural and educational divide persisted into internment when she and her family were transferred from the Puyallup Assembly Center to Heart Mountain in September 1942.