Alan Cleaver/Flickr
With its art fairs, first-class museums, a multi-billion-dollar theater industry, and the world's largest performing arts center, New York City's commitment to the arts seems absolute. But when it comes to providing access to arts education in public schools, the city's comptroller has given New York a failing grade. 
In April, the office released its first-ever State of the Arts report, finding a big difference between the level of arts education in wealthier and lower-income schools. This has raised fresh questions about how art enhances learning and whether children will be better prepared for a 21st century economy if they have mastered the "soft" skills that art teaches. In an increasingly "creative" economy, the argument goes, students need original thinking to thrive—and then only wealthy New Yorkers are being set up to succeed.
The comptroller's office analyzed three aspects of arts programing: whether schools have a full- or part-time certified arts teacher; a formal partnership with an arts or culture organization; and a dedicated room for visual arts, music, theater, or dance. When researchers looked for geographic patterns in the data, they found that access to arts education reflects income-inequality trends in the city.  
Arguably, students in lower-income schools need exposure to creative subjects the most, but as you can see from the map below, the city's arts programs are sharply divided by neighborhood. Each of the dots represents a school that doesn't have an art teacher.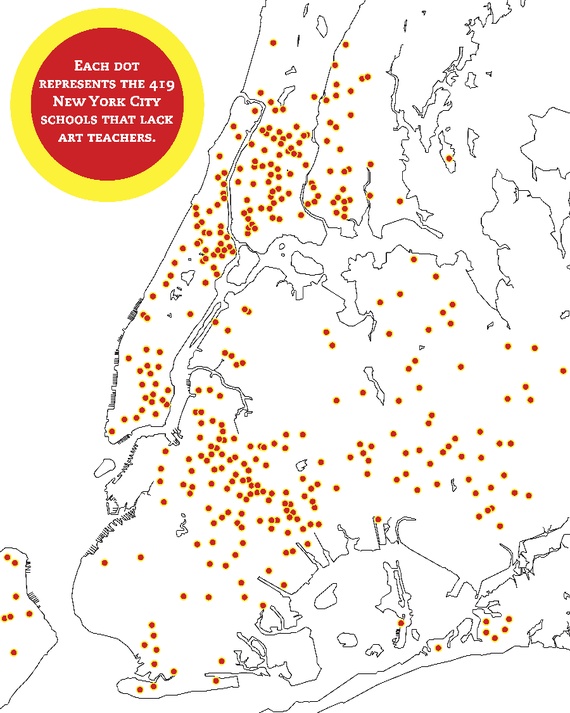 While state law mandates that every middle and high school student has a certified arts teacher, the report found that more than 400 middle and high schools in the city don't meet that criteria. Forty-two percent of these schools are in the south Bronx and central Brooklyn, both lower-income areas of the city. And nearly half of the schools that don't have a certified arts teacher or an arts partnership are in poorer districts. "It shouldn't make a difference what neighborhood you live in," says comptroller Scott Stringer. "Every student in New York City should have the opportunity to receive a strong education in the arts."
Eric Pryor, executive director of The Center for Arts Education, an arts-education nonprofit that works in New York public schools, describes a "perfect storm" that created this situation. For one thing, local politics have worked against arts education. During Rudy Giuliani's mayoral administration, there were few programs around the city. Eventually, the mayor established the Project Arts program, allocating money for arts partnerships and education in public schools. But Michael Bloomberg took a different approach, using a "principal as CEO model" that gave administrators the autonomy to use resources as they saw fit. Project Arts money was still part of schools' budgets, but principals could choose to divert the money to other areas. In poorer neighborhoods, that often meant cutting the arts.
Around the same time, the federal government unveiled No Child Left Behind, standards-based educational reform that ushered in a culture of "high stakes testing." As a result, teachers spent more time on subjects like English and math, and less on the arts. As New York started feeling the effects of the recession, it had to tighten its budget. "Because we test literacy and we test math levels, subjects like foreign language and PE and yes, arts, are among the first to be cut," Pryor said. 
Ironically, the Bloomberg administration has commissioned large-scale art pieces by famous contemporary artists, such as Christo and Jeanne-Claude's Gates and Olafur Eliasson's Waterfalls. This may have boosted tourism and was certainly appreciated by some New Yorkers. But meanwhile, the most vulnerable students in the city saw their arts education systematically cut, says Adarsh Alphons, founder of ProjectArt, an organization that works with libraries on arts programming.