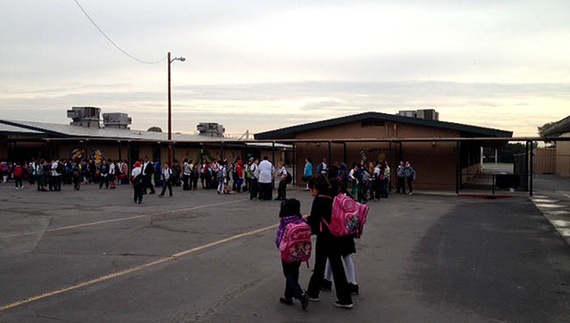 COMPTON, CALIFORNIA—Remarkable things are happening at Laurel Street Elementary School in Los Angeles. Ninety percent of its 580 students are eligible for free or reduced lunch. More than 60 percent of its students are classified as English learners. And yet the school has established a stellar record of success: a national Title I Distinguished School Award in 2012 in recognition of its high academic achievement, a Golden Bell Award for its innovative writing program, and a Dispelling the Myth award from the nonprofit Education Trust. Despite years of state funding cuts and classes that average 30 or more kids apiece, an amazing 83 percent of Laurel Street's students scored at proficient or higher on a recent state language-arts exam, and 91 percent scored that high on the math test.
Laurel Street kids tend to do better on math because it's a kind of transitional language for students still learning to read and speak English fluently, said fourth-grade math teacher Angel Chavarin. He learned English himself while attending a Los Angeles public school years ago. Laurel Street students rarely express a typical lament of American students: "I'm not a math person." Instead, teachers say they're more likely to hear the opposite. "We have kids who say they're good in math, but not in language arts," said Chavarin. "We tell them they can be good in both." 
But this year, teachers at Laurel Street are a bit more anxious about their achievement levels than usual. That's because they, like most schools in the country, are in the midst of transitioning to the new Common Core standards. Voluntarily adopted by 45 states, the new standards stress critical thinking, deeper learning, and more sophisticated vocabularies, with the aim of making American students more competitive with their peers from around the world.
The creators of these standards hope they will boost the achievement levels of most students, but some educators worry that the standards might inadvertently hurt one of the fastest growing groups of students in the country: students whose native language is not English. Since Laurel Street has been so successful in effectively educating these students in the past, it's a good place to take an in-depth look at how one school is dealing with this issue. The school leadership agreed to let a reporter follow the transition over the year. 
"The language demands of the Common Core are enormous," said Ben Sanders of the California Office to Reform Education, which supports implementation of the new standards. "This is absolutely going to be a big challenge to English learners."
And English learners are a big challenge to the U.S. public school system.
There are already an estimated 5.3 million students in kindergarten through 12th grade who are English learners: that is, students whose English skills are less than proficient. Their numbers have grown by about 50 percent nationally since the late 1990s, and they currently account for about 10 percent of all American students. That percentage is growing in most states and is expected to rise to 40 percent of the U.S. kindergarten through grade 12 population by 2030.
As a group, these largely Hispanic students have scored significantly lower than their white peers on standardized tests like the National Assessment of Educational Progress, known as the nation's report card, despite increased attention to this "achievement gap." How—and if—schools can overcome this hurdle will be a key measure of success for the Common Core.
This issue looms especially large in California, the state that educates one of every eight American students and has far more English learners than any other. Latinos now make up the majority of California public school children, and 37 percent of the state's total enrollment comes from homes where a language other than English is spoken. Currently, about 23 percent of the state's students are categorized as English learners.
While some California high schools have students with 60 different language backgrounds, more than 80 percent of the state's English learners speak Spanish. "Almost every single teacher (in California) has English learners," said Jeanette LaFors of Education Trust West, which is studying Common Core's impact on these students. "It's rare to see a class that does not have them." California's large number of English learners helps explain why California's National Assessment of Educational Progress scores have repeatedly come in well below the national average.
Like a lot of educators in California, Laurel Street's leadership team is enthusiastic about the Common Core because they think the standards are research-based and encourage a better way of teaching and learning. But they also recognize that big changes are necessary if their kids, particularly their English learners, are going to do well on the new assessments linked to the new standards.
"They are absolutely our priority,' said Principal Frank Lozier, who first came to Compton Unified School District in 2000 as a Teach for America recruit out of the University of California, Berkeley. "They are such a large part of our school."
As Laurel Street begins the process of adapting to the new standards, much of the focus is on their math program, a traditional area of strength at the school.
California's old state assessment was pegged to its old standards and rewarded math students with good memorization and pattern recognition skills in ways that the new standards and assessments will not. "We had students who were good at finding the right answer because they had memorized the script," said third-grade teacher Alejandra Monroy. "They could simply add or subtract and get the right answer."