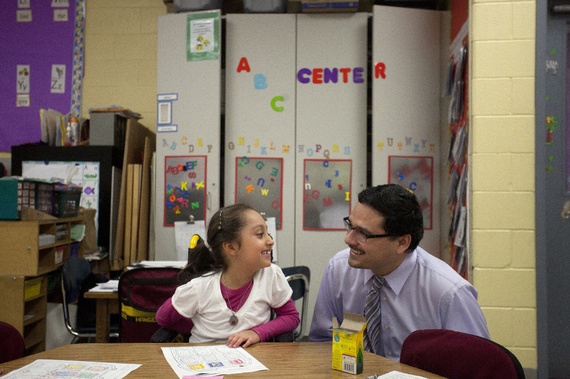 CHICAGO—Mayor Rahm Emanuel and public school officials faced a predicament two years ago. They wanted to fix the fact that Chicago had one of the shortest school days in the nation. But they didn't have the money to pay the city's 20,000 teachers to work more.
To make their plan economically viable—and to end a weeklong teachers strike that resulted partly from their proposal for longer teacher hours without a proportionate pay increase—they agreed with the union to rearrange the workday.
Before the change, teachers were typically required to arrive at least a half hour before their students each morning. They often used that time for staff or parent meetings and collaborating with colleagues. Now, more than a year after the strike, teachers are only contractually bound to arrive and leave at the same time as students. Dozens of educators in the city say that the revised schedule has made two hallmarks of any successful school—teacher collaboration and training—more difficult.
The Hechinger Report informally surveyed 70 Chicago teachers from around the city, all enrolled in a class preparing for the prestigious National Board Certification, which recognizes distinguished teaching. When asked if they receive less training than they did before the longer school day began, more than two-thirds raised their hands. More than half responded that it's harder now to talk in person with their colleagues, particularly those outside their grade and subject area.
"If our goal is to improve student learning and improve Chicago Public Schools, we need time for teachers to talk and share ideas," said one of those polled, Paige Nilson, a second-grade teacher at Alexander Hamilton Elementary, calling it "disrespectful" to assume teachers can do their jobs if they arrive when students do.
"I don't know how anyone is able to do everything they need to do within the school hours," she said. "It's not possible."
The scenario Nilson described at her school is a common one since 2012, when Chicago lengthened its instructional day by an hour and 15 minutes for elementary schools and a half hour for high schools. She's able to meet with the other second-grade teacher during the period they get each day for lesson-planning. But her colleagues in first and third grades are off at different times, and she said meeting with them regularly is essential to ensure continuity of instruction.
The changes come as the school system has adopted a new budget formula that gives principals an incentive to hire inexperienced teachers because their salaries are lower than veteran teachers. Research shows that new teachers in particular need ample training and support to be effective.
What's more, as the city is rolling out new teacher evaluations and the national Common Core education standards, officials are relying on each school to send representatives to trainings and bring the information back to their colleagues—only they have no time to meet, other than the 10 days per year required for training under the Chicago Teachers Union contract. At 41 percent of elementary schools, teachers have voted to replace up to three of those days with periodic staff meetings before school throughout the year.
"It makes no sense to think you can run a business without giving workers a chance to talk to each other," said Leslie Travis, who retired last spring after many years as a librarian at Ray Elementary.
"When Sandy Hook happened, you couldn't even call your faculty together to grieve about it, to say, 'This is what we're going to put in place,' to remind everyone to be vigilant, because there is no common meeting time, none," added Sandra Carlson, principal of William P. Gray Elementary, referring to the 2012 Connecticut school shooting. She is a proponent of more learning time for students, but wishes she had more flexibility over the schedule. "Issues arise," she said, "and you know what? You can't have discussion in an email.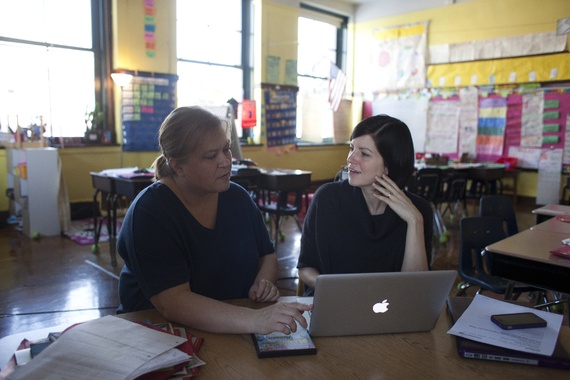 Chicago school system officials note that teachers have slightly more preparation time in the longer day, 64 minutes per day versus 62 minutes before. A system spokesman said teachers "have the same opportunity for collaboration during that preparation time," a contention that many teachers dispute since colleagues aren't necessarily off simultaneously.
System officials also point out that the teachers union agreed to the new schedule. That agreement came reluctantly after a strike that shut Chicago's schools for seven days in September 2012.
Jesse Sharkey, vice president of the Chicago Teachers Union, said coming up with a way to give teachers adequate planning and training time while lengthening the day and year "was at the crux of the strike." (Students went from 170 days per year in school to the conventional American 180, and teachers went from 180 to 190.)
At the bargaining table, according to Sharkey, "They said, 'We're going to have a longer day.' We said, 'We can't afford a longer day.' … That we had to have a longer day trumped all practical concerns about whether it was feasible." The union's position was, "you need 20 percent more resources. You're increasing the school day by 20 percent." He said the school system took the stance that, "We'll just get 20 percent more out of you."