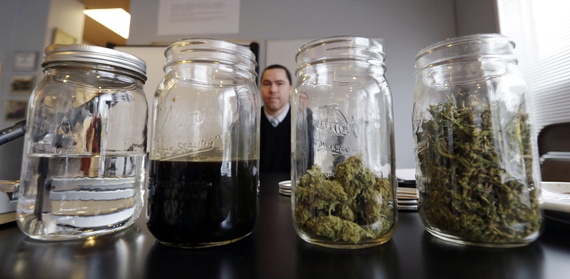 Back in 2010, California attracted national attention by putting a measure to legalize cannabis on the ballot. Many questions about the implications of the measure were directed at Erick Eschker, professor of economics at Northern California's Humboldt State University. If anyone could provide answers about the size of the local cannabis industry, or the economic impact of Prop 19, they figured it would be Eschker and his colleagues. Unsure of how the legalization process would work, Eschker helped create The Humboldt Institute for Interdisciplinary Marijuana Research, a collection of faculty that conducts research about cannabis policy that he now co-directs. Humboldt State University is a natural fit for research into the economic and cultural effects of cannabis; it's in one of three counties that comprise the famous Emerald Triangle, which has been called the cannabis-growing capital of the U.S. for years.
"There's a certain what I call a 'snicker factor' associated with it, if you say you're doing work with marijuana," Eschker said. "And having a formal institute that has been chartered on campus and has sort of backing of the campus and of the Cal State system, that really does a lot for the faculty working in the area."
Eschker isn't the only person doing scholarly work on the ramifications of cannabis legalization. Students and professors across the country are looking beyond the question of "Should cannabis be legal?" toward the more complex economic, sociological, and legal questions raised by legalizing the drug. These higher-ed classes have become a place for students to explore the uncertainties created by the unfolding cannabis story: for example, how to draft legislation for a legal industry, what can be learned from alcohol prohibition, and how dispensaries affect communities.
Finding answers to these questions is becoming increasingly urgent, as more states are lifting restrictions on cannabis use. Residents in Colorado and Washington voted in favor of personal-use legalization in November 2012. On New Year's Day 2014, Coloradoans made their first state-legal purchases. In addition, 20 states and Washington, D.C. have laws that permit cannabis for medical use.  
Before and after California's legalization attempt, medical cannabis shops popped up all over the state, particularly in Los Angeles. Their rapid growth led to a citywide backlash to shut down some of the storefronts. In this debate, Steve Graves, a professor of geography at California State University, Northridge, saw an opportunity.
"I recognized this was a really rich visual display created on the landscape. And I was worried that if they all disappeared and they all have to go out of business that there might not be a visual record of what they looked like," said Graves.
So Graves came up with a creative way to get his students, who live all over the greater Los Angeles area, to help document the changing landscape: If they spotted a dispensary while driving or walking, they could snap a picture for a little extra credit.
He received a sizeable pile of images from his students and matched them with a dispensary database created by the Los Angeles Times. Graves eventually noticed patterns. For example, dispensaries, like casinos and liquor stores, lined up along a border of a municipality where they were banned.
"[Students] said, 'Oh my god I didn't realize there were so many until I started actively looking for them,'" Graves said. "Students dig that. And then they say, 'Guess what else I noticed?' which excites me as a teacher."
Many of the dispensaries stayed open, leading to a debate about their effect on communities. Bridget Freisthler, an associate professor at UCLA's Luskin School of Public Affairs, had examined the effect of liquor stores on neighborhoods and thought a similar approach could be taken to dispensaries. In late 2011, Freisthler was approved by the National Institute on Drug Abuse for five years' worth of research into the impact of dispensaries on their communities.
Her students are visiting dispensaries and conducting operational surveys, which ask about the condition of the dispensary, the patients that enter, and the types of products the stores sell. At the project's halfway point, about 10 students have worked with Freisthler, and they have had different reactions to working on a still controversial subject.
"Every once in a while there will be a student who thinks they want to be on the project. And then they'll get cold feet because they don't really want to go in dispensaries, they don't feel comfortable. And you quickly hear the other students who say, 'Don't you get how important this study is? How groundbreaking?'" Freisthler said.