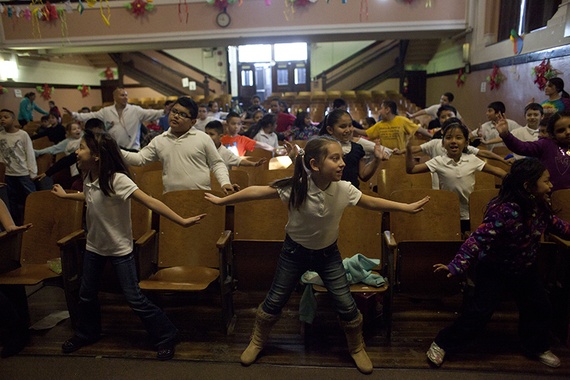 CHICAGO–For decades, children here had one of the shortest elementary school days in the country. Students of all ages were in class fewer days than their peers not only nationally but also in much of the developed world.
Rahm Emanuel vowed in his successful 2011 mayoral campaign both to increase the amount of time Chicago's students are in class and to give them a well-rounded education during their additional school hours. And by the fall of 2012, the former chief of staff to President Barack Obama had lengthened the day and year for elementary and high schools alike. Despite a budget crisis, he came up with funds to begin delivering on the second half of his promise. Schools, he said, should not have to choose between offering math or music.
But less than a year later, the estimated amount of the Chicago Public Schools' deficit, caused largely by a crisis in pension funding, had hit $1 billion. Today, the country's third-largest school system is still giving its 400,000 students more time to learn, but it is no longer giving more money. In fact, it is operating with fewer teachers and support staff than it was before the longer day began.
"Funding is not there for a quality day, period, no matter the length," said Wendy Katten, director of the advocacy group Raise Your Hand and mother of a fifth grader at Augustus H. Burley School.
According to interviews with dozens of teachers, administrators, parents and students, Chicago's longer school day has rolled out with a host of problems, primarily related to funding. The city initially hired hundreds of new teachers to help with the expanded schedule, since it could not afford to pay existing teachers to work longer hours. But now officials have eliminated more jobs than they created. At some schools, newly added art and music classes have been cut back, and the mandatory reintroduction of recess without funding for supervision has created a logistical nightmare.
The longer time amounts to elementary students being in school an extra hour and 15 minutes per day, high school students having an extra half hour, and everyone attending for 10 additional days. Within certain parameters, principals have the freedom to decide how to use the added hours. Still, much criticism focuses on the one-size-fits-all nature of the policy in a city with diverse needs. Some students in wealthy neighborhoods and at academically selective magnet schools were already overextended with extracurricular activities. At the elite Whitney M. Young Magnet High School, administrators simply added a study hall. In violence-ridden communities, meanwhile, a later end to the regular academic day has left families worried about their kids getting home safely after dark if they stay to participate in after-school programs and sports.
During his freshman and sophomore years, back when school let out at 2:31 p.m., Raul Arias played basketball and ran cross-country at the Marine Math and Science Academy. "I stopped last year as soon as the whole extended school day started," said Arias, 17, a senior. He commutes an hour each way on public transportation to attend the military-themed magnet school instead of a subpar option in his neighborhood. "I have to worry more about myself going home than what I'll actually be doing in school." While Arias said he has to be vigilant about his safety at all hours, "in the night is when everything happens. That's when more people get jumped or robbed or all the other stuff."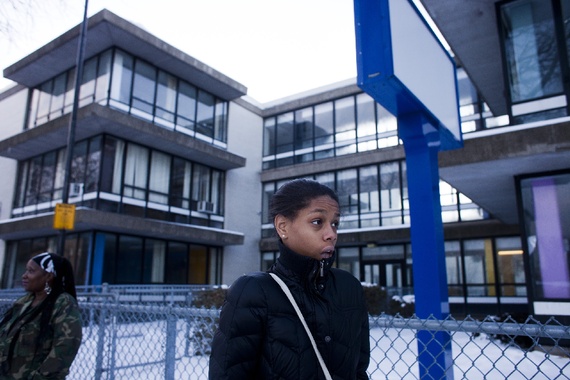 In his campaign victory speech, on Feb. 22, 2011, Emanuel said, "We have not won anything until a kid can go to school thinking of their studies and not their safety." Chicago school officials say they have not seen participation numbers drop in after-school activities since the lengthening of the regular day, but they take concerns about student safety getting home seriously.
Last night, school system officials announced that they will use $21.5 million in surplus tax increment financing funds to hire an additional 84 art teachers and 84 physical education teachers, some of the positions recently cut. The move comes as the city's board of education is scheduled to vote Wednesday on a plan to mandate daily physical education for all students, a state requirement with which Chicago has been out of compliance.
Educators and advocates say daily physical activity for students is a great idea—provided schools receive money for staffing, and there have been widespread concerns they will not. Even with the new money, schools will be responsible for covering a portion of the new teachers' salaries themselves and in time will need to absorb the cost completely.
Beth Swanson, Emanuel's deputy overseeing education, said the mayor remains committed to finding more resources for the arts and other enrichment activities. Regardless, she said, more time for reading and math was sorely needed. The longer day has typically brought more time in reading and math as educators are rolling out the new national Common Core education standards and preparing for a switch to more stringent standardized tests.