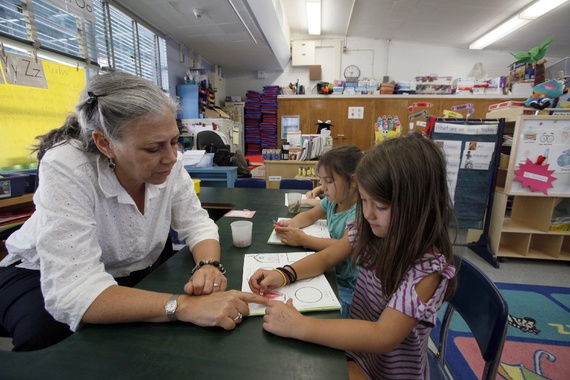 SAN ANTONIO—Early last month, Maricella Perez thought she had all the pieces together. Her essays were done. The letters of recommendation, requested and complete. Her 99.7 grade-point average, and her track record of coordinating student blood drives, raising money for cancer research, and serving as Theodore Roosevelt High School's student-council president were described in detail. Perez's application for the University of Texas (Austin), her dream school, was done.
One Saturday afternoon, however, sitting on her living-room couch, the pieces of her application spread across the coffee table, the 18-year-old spotted a problem: The application cost $90 to file. "Honestly, I filled out the whole thing…and then kind of sat on it," she says. "I thought my mom was going to kill me when it came time to put $90 in the mail."
In Perez's family, money is tight and experience with college applications is limited. Her mother, the sole support for Maricella and two younger siblings, works as a medical assistant and attends night classes to become a licensed vocational nurse. Perez's aunt, the only person in the extended family who has graduated from college, earned a degree from an online university last year.
During the next two weeks, Perez grew so anxious that a high school guidance counselor noticed and pulled her into his office. Perez, with her sterling record, wasn't even sure she would be able to apply. The counselor introduced Perez to a novel concept: a fee waiver for low-income students.
Perez's guidance counselor may have changed her life—a reminder that an intervention at the right moment can have huge, enduring payoffs. Indeed, there are multiple points during the life of a disadvantaged child when a timely intervention can help. But in an era of slow economic growth and tight budgets, the resources aren't available to help every child at every critical point. This raises a question: Which of these interventions promise the most bang for the buck?
Consider the choices. The first point of leverage arrives before birth: An expectant mother's mental and physical health can help avoid a premature delivery, thereby improving the child's chances of learning later. Then, expanding access to high-quality prekindergarten programs can increase a child's odds of entering school with essential skills, ready to learn more. Once they're in school, extending the amount of time children spend in the classroom has been shown to boost students who've fallen behind. Later come the college conundrums—helping disadvantaged students get into college and then complete a useful degree.
Intervening isn't always as simple or inexpensive as meeting with a guidance counselor. As scholars grapple with the costs and benefits of intervening at crucial times, policymakers around the country have started to weigh the advantages and political risks of these competing—and worthy—objectives. Any debate that touches on poverty, pregnancy, or how to educate America's children is bound to raise ideological hackles.
In San Antonio, as in Washington, the result of such a calculus has produced a push for greater access to preschool. "We know a lot about the rewards of providing high-quality early-childhood education," said Cecilia Muñoz, director of President Obama's domestic policy staff. "The return on investment is huge.
But things aren't so simple. "We've looked at the numbers," said Isabel Sawhill, codirector of the Center on Children and Families at the Brookings Institution. "Early is always better. It's often cheaper." Still, she urges caution. "There is no one program, one investment. The magic bullet does not exist."
The Demographic Vanguard
The fate of Maricella Perez, and of others like her, matters not only to them but to everyone else. The notion that the United States can maintain its global economic edge by relying on a shrinking share of relatively affluent whites—who attend good schools with good teachers and ample resources, prekindergarten through college—amounts to a national form of magical thinking. But disadvantaged youths of every race and ethnicity find it hard to succeed in an economy that increasingly requires more than a high school diploma to survive in a shaky middle class.
Young Americans of color will soon dominate the nation's workforce. Black and Latino students, nearly half of them from low-income households, are already two-fifths of the public-school population. By 2038, federal prognosticators say, racial and ethnic minorities will make up a majority of the country's workforce—and of the entire population by 2043. Latinos alone are projected to account for 38 million new members of the labor force by 2050—about 80 percent of its growth.
Few if any places in the United States are working harder than San Antonio to prepare minority youths to join an educated workforce. The city pretty much has to.
"San Antonio is really at the vanguard of the way in which the demography of the United States is changing," said Char Miller, the author of a book on San Antonio who was a longtime history professor at Trinity College here. "We have a minority majority. Their educational fate, their health, their economic and social opportunities, are really going to redefine what it means to be an American—who we are and what people understand about us as a country."
Not long ago, San Antonio was known mostly for the Alamo. Now, as a city of 1.3 million, the seventh-most-populous in the nation, more than 63 percent of residents are Latino, and 19 percent are poor.
Julian Castro has staked his mayoralty—and his rising national profile—on his ambitions to help young San Antonians from deprived backgrounds move into the economic mainstream. He has the street cred. The second-term mayor and his identical twin, Rep. Joaquin Castro, D-Texas, were born to a poor single mother and—supported by family and good teachers—wound up graduating from Stanford University and Harvard Law School.