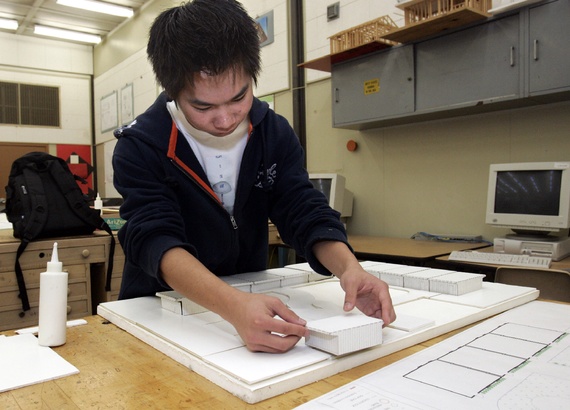 What used to be the woodshop at Georgia's Dalton High School is now free of dust. Instead, it's filled with welding stations, a 3-D printer, and a computer-controlled plasma cutter. Students work with the engineering students across the hall on robotics projects, building their knowledge of science, technology, engineering, and mathematics.
Seventy-four percent of Dalton High's students are enrolled in career, technical, and agricultural courses. But this isn't your father's vocational ed. Here, training for particular careers is considered part of a well-rounded college-preparatory education. "It's not an either/or with us," said Principal Steve Bartoo.
Dalton, Ga., a city of just over 33,000 in the Appalachian foothills, calls itself the Carpet Capital of the World. (Northwest Georgia produces 90 percent of the carpet made in the United States.) It's also home to a fast-growing Latino community. Latinos comprise 48 percent of Dalton's population—although only 9 percent statewide—and 70 percent of the students at Dalton High.
The community is still struggling to emerge from the recession; about 70 percent of the school's 1,640 students qualify for federally subsidized lunches. But despite changing demographics, falling incomes, and declining state funding, Dalton High's students are graduating at higher rates than ever. By combining a rigorous approach to career and technical education, known as CTE, with high academic expectations, the school has lifted its graduation rate from 56 percent to 92 percent over the past decade. Almost 70 percent of the class of 2011 enrolled in college within two years of finishing high school.
Starting this year, all ninth-graders in Georgia will be required to follow a career- or academic-focused "pathway"—in agribusiness, say, or finance—to graduate from high school. In Dalton, educators know that industry-focused courses can help teens thrive, but only when such courses aren't considered a separate track. The lines between electives, college-preparatory work, and career exploration are blurring. Schools that take this seriously can use career courses to elevate every student's education, rather than to warehouse the students lagging behind.
Tracking? What's That?
Vocational education has been controversial since early-20th-century reformers proposed a divided system of public education—college-preparatory work for some, technical training for others. Critics worried that such a system would track poor, minority, and immigrant children into working-class jobs, restricting their access to higher education and limiting their social mobility.
We're starting to see a resolution to the century-old debate over tracking, said Anthony Carnevale, director of Georgetown University's Center on Education and the Workforce. He described "the melding of the two curriculum types, so that in theory, CTE programs don't stop you from going to Harvard."
The 21st century's information economy demands a new style of career training that helps prepare students for further education rather than diverts them from it, and teaches creative thinking and problem-solving rather than how to perform rote tasks. Think about CTE not only as training relevant to a career but as a way to help students acquire academic skills and think critically in a different way.
Two forces are moving CTE in an intellectually demanding direction. The first is political. Since the 1980s, policymakers have pushed schools to raise test scores and improve academic preparation. In 2006, Congress required schools to offer at least one sequence of career-oriented courses encompassing secondary and postsecondary education to be eligible for any of the $1.14 billion available in federal aid.
The second force is economic. The skilled trades have become more, well, skilled, and employers are demanding advanced credentials. By 2020, Carnevale and his colleagues predict, 65 percent of jobs will require postsecondary training. In many fast-growing fields, such as health care, entry-level workers must return to school to move up. If you're a certified nursing assistant at a hospital, you can't just work your way up to become a registered nurse.
Low-skilled, low-paid jobs in retail and food services are also expected to grow over the next decade. But it has become almost impossible for people with a high school education or less to find the sort of jobs that can support a family, let alone move them into the middle class or beyond.
With college costs rising, credentials that deliver a good return on investment are in demand. Holders of a technical associate's degree can command better salaries their first year out of school—in Texas, $11,000 higher—than graduates with a bachelor's degree in liberal arts, according to Mark Schneider, vice president at the American Institutes for Research, a Washington think tank. Those holding college degrees with a technical bent, whether from a two- or four-year school, fare best. The highest paid in every state: graduates in engineering.
Today, about 85 percent of public high school students complete at least one CTE class, and the demographics of participants mirror almost exactly the general high school population, according to the National Association of State Directors of Career Technical Education Consortium. Of the 16 "career clusters" the consortium has defined, the most popular include health science, information technology, and business and administration.
Even at elite colleges, the concept of career preparation—rather than immersion in pure academic study—is gaining ground. At the private liberal-arts colleges ranked highest by U.S. News & World Report, the number of graduates in vocational majors—think education or nursing, rather than English or biology—increased from less than 11 percent in 1987 to 29 percent in 2012, Victor E. Ferrall Jr., a former president of Beloit College, wrote last year in the Pacific Standard.
Turnaround at Dalton High
Years ago, when Debbie Freeman was an eighth-grade teacher in Dalton, Latino students were treated differently than their white peers. Many of the Latino children were not native English speakers, and, for that reason, fell behind academically. Almost reflexively, Latinos were placed in remedial classes when they entered high school. They weren't expected to catch up.