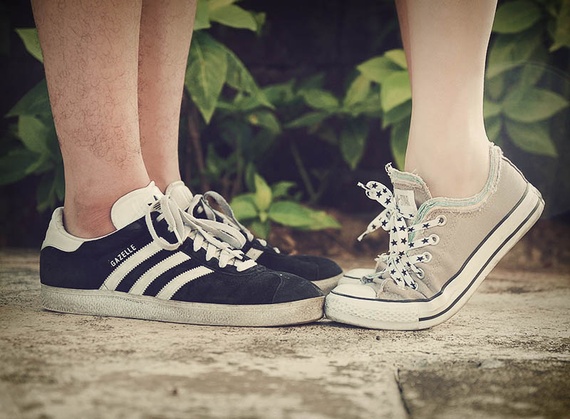 Many college freshmen are home this week for the first time since August. They'll retreat to what is comfortable – spending time with family, old friends, and for some, a high-school sweetheart. Thanksgiving will also be a time for big questions, particularly for those freshmen still in high-school relationships. Did they take advantage of their first three months in college, or did they lose out by spending too much time on Skype? During their first trip home, freshmen have to decide whether they stick it out with their first love, or succumb to what is known as the "Turkey Drop"— the phenomenon of high-school couples breaking up when they come home for their first Thanksgiving.
Much of my own freshman year in college was determined by one recurring scene. A friend knocks on my door. She tells me her plans for the night – maybe a sorority party or a pregame in a friend's room – and asks me if I want to come along. I look at her, all dolled up in heels and a cute crop top, and then I look back at my bed, soft and warm, offering a Saturday night of TV, calls with high-school friends, and microwavable macaroni and cheese. Do I push myself to meet new people (and risk spending the next four hours smiling and saying "hey, where are you from?" so many times that my face starts to hurt), or do I fall back on the familiar?
One Princeton junior told me that, during her first three months in college, she stayed in her room every Friday and Saturday night. She didn't go out because her high-school boyfriend didn't want her to. The first time she drank alcohol, he "fell apart." When she signed up to join a sorority, he started a screaming match. She knew she was missing out on important college experiences, but there was still something that made her stay with him for the first few months.
"First semester of freshman year, you don't have that many real friends, so when my high-school boyfriend would show up, I would be like, 'Yes, here is someone I trust, that I can actually tell things to,'" another junior said. "He was someone who would just instantly understand what was happening with me emotionally. I would want to just hole up in my room for the rest of the weekend, talking to him."
So when does this affinity for the familiar start to change? In the first few months of college, there are those long, lonely freshman nights – times when you wonder whether you've actually made any real friends. By November, however, most freshmen have gotten over the worst of their homesickness. The "Turkey Drop" happens in part because freshmen realize they no longer need the safety blanket of their high school significant other.
According to Dr. Christopher Thurber, a psychologist at Phillips Exeter Academy, going home for Thanksgiving – being surrounded by people they love – can actually help freshmen to get over their homesickness. "When you're homesick, your actions – being tearful, staying in your room a lot – will cue in the people around you, and prompt an appropriate social response," said Thurber. "People will reach out to you, and that often will boost the student's confidence. This in turn will help them overcome feelings of homesickness."
When I came home for Thanksgiving my freshman year, I was also shocked by how much I'd changed. I went to a high school where the majority of students had been living in the same town since kindergarten. Most people had similar views on political issues and didn't have experience with cultures different from our own. Then I moved into my freshman dorm, and met a roommate who had just flown in from South Korea. At Thanksgiving, it felt strange to reunite with my group of high school girlfriends, who all grew up within a 20-mile radius.