What struck me at MMA was how much hands-on experience these students get. (Video here.) Everybody gets cooperative-learning experience, appropriate to their educational and career goals, either aboard vessels or with companies involved in industrial manufacturing, logistics, engineering, oceanographic research, or marine biology.
And the on-campus training is enriched by impressive high-tech facilities, as I mentioned above.  For example, I was awed by the state-of-the-art, computerized navigation simulator (seen in photo below), used to train deck officers.  It's in the campus Center for Advanced Technology, in a large room set up like a ship's bridge. A semicircle of 55-inch flat-screen monitors provides students with real-life simulations of port approaches and harbors anywhere in the world. The day I was there, the harbor on the simulator's screens was New York. It was so authentic that I might as well have been looking from the Staten Island Ferry – and so realistic that people have gotten seasick in the room.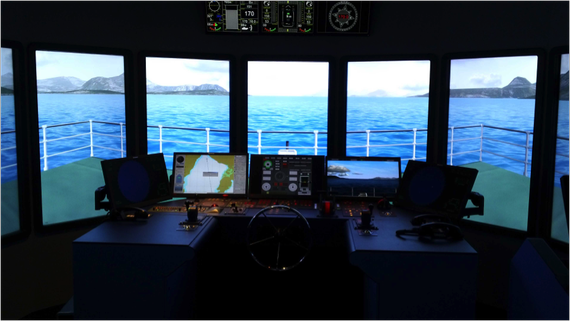 The instructor can call up simulations of full darkness, heavy fog, and various untoward incidents (approaching vessel, collision, man overboard, etc.) to challenge student navigators in all sorts of situations.  This simulator also includes controls for Dynamic Positioning (DP) systems, a technology that enables precise maneuverability for offshore oil rigs, tugs, and large passenger ships, thus allowing  students to get training necessary to handle the newest, most advanced marine vessels out there.
Students in certain programs are required to take two training cruises of at least 60 days – one each at the end of their first and third years. These cruises, aboard the State of Maine (large ship pictured below) orient students to a ship's deck and engineering areas, and provide specific hands-on experience in the students' areas of major.  And in the summer after the sophomore year, students in some majors are assigned to merchant vessels for several months of additional shipboard experience. Others, like students studying business and logistics, must get a co-operative work experience with a company, lasting a minimum of twelve 40-hour work weeks, at the end of the third year.
So, a large part of the extraordinary success MMA graduates have in getting good jobs right after graduation has to do with the experiential training they get at the academy. As Bob Peacock put it, "these students learn how to do things. We teach how to make it happen."
The other part of MMA graduates' success comes from the fact that they've been training for careers where there's extraordinary demand for employees. The international cargo shipping industry is growing so fast that it's hard for American flagships to find qualified navigators and engineers. International businesses need people skilled in the kind of sophisticated logistics contemporary world trade demands. And as people around the world look to the oceans as a growing source of food and natural resources, those trained in marine biology and marine science are in high demand.
Here's what's important and interesting about all this. The kind of education provided at MMA and America's six other maritime academies is not familiar to most Americans. Most of us, I would wager, have only the slightest idea what goes on at these institutions. That's too bad, because what's going on is some of the most compelling education to be found anywhere.
And in an era when angst about whether the benefits of a college education are outweighed by the staggering costs – and when many critics of American higher education bemoan the banality and uselessness of what happens on college campuses – the Maine Maritime Academy provides an arresting antidote to those negative narratives and to the notion that we're headed downhill.  This is the kind of place that makes America work. And succeed.
_________________
To contact the author, write:  TierneyJT at gmail.com       Twitter: @_JohnTierney_   First photo in this post by John Tierney; the rest are from the Maine Maritime Academy.