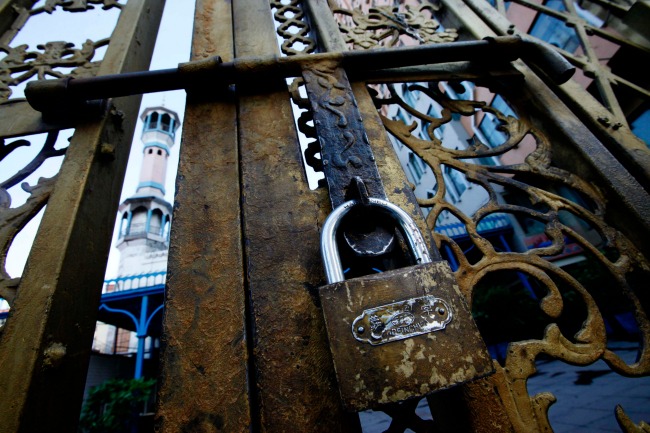 Kiana Rucker dropped out of school when she was 15 years old to look after her younger brothers and sisters. Five years later she had a baby herself. For years, she relied mostly on food stamps, medical assistance, and subsidized housing to get by. But it always bothered her. "I don't want to rely on anyone," Rucker, now 35, says. "I don't want government help."
So in 2010 Rucker decided to get her General Educational Development certificate. She took classes at Southeast Ministries, a nonprofit in one of the poorest neighborhoods in Washington, D.C. This past June--three years and five attempts later--she got a phone call saying she had finally passed the GED test. "The first thing I said was, 'Are you sure you have the right person?'" Rucker says, laughing. For the first time she feels she has a future. "So many things I can do now," she says. "Go to college, get into a trade, just get a job period. Because that's the first thing they ask: 'Do you have a high school diploma or GED?' Now I can say, 'Yes, I do.'"
For Rucker and for millions of other students, the GED certificate has offered a promise of a better life, a path from poverty into college or a more promising career. Next year, though, the GED test will get much harder, and adult educators are worried that they—and their students—aren't ready for the changes.
There are approximately 30 million adults in the U.S. without a high school diploma. And almost 700,000 of them, like Rucker, take the GED test each year. "It's synonymous with a high-school equivalency for most adult education students," says Marci Foster, a policy analyst at CLASP, a nonprofit that advocates for low-income people. "They know the acronym. It has a lot of resonance."
The GED test was first launched in 1942, as a boost to the veterans whose education was interrupted when the U.S. joined World War II. The test allowed thousands of service members to get a credential they could use to go on to college. Since then, its reach has grown dramatically. By 1958, there were more civilians taking the test than veterans. Today, it's known to some as 'America's Largest High School.' Thanks to government incentives, the test has become a ticket to some federal jobs programs, college grants, and, for prisoners, a chance to get out of jail a little sooner. It also has given many undocumented immigrants a better shot at staying in the U.S.
The GED test has been revised over the years, but in 2014 it will undergo a complete overhaul. It will become more difficult and more expensive. For years, the GED test was dismissively called the 'Good Enough Diploma' because passing the test was so much easier than earning a traditional high school diploma. Now it's being aligned with more rigorous college and career readiness standards and will be far more difficult. Molly Broad of the American Council on Education (which along with Pearson oversees the test) says they are "raising the requirements" so the GED test will become more meaningful. To pass the new GED test, students will need some background knowledge, not just the ability to understand the passage in front of them. There will be more emphasis on critical thinking, more questions on science, and more writing. In addition, the scoring will change to identify whether the students who pass are just "high-school equivalent" or are at a new higher standard of "college- and career-ready." C.T. Turner with the GED Testing Service says: "If we don't provide them something of value, and they don't have the information and skills they need, we are setting them up for failure."
But adult educators estimate that changes to the GED test mean it will take a year or two longer to prepare their students. They worry that their students, who are already beaten down and vulnerable, will give up. Antony Tassi, executive director of Literacy Partners in New York City, says these adult students have experienced a lot of change in their lives--but it's usually change being done to them. "They've usually been on the losing end of big bureaucratic changes," he says. "So to the extent that our students even are aware of the upcoming change, they have a lot of fear and a sense of hopelessness." Tassi and other adult educators say they are not against the change but are disappointed that there isn't more being done to prepare for the transition. 
Lennox McClendon, the executive director of the National Council of State Directors of Adult Education, says unlike the last time the GED test underwent revisions in 2002, there has been no federal funding attached to help with the transition. He says that's because the GED Testing Service is now a for-profit entity. When McClendon organized a meeting in the spring to help states with information on the new standards, he had to raise private funds.
Many educators also say they're frustrated because they don't know what the new test will look like. As late as April, apart from a few sample questions and some information on what will be measured, they say there were few practical resources available to help. There was no diagnostic test, no practice test and little information on accommodations for learning disabilities. McClendon says the GED Testing Service has been "late" getting information out. "It's been frustrating for local adult educators," he says.