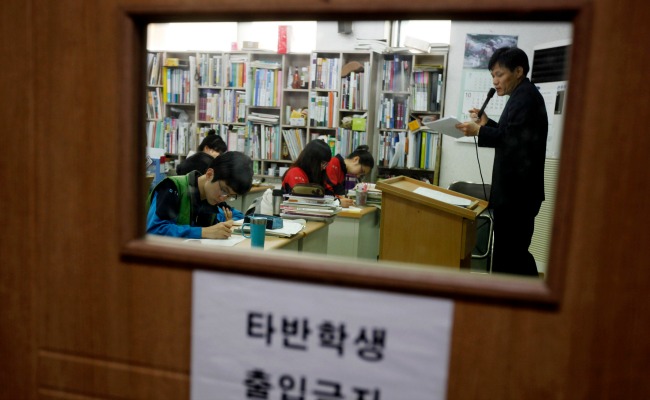 It's no secret that America's education debate is increasingly polarized and increasingly public. We see it every day on Twitter, in the headlines, and occasionally even on the picket line. The public discussion pits reformers who think that our education system is failing students against anti-reformers who think what's wrong with our schools is the people trying to fix them. I've been immersed in American education for more than 20 years and have led a global education network for the last seven, and to me there's no question that our school system must improve, and quickly. But today's debate has become a distraction that keeps us paralyzed in old divisions and false debates, rather than uniting against common problems. 
Two recent bestselling books on education, Diane Ravitch's Reign of Error and Amanda Ripley's The Smartest Kids in the World, shine light on the conflict—and why taking a step back and embracing a global perspective is necessary to move forward.
At first blush it's hard to believe that Ravitch and Ripley are writing about the same education system. They seem to be coming from different worlds—and in a way, they are. Ravitch is a stalwart of what education reporter Jay Matthews describes as "education geek world…full of people who have been arguing for decades about class size and test validity." She doesn't just come from it, she's a pillar of it—a prolific polemicist who more than anyone else has defined today's dynamic.
Ripley, on the other hand, is relatively new to writing about education. In fact, she admits in her new book that as a reporter she actively avoided it—until she became fascinated with a question obscured by all the noise. Everything else being equal, why are some kids learning so much and others so little? For the last several years she's covered the globe and immersed herself in data looking for answers. In Smartest Kids, she enlists three American teenagers who are studying abroad as "field agents" to find out what's really going on in the world's highest performing or fastest-improving countries.
I'm the first to admit I'm not a disinterested reader of either book. The organization I founded, Teach for America, is the subject of one of Reign of Error's 32 chapters, and as regular readers of Dr. Ravitch's blog know, she is not a fan. On the other hand, I've been so impressed by Ripley's insightful reporting that I've invited her to speak to Teach for America and Teach for All staff members.  
The authors' conclusions are as different as their approaches to the subject. Ravitch argues that contrary to popular opinion, there is no crisis in American schools today. "The public schools are working very well for most students," she writes, and anyone who says differently is "crying wolf." She considers the real problem to be so-called "corporate education reformers," a label she applies to a diverse group including The Bill and Melinda Gates Foundation, hedge-fund millionaires, President Obama, and yours truly.
To Ravitch, reforms like charter schools and teacher accountability pose a greater threat than the bleak realities they were designed to address, like the fact that only 9 percent of low-income students are graduating from college. Her proposed solutions reflect her belief that no progress in education is possible without first addressing poverty: more government support for low-income families, pre-natal care for women, etc.
To Ripley, there's something wrong with the status quo when America spends more per pupil than nearly every other country and yet on the best international assessments of critical-thinking, our results are mediocre at best (American teenagers rank 25th in math). We do a worse job than other countries at giving our poorest students the high-quality education they need to lead better lives than their parents. Even our rich kids perform below their peers in 18 other countries, according to PISA data Ripley cites in her book.
Just this month a first-ever international comparison of workers' skills in 23 industrialized nations revealed that younger Americans rank near the bottom in literacy, numeracy, and (ominously) "problem solving in technology rich environments." Ripley hears a lot of theories for this phenomenon, from poverty to parental involvement. But as she explores the remarkable progress of places like Poland that have higher child poverty rates but get better results, it's clear that something else is going on—and Ripley is determined to figure out what it is.