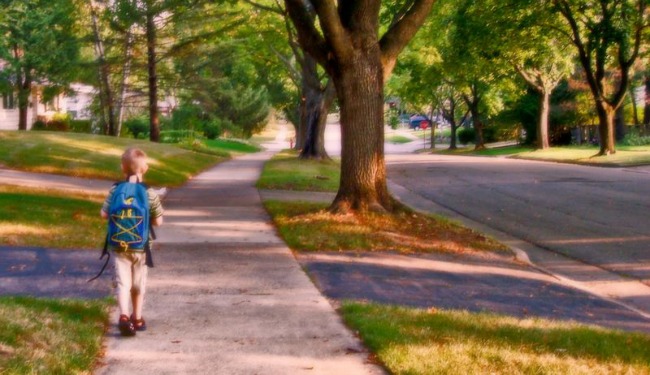 I recently appeared on MSNBC's The Cycle to discuss the new edition of my book The War Against Boys. The four hosts were having none of it. A war on boys? They countered with the wage gap and the prominence of men across the professions. One of them concluded, "I don't think the patriarchy is under any threat."
The MSNBC skeptics are hardly alone in dismissing the plight of boys and young men. Even those who acknowledge that boys are losing in school argue that they're winning in life. But the facts are otherwise. American boys across the ability spectrum are struggling in the nation's schools, with teachers and administrators failing to engage their specific interests and needs. This neglect has ominous implications not only for the boy's social and intellectual development but for the national economy, as policy analysts are just beginning to calculate.
As the United States moves toward a knowledge-based economy, school achievement has become the cornerstone of lifelong success. Women are adapting; men are not. Yet the education establishment and federal government are, with some notable exceptions, looking the other way.
Women in the United States now earn 62 percent of associate's degrees, 57 percent of bachelor's degrees, 60 percent of master's degrees, and 52 percent of doctorates. College admissions officers were at first baffled, then concerned, and finally panicked over the dearth of male applicants. If male enrollment falls to 40 percent or below, female students begin to flee. Officials at schools at or near the tipping point (American University, Boston University, Brandeis University, New York University, the University of Georgia, and the University of North Carolina, to name only a few) are helplessly watching as their campuses become like retirement villages, with a surfeit of women competing for a handful of surviving men.  Henry Broaddus, dean of admissions at William and Mary, explains the new anxiety: "[W]omen who enroll … expect to see men on campus. It's not the College of Mary and Mary; it's the College of William and Mary."
Boys in all ethnic groups and social classes are far less likely than their sisters to feel connected to school, to earn good grades, or to have high academic aspirations. A recent working paper from the National Bureau of Economic Research documents a remarkable trend among high-achieving students: In the 1980s, nearly the same number of top male and female high school students said they planned to pursue a postgraduate degree (13 percent of boys and 15 percent of girls). By the 2000s, 27 percent of girls expressed that ambition, compared with 16 percent of boys. During the same period, the gap between girls and boys earning mostly A's nearly doubled—from three to five percentage points.
 This gap in education engagement has dire economic consequences for boys. A 2011 Brookings Institution report quantifies the economic decline of the median male: For men ages 25 to 64 with no high school diploma, median annual earnings have declined 66 percent since 1969; for men with only a high school diploma, wages declined by 47 percent. Millions of male workers, say the Brookings authors, have been "unhitched from the engine of growth."  The College Board delivered this disturbing message in a 2011 report about Hispanic and African-American boys and young adults: "Nearly half of young men of color age 15 to 24 who graduate from high school will end up unemployed, incarcerated or dead." Working-class white boys are faring only slightly better. When economist Andrew Sum and his colleagues at the Center for Labor Market Studies at Northeastern University examined gender disparities in the Boston Public Schools, they found that for the class of 2007, among blacks and Hispanics, there were 186 females for every 100 males attending a four-year college or university. For white students: 153 females to every 100 males.
What can we do to improve the prospects of boys? For one thing, we must acknowledge the fact that boys and girls are different. In many education and government circles, it remains taboo to broach the topic of sex differences. Many gender scholars insist that the sexes are cognitively interchangeable and argue that any talk of difference only encourages sexism and stereotyping. In the current environment, to speak of difference invites opprobrium, and to advocate for male-specific interventions invites passionate and organized opposition. Meanwhile, one gender difference refuses to go away: Boys are languishing academically, while girls are soaring.
 Young men in Great Britain, Australia, and Canada have also fallen behind. But in stark contrast to the United States, these countries are energetically, even desperately, looking for ways to help boys improve. Why? They view widespread male underachievement as a national threat: A country with too many languishing males risks losing its economic edge. So these nations have established dozens of boy-focused commissions, task forces, and working groups. Using evidence and not ideology as their guide, officials in these countries don't hesitate to recommend sex-specific solutions. The British Parliamentary Boys' Reading Commission urges, "Every teacher should have an up-to-date knowledge of reading material that will appeal to disengaged boys." A Canadian report on improving boys' literacy recommends active classrooms "that capitalize on the boys' spirit of competition"— games, contests, debates. An Australian study found that adolescent males, across racial and socioeconomic lines, shared a common complaint, "School doesn't offer the courses that most boys want to do, mainly courses and course work that prepare them for employment."