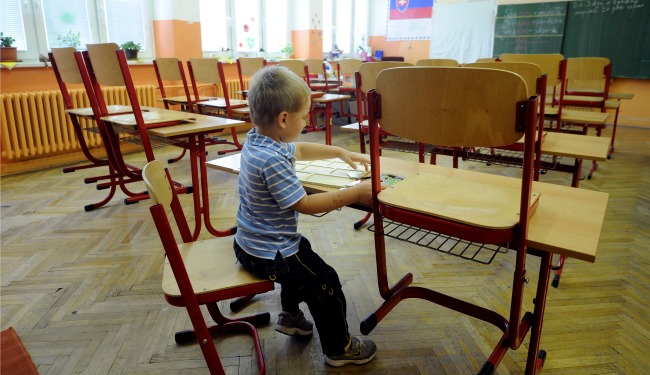 Well-to-do New York parents bring a particular laser focus and set of resources to educating their kids, whether it's battling the Department of Education over rezoning an upper-middle class neighborhood or hiring a "personal statement coach" to massage a teenager's college essay.
But at some point, over the past year or so, the Independent School Admissions Association of Greater New York —a non-profit composed of around a 140 of the area's elite private schools— felt private-school kindergarten admissions had gotten out of hand. A task force commissioned by the group found that wealthier parents were paying for tutors to prep their kids for the "ERB," as it's commonly known: a test that many schools require their young applicants to take. The head of the group told the New York Times that the test was now "tainted" by these over-eager parents. So last week, after four decades, the association announced that it was no longer endorsing the test for kindergarten admissions.
The administrators of the test, unsurprisingly, question the claim that test-prep efforts were actually inflating children's scores. Elizabeth Mangas, vice president of admissions testing for the ERB, points to the company's own data, which found no substantial increase in scores over the last decade, nor any significant evidence of an upward trend in children scoring at the 90th and 98th percentiles.   
But it appears there is one way test prep succeeds: It increases a child's overall anxiety level about the test and the kindergarten admissions process as a whole.  And that anxiety is unlikely to go away, even if the ERB gets eliminated.
"It makes me really sad that four-year-olds are getting this kind of tutoring," said Dr. Nancy Close, PhD, a pediatric psychologist at Yale's Child Study Center, who never recommends test prep at the preschool level. "I wish parents could feel more confident in the way they are parenting, whether reading to their children, or helping them develop socially, all of the intangibles that a child takes into a testing situation."
Close says that the ERB and other developmental assessments like it are a rather benign experience for most toddlers.  The ERB, administered to an individual pre-schooler by a child-studies expert, takes around 45 minutes and has two parts: the verbal, which covers vocabulary, similarities, and listening comprehension, and  "the non verbal" where a toddler interacts with pictures and blocks.  Afterwards, a child is compared to students his or her age, by both year and month, in the national population. A parent receives three percentile scores, one for each section and one overall test score.
 The problem, according to Close, isn't the test itself, but the fact that children have great radars. They are fully aware and sensitive to an adult's reaction to the admissions process, and when a parent gets fixated on a particular school, they too can feel quite anxious about it.
Launa Schweizer, a humanities teacher at Brooklyn Heights Montessori, and a former lower school head of one of New York's leading private schools, agrees that the ERB test itself isn't the root of the problem.
"It's the cost, the stress, and the potential for people to try to game the system," Schweizer says. And since the city's private schools are already very tight and the parents who apply to them tend to be high powered, these factors are amplified.