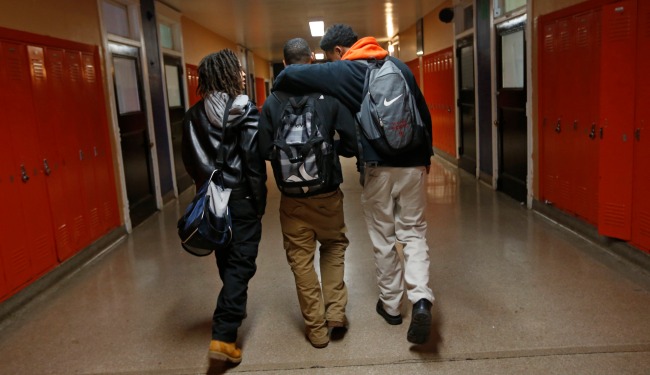 Before Rosalind Wiseman's 2002 book Queen Bees and Wannabes was published, her agent asked if she would talk to a woman named Tina Fey. Wiseman, a new mother, "had no idea who she was," but after a short conversation agreed to sell Fey the film rights to her book, which dissected the complex social world of teenage girls. Two years later, Mean Girls hit theaters, an entertaining and spot-on illustration of the capacity of high school girls to inflict emotional pain on each other. With the success of the film, Wiseman became known as an expert on children, giving lectures to parents and educators on bullying, parenting, and ethical leadership around the world.
Her latest book, Masterminds and Wingmen: Helping Our Boys Cope with Schoolyard Power, Locker-Room Tests, Girlfriends, and the New Rules of Boy World tackles Boy World. With two sons of her own, Wiseman began to notice ways that adults would ignore or reinforce stereotypes about teenage boys' social world. Her new book was written with the help of more than 200 teenage boys who vetted her information and contributed their own experiences. (The Guide: Managing Douchebags, Recruiting Wingmen, and Attracting Who You Want is her companion manual, written specifically for the boys). I spoke with Wiseman about the best way for parents and teachers to communicate with boys, what the biggest myths are about popular boys, and why all boys are so often misunderstood.
---
After the popularity of Mean Girls, a lot of attention has gone toward the dynamics of Girl World. Why is Boy World less understood?
We have a very hard time seeing the signs of how and when boys want to talk to us. We also have a hard time--even though we think we don't--acknowledging that boys have deep emotional lives. We believe that because we can't see it, it's not there.
How do parents and teachers perpetuate the negative aspects of Boy World?
In so many different ways, we box boys in. We're not aware of it. Boys say it's good to have a female friend--if something bad happens with a girl, or if you break up with your girlfriend, it's much easier to talk to a girl about it than even your closest male friends. I just talked to a high school boy about how important it is to have girls that are friends. He broke up with his girlfriend, was overwhelmed, and realized it was a terrible mistake. His heart was broken and he didn't know what to do. He was a football player and wanted to talk to his closest friends, but he said that they just wanted to talk about hooking up. They didn't talk about their relationship problems. So he made evening plans to go to dinner with a very close female friend. As he walked out the door, his mother barraged him with questions about it. She assumed he wanted to hook up with this other girl. She thought he didn't care about his girlfriend, that he wants a hookup.
So his mom reinforced the stereotype about guys just going after sex.
Right. Even his own mother doesn't realize that her son needs a strong relationship with a girl--and that he's going out with this girl to bare his soul, to get relationship advice. We are allowing these stereotypes to shape the way we look at boys and their relationships with other people.
Fathers can also contribute to a macho culture.
The thing that really disturbs me is that there are so many wonderful dads, who want the best for their sons, who aren't having conversations with their sons about healthy relationships or acknowledging that they will fall in love. Falling in love in high school is a huge adrenaline rush--it's got intense highs and lows. Your heart can break, you can be betrayed. It's horrible, and you don't know what to do, or you wonder if you'll ever have a girlfriend. These are things that all boys struggle with, but even really good dads don't have conversations that acknowledge that experience.
And then there are a lot of other fathers whose relationship advice is limited to this type of scenario (told to me by the boys themselves):  A very attractive 18-year-old woman walks by and the dad nudges his son and says, "Go get that."
Great young men want to have rich emotional lives, but everywhere they turn, people are forcing them to live the stereotype of being a sexist, not-caring, emotionally disengaged, superficial guy. It's amazing because we turn around and get angry with them when they go over the line, without acknowledging what we do as adults that stifles and silences and shuts boys up from being emotionally engaged people.
What about schools? What role do they play in all this?
It's such an enormous question. But enough to say that much of how our educational system is structured--from the way boys are taught academics, to the lack of training we give teachers to be ethical competent authority figures who not only know their subject matter but are engaging educators, to the way the minority of boys who do abuse power so often regularly get away or are disciplined in a way that only shows how powerless the adults are to truly hold them accountable, all too often schools are the place boys learn that the overall culture they will grow up in restricts their creativity and makes it as difficult as possible to come into their masculinity in healthy ways.
What are the rules that govern Boy World and how are they different from Girl World?